Ah, the blues of Santorini! Talk to any avid traveller and they will say this small Greek Island in the Agean sea is on their bucket list to visit.
It certainly was on mine! I first visited when I was just out of Uni and on a summer Interrail trip across Europe. I spent two weeks on Santorini and absolutely loved it (even though I got in a moped accident and had to visit the hospital). I travelled with my good friend Dana – the one I still visit each year in Austin – and we stayed in the southern part of the Island near the black pebbled beaches.
This year I had another opportunity to visit Santorini as a day trip from Crete. Santorini is only a 2-hour journey via the high-speed ferry from Heraklion. It's a highly publicised excursion option (ours was organised through and paid for by Olympic Holidays). So my oldest daughter and I packed our cameras ready for the adventure!
Watch our video!
The day started very early, leaving our hotel Filion Suites at 7.45 am to transfer via mini van to the port of Heraklion. There we met our tour organiser to pick up our tickets and we boarded the Hellenic Seaways Highspeed 7 ferry to Santorini. We hadn't realised that there was assigned seating – so we just grabbed a seat – to be soon realise we were sitting in someone else's seat! Not to worry though as our tickets were for the VIP seating area upstairs, which was very nice.
We ordered coffee and warm croissants for breakfast and enjoyed the short ride. Our seats had powerpoints for charging which was very useful. I was a bit worried about getting seasick – the forecast was for gusty winds – but we were high up and felt fine. There was plenty of time to look out the window and enjoy the Agean Sea!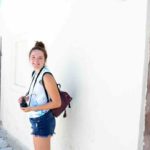 My 15-year-old's perspective
I went on a day trip to Santorini with my mum and it was very exciting and fun! We had an early start followed by a 2-hour ferry trip to the island. On the way we got to see Crete from a different view – from the sea. Once we arrived at Santorini we got onto a tour bus, which took us to Oia. It is a town made up of endless white houses that overlook the blue sea – just like you see in all the magazines. There were lots of people there taking photos (including us!) and it was very crowded and everything was very expensive. We then went to the capitol Thira which was good for shopping at affordable prices (I bought my friends some bracelets). Our final stop was a black sand beach, where we could swim. Overall the trip was a great experience and I really enjoyed visiting the beautiful island.
After getting off the ferry with lots and lots of people, we found our tour bus which was a combination of English and German speakers. It took a little while to find our bus because there were so many there waiting to pick up the day trippers!
Safely ensconced in our air-conditioned bus, we set off to explore Santorini. The itinerary's first stop was Oia, the postcard-perfect small town high on the cliffs. The bus stopped at the carpark with about 30 other tour busses and our guide led us to a high point in the village and gave us 1 hour 15 minutes to explore. We walked down the little lanes and took photos. My 15-year-old was amazed at how many people were there – it was the height of summer and it was very crowded (much more than I remember it being 20 years ago). There were lots of young girls, dressed up, with selfie sticks. Still, Oia did not disappoint and we got our photos!
Our next stop was the capitol Fira. Again, we were dropped off in a coach car park and walked into the centre of the town. This is where I had major deja vu! The meeting spot was the old Health Care Centre (old as in it was closed and abandoned). It was the same hospital I visited after my moped accident 20 years ago. So I peeked in the window and it looked the same.
Fira was all about shopping, as it was more affordable than Oia. We stopped at a kebab shop and got a chicken souvlaki that was very yummy (and only 2 Euros). That was more like the Greece I remember. We also picked up several souvenirs for family and friends. Having only 90 minutes, it does feel a bit rushed, but we made it in time to meet by the "old" health care centre and go back to the bus.
Our last stop: The black pebbled Kamari beach. We stopped here for 90 minutes at an outdoor cafe, used the beach chairs and umbrellas, and could swim, having a relaxing lunch or walk around. I'm fairly certain this was the ton where I stayed 20 years ago.
So is Santorini with all the hype? It depends. If you have never been there before you really do have to see it. My suggestions? Visit out of season and I'm sure it will surpass your expectations!
IF YOU GO:
Olympic Holidays For bookings call 0208 492 6868 or visit www.olympicholidays.com.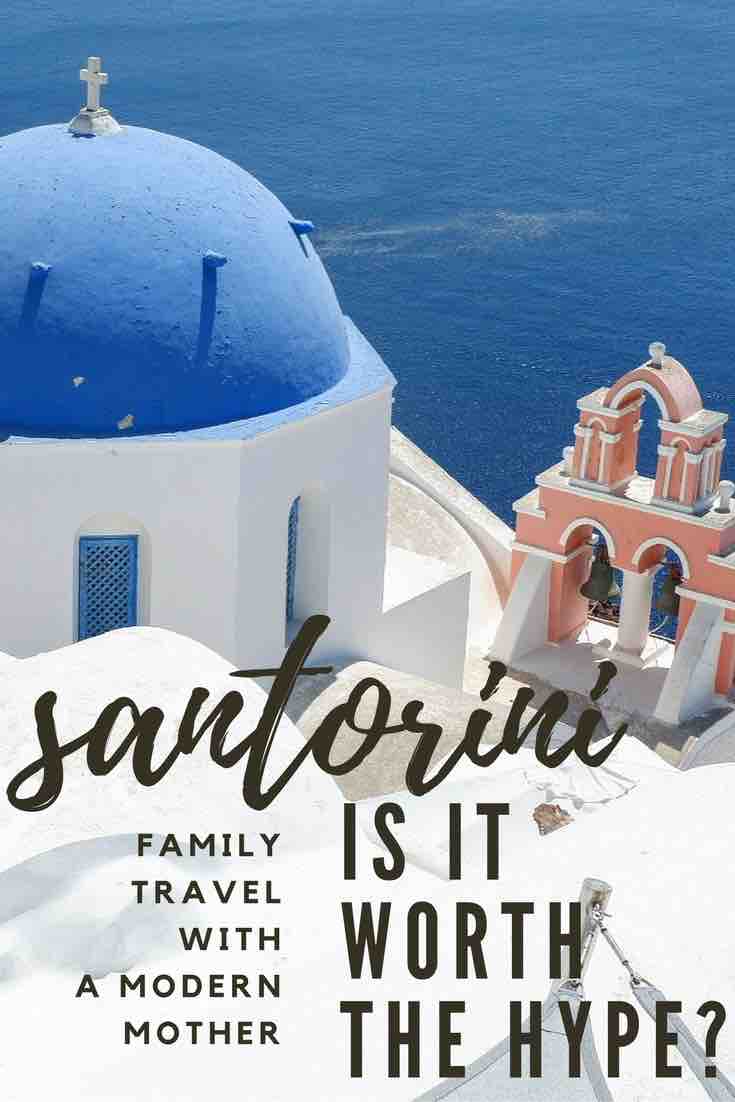 Disclosure: My trip to Crete was provided by Olympic Holidays for the basis of this review. All opinions are my own.
SaveSave
SaveSave
SaveSave
SaveSave
SaveSave
SaveSave
SaveSave
SaveSave
SaveSave
SaveSave