As I write this I'm sitting on a white chaise lounge next to an infinity pool full of sparkling blue water. There's a glass of dry local white next to me, the outside of the glass beaded from the cold liquid inside. I'm facing the Med and can just make out the sea between Cretan mountains. An umbrella at my side casts a shadow over my feet; the sun is going down. Goats bleat in the distance. My youngest jumps in the pool, breaking the peace. A rooster cockles and a sheep joins in. Dishes clank in the patio above reminding me I'll eventually have to get up from my my little piece of paradise and dress for dinner. Evening has started at Filion Suites!
We've been here for a week, on a press trip with Olympic Holidays to try out their higher end facilities. Frankly I've been blown away by the quality of accommodation. Our taxi driver tells us Filion is the best hotel in Bali, and I can believe it. It's new and very swish.
The quality of accommodation overall has improved in greatly in Greece since the days I travelled as a student staying in dodgy hotels. After loosing market share (mainly to Spain) the Greek government stepped in to provide grants to help upgrade tourism properties – everything from pools to bed sheets.
Filion Suites is set high in the hills above Bali. The views from nearly everywhere are amazing. Majestic mountains dotted with green olive trees and whitewashed homes contrast with the blue Mediterranean. It's gorgeous and very relaxing.
I admit I was slightly worried that the hotel would be too far from the beach (the raison detre of any Med trip, right?) but the whole set up turned out to be perfect. You can venture into the lively town of Bali – the hotel has a free mini bus and it takes only 5 minutes – and enjoy the sea, restaurants and shops. Filion has it's own beach with free sun loungers/umbrellas and a beach boy who will fetch you food and drinks. Then when you've had enough you can escape to the luxury of your 5* hotel, have a swim in the afternoon (there are 3 pools and always a place to sit) and then return to your room to get ready for the evening. The hotel requests that guests make a bit of an effort for dinner (men are requested to wear trousers and shirts). It certainly ups the atmosphere.
My 12-year-old's perspective

Bali Beach is amazing, especially if you are staying at the Filion as you can take a shuttle bus straight to it. There are 5 beaches (we chose to go to the Filion one) but it also looked like there was one with a water obstacle course that looked fun. There were free lounge chairs and umbrellas where mum liked to relax but my sisters and I preferred to swim or float in the gorgeous Med! It was lovely and warm and there was a cove so protected from the wind. To eat, you can order pizza and drinks from the beach boy or you can walk up to a number of restaurants. There is also a Bali bakery that has fresh bread and sweet options and there were lots of shops to buy souvenirs.
Now I'm on my blue float, bobbing gently in the Mediterranean. Every wave rocks me a bit further to shore. Two of the girls have the GoPro and are filming, the other is sat in her lounger, reading Catcher in the Rye. Hubby is stuck into a book too. This is exactly how I imagined a holiday in Crete should be.
It's the height of summer – and there are lots of families and accents from across Europe. I can hear German, Russian, Israeli, English and French. One German family said hello to us in Spanish, and the girls were tickled that we could pass for a Spanish family.
Filion has 100+ rooms consisting of Family Suites and Superior Double rooms and 3 private villas. We stayed in 2 Superior Doubles and were welcomed with a bottle of local white and fresh fruit – the hotel prides itself on its wine list, some from the adjoining valley.
Our room was nicely decorated to a high standard: Beiges, browns, golds, blue and taupe. There's a wide-screen TV (do people still watch these?). Most importantly – the bed is very comfortable. The bathroom is beige and white with slate tiles and a rainfall shower AND bathtub. There are thick white Egyptian cotton towels and matts. Exactly what I would expect for 5*.
The girls room (next to ours) is the same. There's a sofa/lounge that makes into a 3rd bed. Georgia, at the front desk, made our keys so they worked for each room – which is a nice touch.
There's powerful air con – Yay! It took us a little while to figure out it only works when the patio door is CLOSED (great idea). It's quiet, but there's an annoying blue light that shines in the night. Each room has a balcony with patio furniture and a pull out towel/bathing suit rack.
The doubles don't have coffee-making facilities (I already knew this from what I read on TripAdvisor). But I asked and Georgia brought a kettle and cups – and I bought coffee from the little store.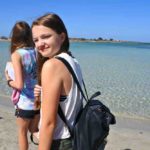 My 13-year-old's perspective
I stayed in a superior room with my sisters (and no parents!) which was very nice. The room slept 3 people and was quite large. There was a pretty balcony that look over the swimming pools and mountains and you could even see the sea. It was also very good to have air con as it was very hot outside!
There are three swimming pools to choose from: two infinity pools on the higher level meld into each other with a water fall. It's very nice. Lots of Cretan blue and whitewashed walls. Instagram heaven for teens! The lower level has another pool aimed at families and it has a playground. If you get tired of swimming you can try tennis or basket ball – though when we were there too hot to play during the day. The girls loved the pool and ping-pong tables.
The Agora Store has everything, including reasonable priced floats (we saw them for 3 x as much on the beach). You can also pick up water, wine, local products, etc. Cristo was very helpful – using his mobile phone to translate. I was there so often we were on a first name basis!
And of course there's a Spa where you can get and treatment and then relax by their own pool!
My 13-year-old's perspective
At Filion Suites there were 3 large swimming pools and we could always find lounge chairs for all 5 of us. The first one was on the same level as the pool bar and led to a second pool by a waterfall. You had to walk a couple of steps down to the second pool where there was also a games room. The pool was very pretty and the view from the lounge chairs was spectacular – it looked over the mountains. In the games room there was a ping-pong table and a pool table (it's 2 Euros). The bottom pool was for kids and had a playground.
Our package included half board, with dinner is served in the Main Restaurant. The chef always stands in the restaurant to talk with guests. He's obviously very proud of his work. And he should be! There's rows of souvlaki, stuffed tomatoes and peppers, all kinds of salads (greek of course, but also bean salads), a pasta station and then vegetables. Every night there was a station where they prepared something a bit special, like roast leg of lamb. One night they made aubergine tempura (a greek version of the Japanese favourite). It was so good I went back for seconds. Desserts always included a baklava type dish, and lots of other bite-sized options. Kids love the make-your-own ice cream sundae station. For breakfast, there is just as many choice: an omelette and crepe bar, fresh fruit, yogurt, cereals, greek salad (!), breads, pastries, charcuterie, bacon, eggs, and greek breakfast dishes.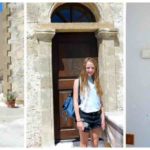 My 12-year-old's perspective
Each morning I looked forward to breakfast! Breakfast was in the main restaurant, which overlooked the mountains. The food was very good and there were lots of options. It's buffet-style, so you can take as much or as little as you want and try new foods. There was always pancakes or waffles which you could see being made, a range of pastries (and chocolate cake!) and bacon. Those were my favourite things.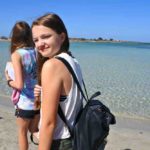 My 13-year-old's perspective
Dinner at the hotel restaurant was one of the highlights of our trip. It was a diverse buffet with traditional Greek food, lots of salads/starters and pizza and pasta and meat dishes too. The food was all really good and you can eat as much as you want and try new things. I tried Mousakka for the first time and really liked it. But the deserts were the BEST. There were always different types of Baklava (which is sooooo good). I liked how the desserts were really small, so you could try lots of them. There was also a whole ice cream station with lots of different flavours, so I always had an ice cream course too. There was fresh fruit too, and the nectarines were really good. Each night at dinner we sat outside with a view over the mountains and we watched the sun set. It was beautiful!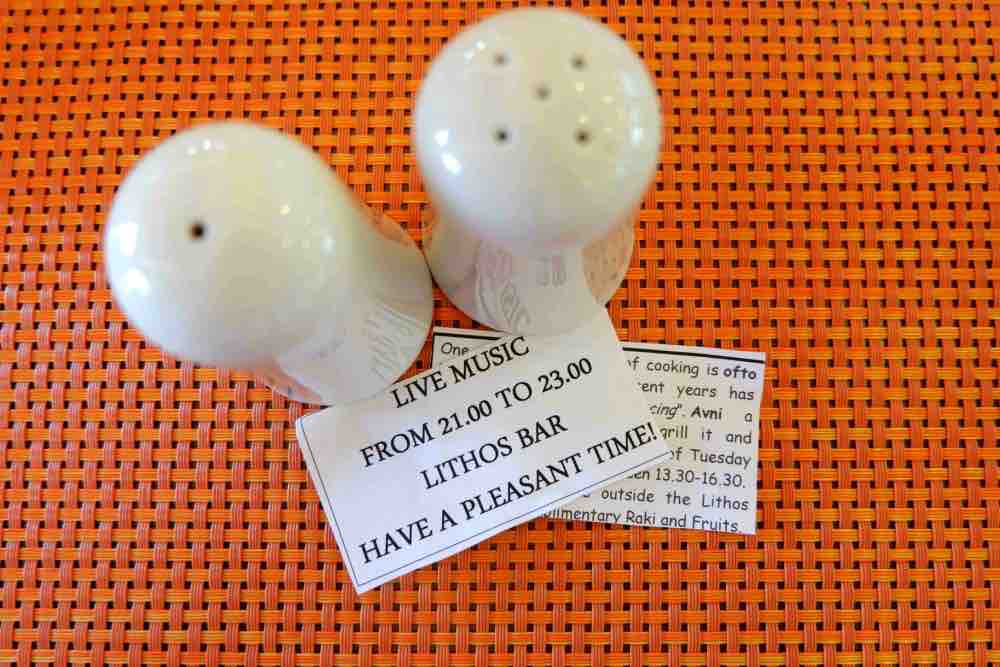 Each night there's entertainment. Little typed notes are placed under the salt and pepper shakers at breakfast. Entertainment ranged from the Pakir show (man dressed in yoga pants walked on glass to Greek music, greek dancing (kids danced – it was cute). There are also other activities, like cooking lessons with Maria (from the kitchen staff) to learn how to prepare tzatziki.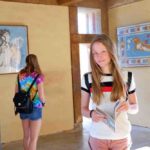 My 12-year-old's perspective
Every night after dinner near the outdoor bar there was a show for Filion guests to enjoy. At breakfast there was a note on your table about what was going on that night – it was usually something cultural like Greek music or Greek dancing and one night there was a type of magic show where a man walked on broken glass (I'm sure it was crushed ice!). You can order drinks while you watch – we got one that had a sparkler, which looked really nice. There were also some activities during the day, such as a class on how to make Tzatziki which sadly we missed. After dinner my sisters and I enjoyed going to the games room to play pool and table tennis or going to the kids pool to play in the play area.
My only niggle is the Wifi. It's OK in the public areas (lobby and pool) and you can purchase it for your room but we found it only worked occasionally.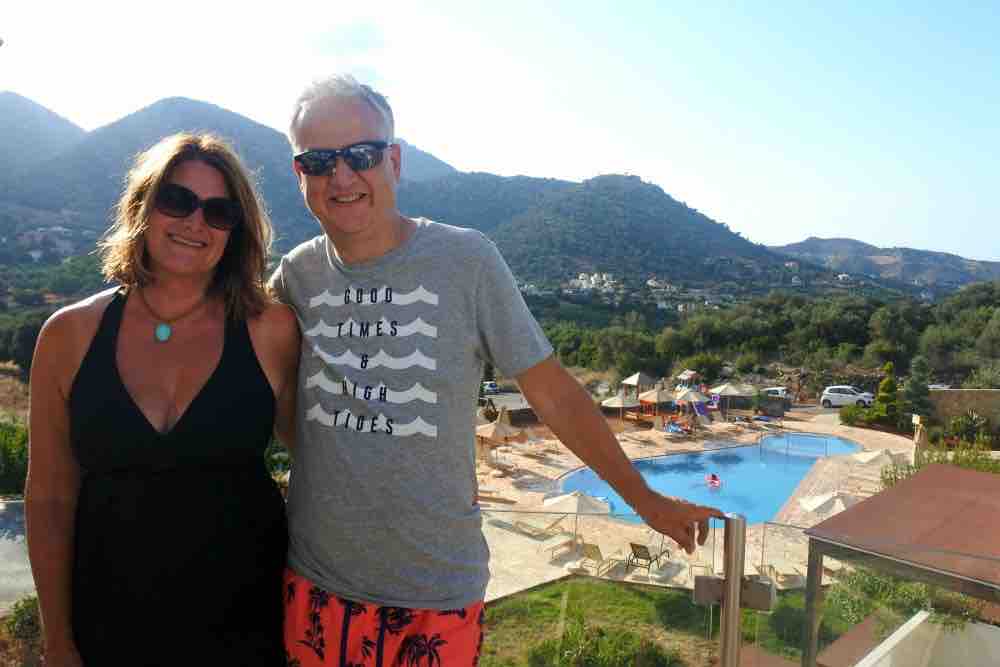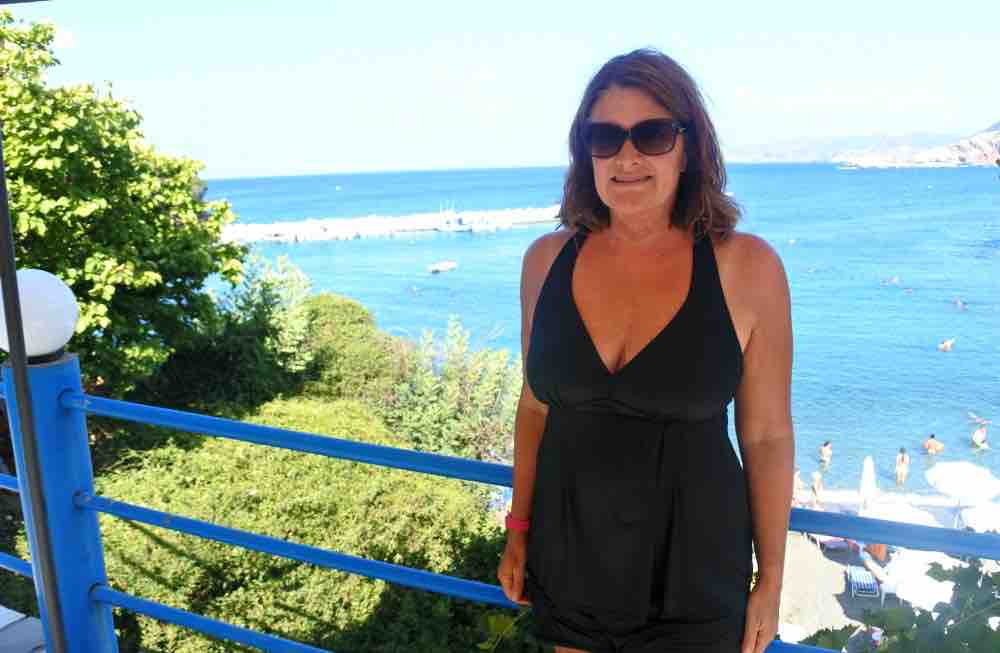 A word on Bali: There are 5 beaches! Fillion has a Sister hotel and restaurant, where the shuttle drops you off. Fillion's Beach is just below. There were showers and a bathroom. You can order food and drinks from the beach boy or go up to Restaurant Mythos. For lunch we shared the local speciality plate – 8 small dishes, a bit different each time: bread, Tzaki, dolmades, stuffed tomatoes, calamari, prawns, lamb, meatballs. George always brought us fruit too. The food was good, and the views are amazing!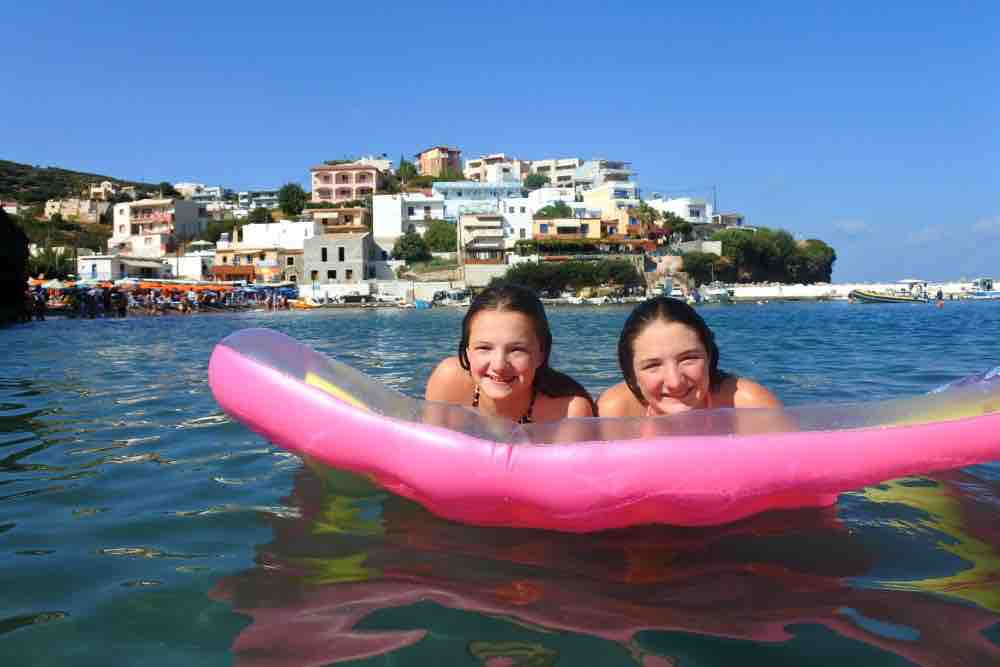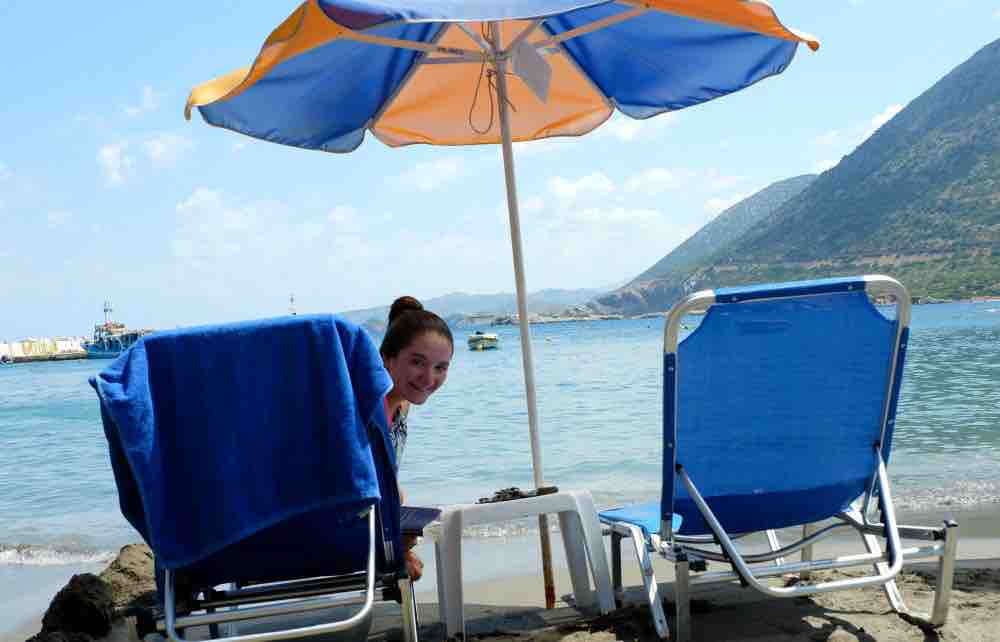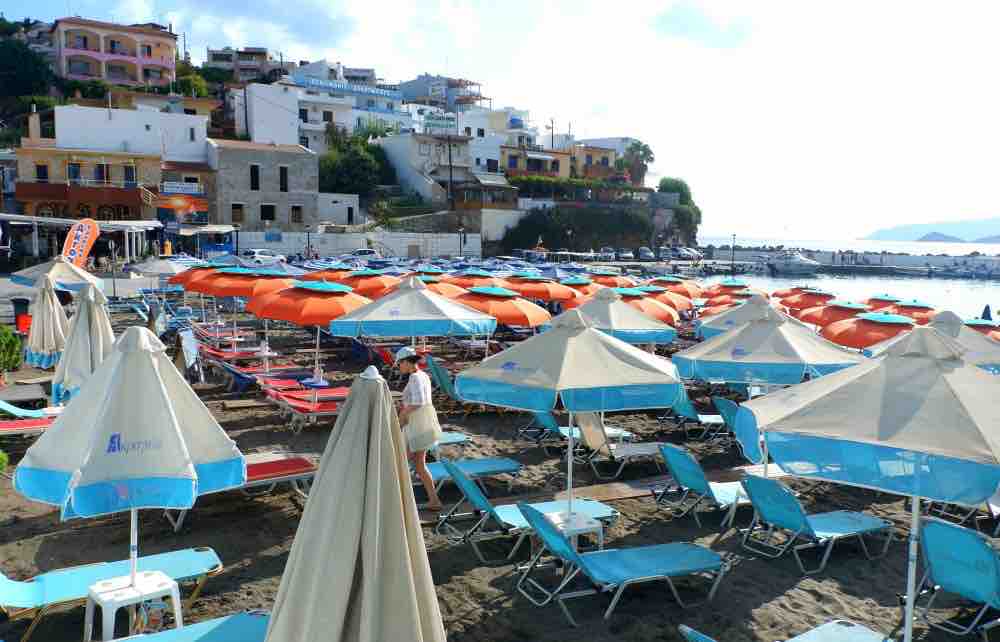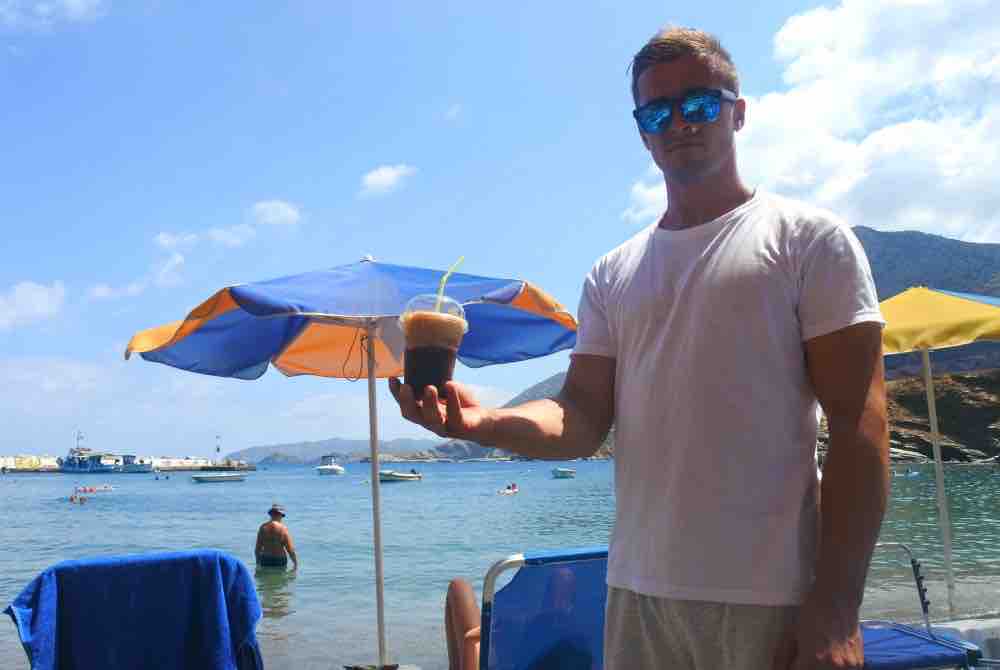 Now I'm back at the hotel, floating in the infinity pool, trying to eek out the last few hours of our Cretan adventure. As I pack up and take one last look over the Sea, I give the rest of my suncream to our the German family sitting next to us.
IF YOU GO:
Olympic Holidays For bookings call 0208 492 6868 or visit www.olympicholidays.com.
Examples packages:
Olympic Holidays is offering 7 nights at the 5 star Filion Suite Resort and Spa, Crete for four people from £2,277 based on two adults and two children travelling. The package includes 7 nights' half board accommodation in a one bedroom family suite mountain view, in-destination transfers and return flights from Gatwick. Departures are available on 26/05/18. The package is subject to availability. For bookings call 0208 492 6868 or visit www.olympicholidays.com.
Olympic Holidays is offering 7 nights at the 5 star Filion Suite Resort and Spa, Crete for four people from £2,650 based on two adults and two children travelling. The package includes 7 nights' half board accommodation in a one bedroom family suite mountain view, in-destination transfers and return flights from Gatwick. Departures are available
on 21/07/18
. The package is subject to availability. For bookings call
0208 492 6868
or visit
www.olympicholidays.com
.
Disclosure: My trip to Crete was provided by Olympic Holidays for the basis of this review. All opinions are my own.
SaveSave
SaveSave
SaveSave
SaveSave
SaveSave