If you think Lanzarote is lads and lager, think again.
The oldest of the Canary Islands, Lanzarote's rich history started more than 25 million years when it was formed from volcanic activity that continued through the 1800s. The result is a visually striking landscape of blacks, browns, blues and white. Black and brown from the volcanic ash and rock, blue from the sea and white from the lime-painted buildings (it's regulated). Artist Cesar Manrique dedicated his life to harnessing this natural beauty and created art works across the island combining nature and art in some of the most striking natural displays I've ever seen.
The government recognised the island's growing popularity and limited the number of visitors beds to 70,000 (down from 300,000). Then in 1993 Lanzarote was granted Unesco World Biosphere Reserve status reinforcing the islands commitment to preserve their unique landscape.
In addition to the natural beauty, there's natural warmth too. Just a 4-hour flight from the UK, Lanzarote has an average temperature of 22C and 3,000 hours of sunshine per year! The African climate mixes with the Spanish culture – making it a unique destination.
Families will love the opportunity for their kids to practice Spanish, and to experience volcanos first hand. And if you have any you art scholars they will be inspired by the natural beauty. Let's not kid ourselves, when the UK is bleak and dark and cold, we all want a little sunshine and beach time. But when you tire of lazing on the sand, here are 10 things to do in Lanzarote that doesn't include a beach!
1. Visit Timanfaya National Park
If you just do one of thing in Lanzarote, make sure to visit Timanfaya National Park and be driven along a volcanic cater's edge and lava fields. It's like being on another planet! The Montañas del Fuego (Fire Mountains) were formed by volcanic eruptions between 1730 – 1736 (surprisingly there were no deaths) and because there is barely any precipitation – they have stayed pretty much in tact. The moon-like landscape is really other worldly and unlike anything I had seen before.
2. Explore the Timanfaya Visitors Centre
The Visitor Centre at Timanfaya National Park is where you can see first hand the power of volcanos. In small groups guides demonstrate examples of geothermal activity – allowing you to handle hot lava rock heated from the centre! Then eat at the El Diablo Restaurant, designed by Cesar Manrique, where they've cleverly harnessed geothermal heat from the earth 10 metres below to cook your meal! There are exhibits on volcanos and history and critically – they are in Spanish and English!
3. Ride a camel!

When in Lanzarote – ride a camel! A section of Timanfaya National Park is reserved for treks with these gentle creatures. Once used by farmers to move goods, camels are now put to work carrying tourists. There are strict rules for working hours, and after working 4 hours they are given the afternoon off. The camels and harnessed in a line and you are led up a hill of volcanic ash by a guide. The trek lasts about 20 minutes and is a fun way to experience Lanzarote.
4. Hide inside a volcanic tunnel: Cueva de Los Verdes
Cueva de Los Verdes translates literally the "Green Cave" – but it's not either. Cueva de Los Verdes is a tunnel formed by the La Corona volcano eruption and is the longest and one of the most interesting in the world. It's 6 kilometres long and in the 1800s locals would hide within to avoid pirates hunters on the African slave trade. The dry desert conditions means you won't find stalagmites or stalactites but instead beautiful formations created by water and gas that flowed from the eruption of a volcano.
5. Be wowed by Los Jameos del Agua
Designed again by Cesar Manrique, Los Jameos del Agua is an avant-garde centre that in it's heyday attracted patrons such as Rita Hayworth. It sits inside the entrance of the volcanic tunnel created by the eruption of La Corona Volcano (Los Jameos del Aqua is on the other end). The centre has an upscale restaurant and an indoor lake with tiny crabs and a swimming pool and bar. It's quite an unusual combination, but certainly one you and the kids will remember.
6. Eat at Castillo de San Jose
Built to protect inhabitants from pirates, Castillo de San Jose was restored by Cesar Manrique in 1976. It now is home to two of my favourite things – a modern art museum and a swishy restaurant with views fabulous ocean views. Manrique, a local artist, has his imprint across the island. His goal was to preserve the history and natural beauty of Lanzarote in a clever way that combines nature and art. It's very striking and effective. You can have a 3 course meal overlooking the harbour and Atlantic and sculptures created by Jason de Caires Taylor. This place is very classy, and if you have arty kids like I do – they'll love it!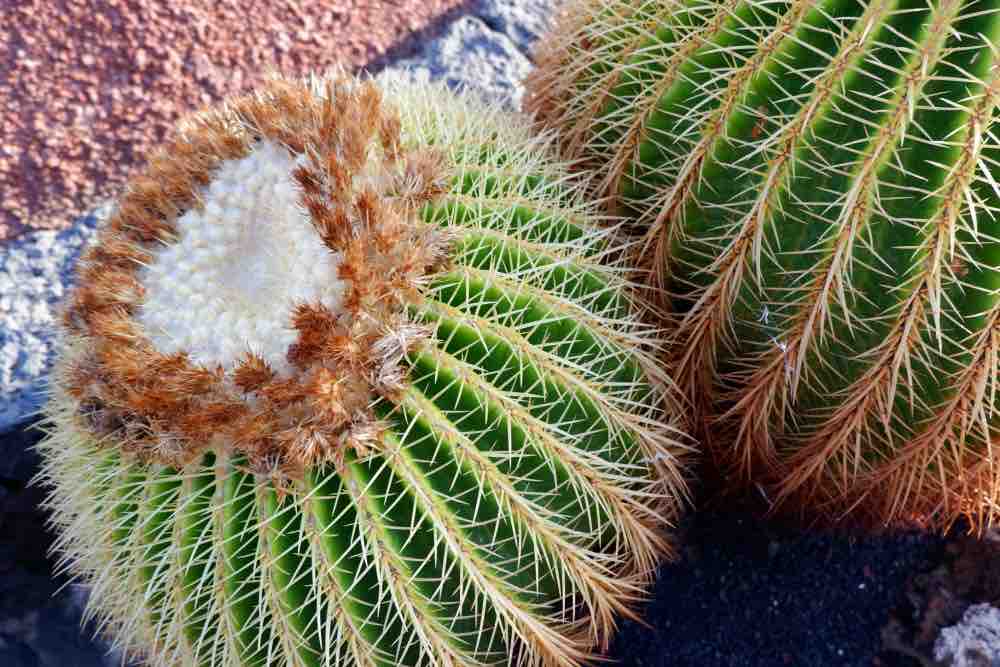 7. Take photos at the Cactus Garden
The Jardin de Cactus is gorgeous and Instagram heaven for teens. Another work of Cesar Manrique, the garden sits in a reclaimed quarry of volcanic ash (locals use volcanic ash to cover crops and make the most of their arid, art climate). The garden has more than 7,000 plants from 350 different species from around the world. Green caucus set against blue skies and block volcanic rock make a stunning setting. Manrique finished the garden in 1990, and died just 2 years later. It's the kind of place you could visit over and over at different times of the day. It's gorgeous and a do not miss site. Literally every photo you take will be gorgeous. Can supply your Instagram for a whole year!
8. Splash around Aquapark Costa Teguise
Lanzarote's largest water park, Aquapark Costa Teguise, is a teenager's dream! Pools, spiral slides and water features abound, with plenty of sun lounges when you want to take a break and just laze in the ever-present Canary Island sunshine.
9. Hang out at Rancho Texas Lanzarote Park
A mix of animal shows, enclosures, sports activities and water park, Rancho Texas Lanzarote Park is a destination in itself. Kids and adults will love the short shows and demonstrations with dolphins, seals, cockatoos and bird of prey, each with an emphasis on learning more about the species. There are plenty of places for little ones to play – all within a midwestern and Texas theme. Make sure to pack your swim to take advantage of the pool and water park.
10. Explore the Biosfera Shopping Centre
The Biosfera Shopping Centre has a little bit of something for everyone. This outdoor shopping mall has 45 shops, mixing high street favourites like Zara with specialists artisan shops like Arteguise which sells gorgeous handcrafted jewellery made from black lava stone and green peridot. There are organised events for children each Saturday, and everyone will enjoy mini golf. But the pieste le resitance is the outdoor cinema on the top floor where you can watch classics under the stars.
Where to stay
Hotel Grand Teguise Playa
Prepared to be wowed when you first step foot into the Hotel Grand Teguise Playa. At it's centre is the expansive open-air lobby which has a 6-story high atrium with giant palms and fringed with dangling plants from the different floors. The hotel is great for families and has 320 rooms with views over the swimming pools and Atlantic.
Arrecife Gran Hotel & Spa
The 5* Arrecife Gran Hotel & Spa towers 17 stories over one of the best beaches in Arrceife. It's upscale and very swish. Teens will love the Star City bistro that has it's own DJ. Plus it's only 15-minutes from the airport.
Sentido Aequora Lanzarote
Families will love the Sentido Aequora Lanzarote all-inclusive resort. White-washed villas surrounded by black lava rock contrast with the blue pools (there are 5!) and green rosemary. It specialises in families – with petit buffets there 4-year-olds can choose what they want to eat! The combination of
IF YOU GO:
Discover Lanzarote This web site should be your first port of call if you are planning a trip to Lanzarote http://www.turismolanzarote.com
Disclosure: My trip to Lanzarote was organised and paid for my the Spain Tourist Board. All opinions are my own.
SaveSave
SaveSave
SaveSave
SaveSave
SaveSave
SaveSave
SaveSave
SaveSave
SaveSave
SaveSaveSaveSave
SaveSave
SaveSave
SaveSave
SaveSave
SaveSave
SaveSave
SaveSave
SaveSave
SaveSave
SaveSave
SaveSave
SaveSave
SaveSave
SaveSave
SaveSave