Keeping your teen's attention on family trips can be challenging! Everything is BORING. Heaven forbid you suggest something you think they would like because it will automatically become UNCOOL just because mum suggested it.
We visit San Francisco often, and I know it better than London. As a young adult it was one of the first cities I lived and worked in. I have fond memories and would like my children to have them too.
My goal for our recent trip was to have the girls earn a new appreciation for the "city by the bay". They are all nearly all teens (one is still 12 – but she acts like a teen!) so we focused on food and shopping.
I also let them pick some cool places they would like to visit. This is what they came up with!
5 cool things to do with teens in San Francisco
1. Ride the Cable Cars
I'm in two minds about the cable car. There's nothing like hanging off the side and making your way up and down the hilly streets of San Francisco. My girls love it. But the lines can be very long (check out my tips for avoiding the cable car lines). I'm not one for waiting in queues, but the girls, however, thought it was well worth it. One of the lines goes passed an apartment on Washington Street where lived just out of university – and the girls think that it the coolest thing!
My 12-year-old's perspective

Cable cars are a really fun and iconic ways to get around San Francisco. It was quite a long wait but was definitely worth it. Once you catch one, you can ride the line to the end. It's really eliciting, especially when you hold on to the poles on the outside and with the steep San Francisco streets it feels like a rollercoaster!
2. Take a Bay Cruise
As in most cities near water, a boat tour is a great way to get another perspective. San Francisco is extra special by water, in addition to the iconic Golden Gate Bridge, there's the Bay Bridge, Alcatraz, Angel Island and the skyline and lots of sail boats. The Blue and Gold tour is one hour and goes passes by all of the above (you can opt for the 30-minute rocket boat instead). A recorded tour guide talks though each one and my oldest daughter wrote down lots of notes to help them on her summer geography project.
My 13-year-old's perspective

I really enjoyed the cruise around the San Francisco Bay. The views were spectacular! We saw the Bay Bridge, Golden Gate Bridge, Alcatraz and the city skyline. Throughout the journey there was a running commentary which was very factual. It was very helpful for a school project I am doing for geography. Did you know there used to be cannons on the Golden Gate Bridge? The boat was 3 stories and we went up to the top deck which was exhilarating (but cold). If you go, bring a coat – and a camera to capture all those tourists sites on film!
3. Check out the Exploratorium
My daughters really liked this museum as tweens, but they are absolutely fascinated by it as teens. We could have spent the whole day there (as it was were were there for 3 hours.) I shouldn't even call it is a museum, it's more of an experience. There's a map – but it is only of the main themes: My youngest (12) was so fascinated by the Give and Take Experiment she has decided she wants to study psychology.
My 15-year-old's perspective

The Exploratorium is an exciting and interactive museum which is suitable for all ages. I say this because I remember going when I was a lot younger and thoroughly enjoyed it then – yet we went again and I still really enjoyed it and found it interesting in a different way as now that I am older I can understand more. There are hand-ons exhibits that relates to physics, biology, psychology, geography, chemistry, maths and art – all my GCSEs! Whilst learning something new I had a great time going around all the exhibits and doing different experiments and games.
4. Explore the California Academy of Sciences
The California Academy of Sciences is a must see if you are visiting San Francisco. It combines a natural history museum, planetarium, aquarium, research and education programmes all under one (living) roof. The purpose is to engage all ages and backgrounds on two of the most important topics of our time: life and its sustainability. The exhibit changes frequently, and each time we visit we see something new. They also have become Earthquake experts!
5. Walk around Chinatown
San Francisco's Chinatown is the largest outside of Asia! In addition to the large amount of cool places to eat, it's the perfect place to walk around and shop for small (affordable) presents to bring home to your friends!
Top Tip: Bike the Golden Gate Bridge
Teens would love to bike the Golden Gate Bridge and take the ferry back! Read how my nephew Jack (age 18) enjoyed the day with his family!
Where we stayed: Hotel Union Square
Hotel Union Square is a boutique hotel in San Francisco smack in the middle of the action in Union Square. It's upscale – but very affordable. It's an older building with lots of character — it reminded me a lot of my first studio apartment in San Francisco when I lived their as a young adult just out of Uni.
Apart from very slow wifi (sort of unbelievable in the heart of the social media capital of the world) and housekeeping knocking on our door at 8 am — we really enjoyed our room. It was large (two queens and a rollaway) and light and airy. Rooms are tastefully updated with modern features and lots of Cost Plus white. You could easily spend a week here, even with 5 in a room. The best part was walking outside and being right in the middle of Union Square. The cable car turnaround was half a block away, Uniqlo and Urban Outfitters across the street. We easily walked to Chinatown and North Beach.
Tips: Take advantage of the free wine hour (5 -6 pm) and the free earplugs – even not he 6th floor we could hear the bustling city below. You can park in the lot next next (pricey) or leave your car at the Ellis-O'Farrell Garage garage (next door) for half the price. There's no restaurant, but it partners with the iconic Tad's Steakhouse and will bring food to your room.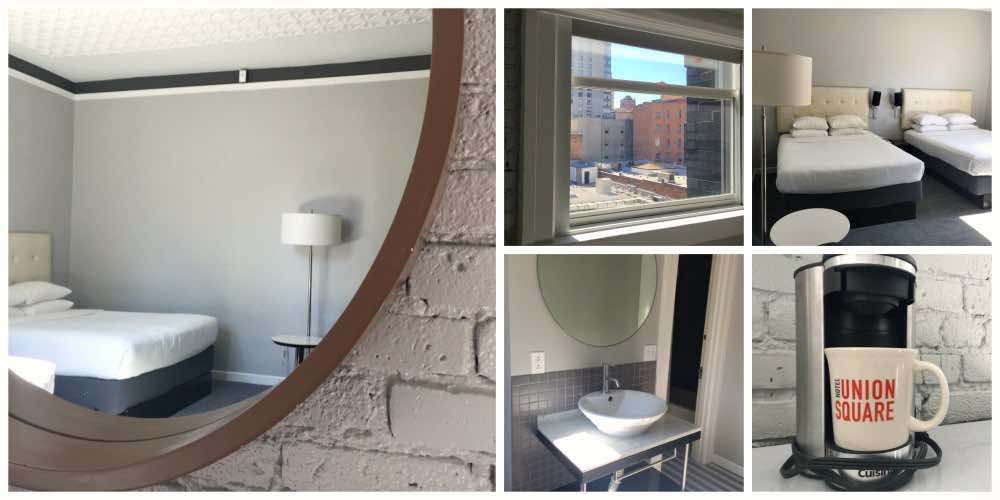 IF YOU GO
Visit California http://visitcalifornia.co.uk If you are visiting California this should be your first point of call, make sure to order the free brochure
Hotel Union Square 14 Powell St, San Francisco, CA 94102 +1 (415) 397-3000 http://hotelunionsquare.com
San Francisco CityPass 900 Market St, San Francisco, CA 94102, USA +1 888-330-5008 http://www.citypass.com/san-francisco
Blue & Gold Fleet Bay Cruise Pier 39 Pier 41, San Francisco, CA 94133 +1 (415) 705-8200 http://www.blueandgoldfleet.com
Exploratorium Pier 15, The Embarcadero & Green St., San Francisco, CA 94111 + (415) 528-4444 https://www.exploratorium.edu/
Aquarium of the Bay 2 The Embarcadero & Beach St, San Francisco, CA 94133
http://www.aquariumofthebay.org
California Academy of Science 55 Music Concourse Dr, San Francisco, CA 94118 +1 (415) 379-8000 http://www.calacademy.org
Disclosure: Visit California paid for 50% of our hotel stay and CityPass supplied 2 CityPasses. All opinions are my own.
SaveSave
SaveSave
SaveSave
SaveSave
SaveSave
SaveSave
SaveSave