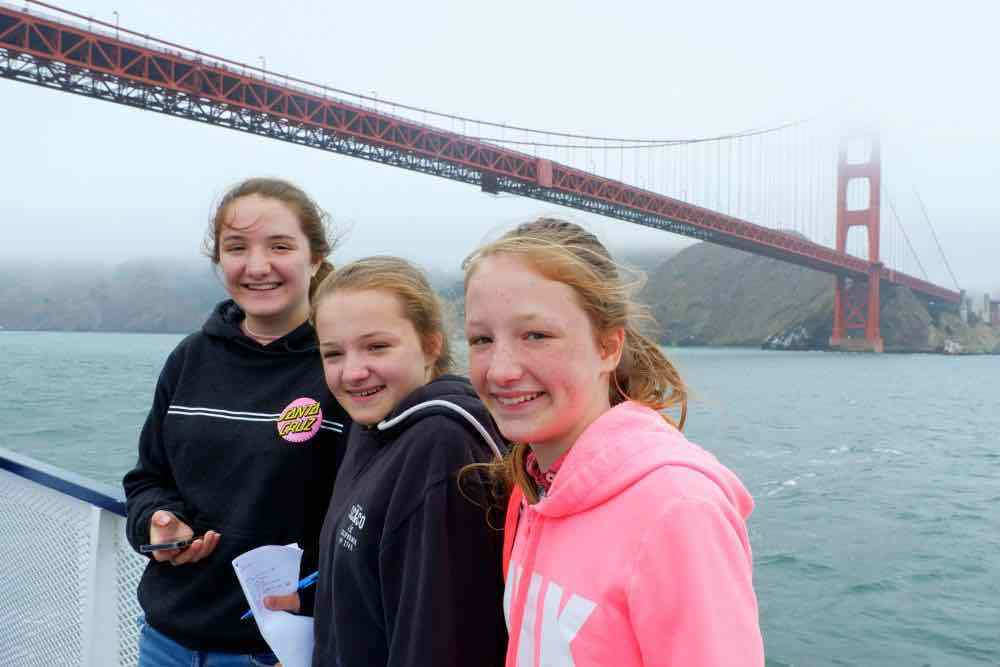 Is it worth getting a San Francisco CityPASS? The short answer is it depends.
CityPASS is an easy and discounted way to see top activities at major cities. There are usually a few options and you need to use the pass within 9 consecutive days. If you use all the options, it is a 42% savings on published prices.
The San Francisco CityPASS costs $89 for adults and $66 for a child under 12. It covers 4 attractions plus unlimited cable car/Muni rides:
California Academy of Sciences (admission $35 adult/$30 child)
Blue & Gold Fleet Bay Cruise Adventure (admission $31 adult/$25 child)
Aquarium of the Bay (admission $25 adult/$15 child)
Exploratorium OR de Young Museum (admission $30 adult/$25 child)
Our family loves learning and exploring. My 15-year-old had already told me she wanted to visit the California Academy of Sciences. Geology is one of her GCSEs and the Academy of Sciences has an excellent earthquake exhibit. The girls also love the Exploratorium. TBH, I'm no so enthused about the Aquarium of the Bay (the Monterey Bay Aquarium is far superior). So for us, the pass covered 2 of our must-sees (Exploratorium and California Academy of Sciences) plus the idea of a Bay Cruise really appealed to me. The adult admission for those activities alone is $96 (the pass costs $89).
What tipped it over for me though was the unlimited 3-day Cable Car and Muni bus rides. You HAVE to try the cable car when you are in San Francisco. These cost $7 each way! (Make sure to read my post with tips for catching the cable car and skipping the long queues).
So when I added this up, for my family the San Francisco CityPASS made sense. But I already knew this. I've used the San Francisco CityPASS before and have been so convinced of it's value I bought several myself. (Disclosure: We were given 2 passes to try out).
More about the CityPASS activities: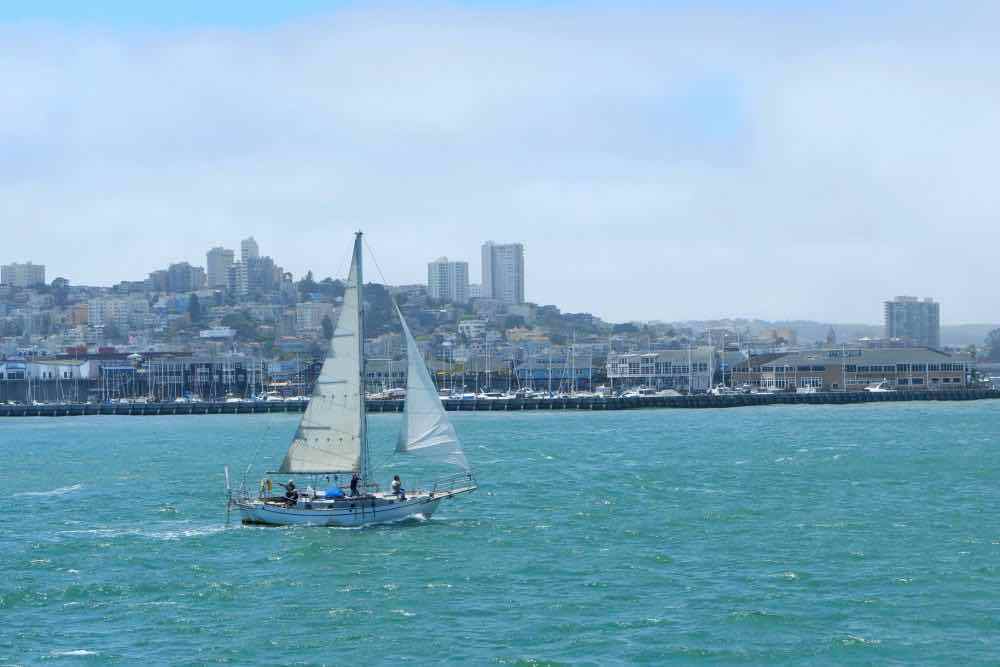 Blue and Gold Fleet Bay Tour
As in most cities near water, a boat tour is a great way to get another perspective. San Francisco is extra special by water, in addition to the iconic Golden Gate Bridge, there's the Bay Bridge, Alcatraz, Angel Island and the skyline and lots of sail boats. The Blue and Gold tour (part of CityPASS) is one hour and goes passes by all of the above (you can opt for the 30-minute rocket boat instead). A recorded commentary talks though each one and my oldest daughter wrote down lots of notes to help them on her summer geography project!



My 13-year-old's perspective

I really enjoyed the cruise around the San Francisco Bay. The views were spectacular! We saw the Bay Bridge, Golden Gate Bridge, Alcatraz and the city skyline. Throughout the journey there was a running commentary which was very factual. It was very helpful for a school project I am doing for geography. Did you know there used to be cannons on the Golden Gate Bridge? The boat was 3 stories and we went up to the top deck which was exhilarating (but cold). If you go, bring a coat – and a camera to capture all those tourists sites on film!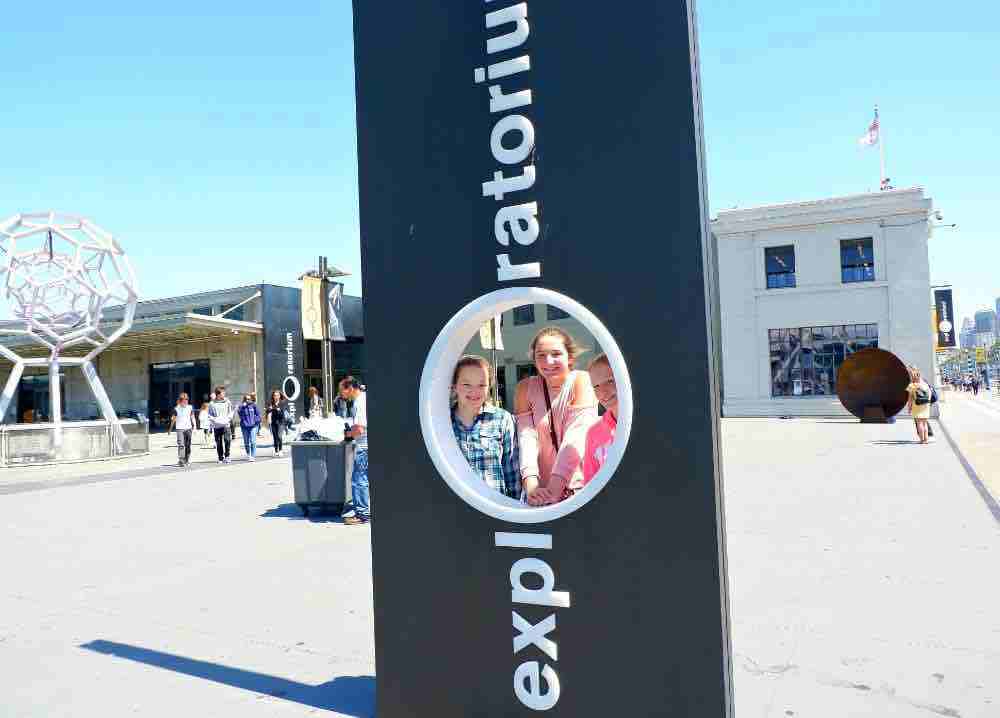 Exploratorium
My daughters really liked this museum as tweens, but they are absolutely fascinated by it as teens. We could have spent the whole day there (as it was were were there for 3 hours.) I shouldn't even call it is a museum, it's more of an experience. There's a map – but it is of the main themes: My youngest (12) was so taken by the Give and Take Experiment she was talking about it for weeks after.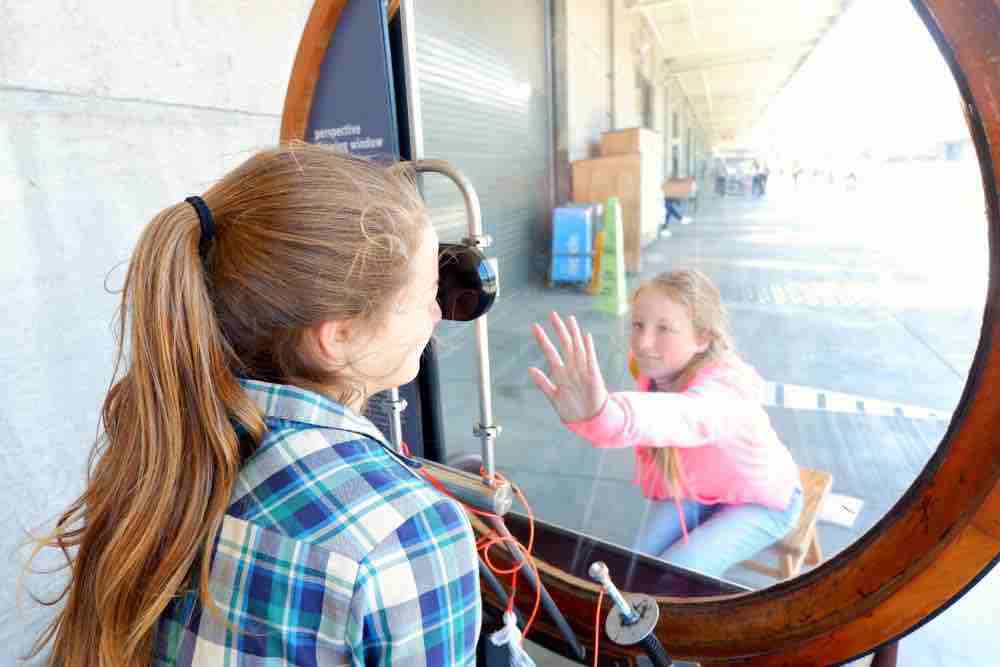 My 15-year-old's perspective

The Exploratorium is an exciting and interactive museum which is suitable for all ages. I say this because I remember going when I was a lot younger and thoroughly enjoyed it then – yet we went again and I still really enjoyed it and found it interesting in a different way as now that I am older I can understand more. There are hand-ons exhibits that relates to physics, biology, psychology, geography, chemistry, maths and art – all my GCSEs! Whilst learning something new I had a great time going around all the exhibits and doing different experiments and games.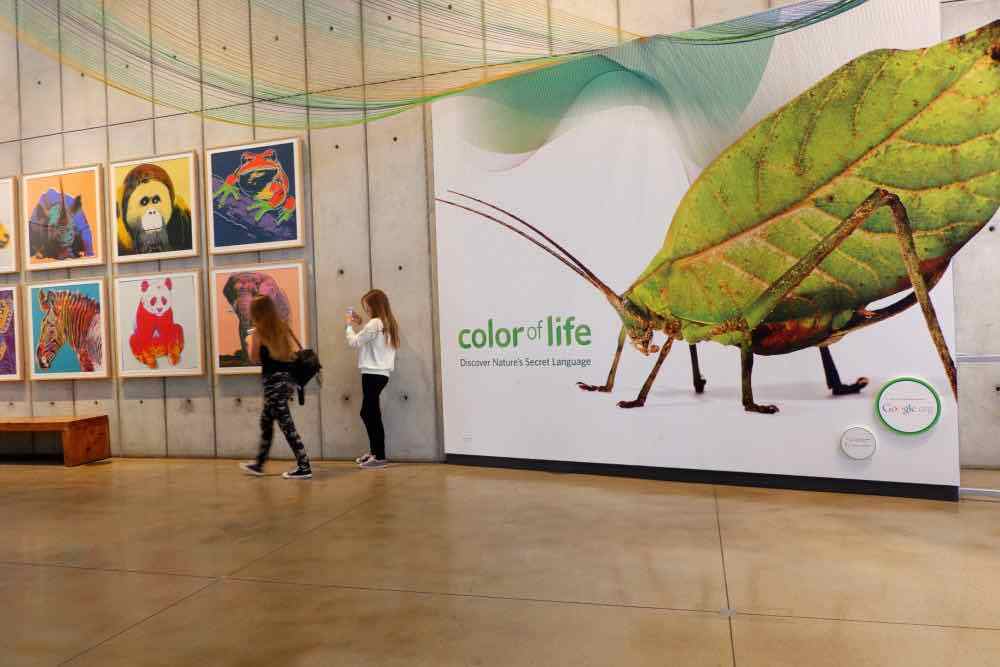 California Academy of Sciences
The California Academy of Sciences is a must see if you are visiting San Francisco. It combines a natural history museum, planetarium, aquarium, research and education programmes all under one (living) roof. The purpose is to engage all ages and backgrounds on two of the most important topics of our time: life and its sustainability. The exhibit changes frequently, and each time we visit we see something new. We were invited to visit as guests of the CAS on this trip and the girls came back revved up about science. They also have become Earthquake experts!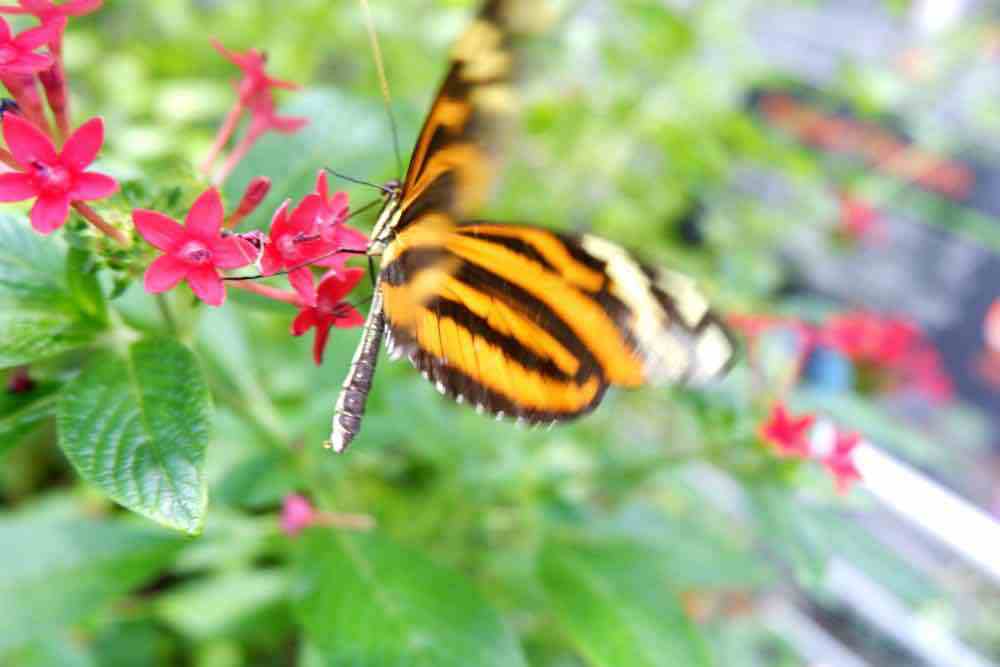 Aquarium of the Bay
Our Mission Working to protect, restore and inspire the conservation of San Francisco Bay and its watershed – from the Sierra to the sea.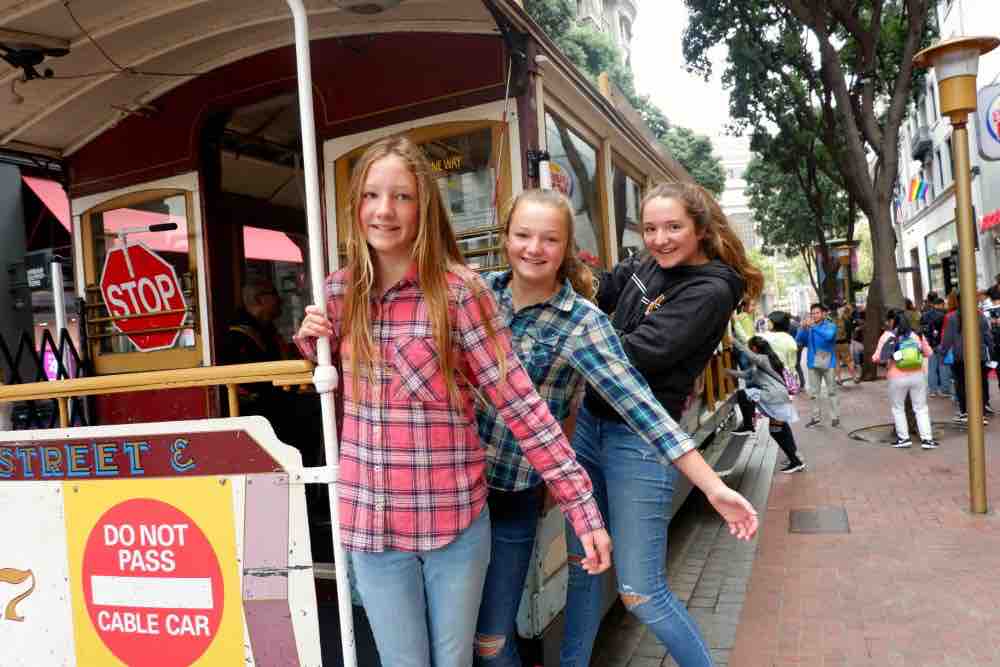 Cable Car/Muni
There's nothing like hanging on the side and making your way up and down the streets of San Francisco. My girls loved it. But the lines are very long (check out my tips for avoiding the cable car lines).
My 12-year-old's perspective

The cable cars are really fun an iconic way to get around the city. It's a very good experience and you get to see san Francisco first hand. It is especially exciting if ride at night and get to hang on the sides (watch out for the passing cars). With the steep streets, it'salmost like riding a roller coaster. It's definaltey more fun than a car.
IF YOU GO
Visit California http://visitcalifornia.co.uk If you are visiting California this should be your first point of call, make sure to order the free brochure
San Francisco CityPASS 900 Market St, San Francisco, CA 94102, USA +1 888-330-5008 http://www.citypass.com/san-francisco
Hotel Union Square 14 Powell St, San Francisco, CA 94102 +1 (415) 397-3000 http://hotelunionsquare.com
Blue & Gold Fleet Bay Cruise Pier 39 Pier 41, San Francisco, CA 94133 +1 (415) 705-8200 http://www.blueandgoldfleet.com
Exploratorium Pier 15, The Embarcadero & Green St., San Francisco, CA 94111 + (415) 528-4444 https://www.exploratorium.edu/
Aquarium of the Bay 2 The Embarcadero & Beach St, San Francisco, CA 94133
http://www.aquariumofthebay.org
California Academy of Science 55 Music Concourse Dr, San Francisco, CA 94118 +1 (415) 379-8000 http://www.calacademy.org
Disclosure: We were given 2 San Francisco CityPASS booklets to try out. I was so impressed with them I bought the rest for my family. All opinions are my own.
SaveSave
SaveSave
SaveSave
SaveSave
SaveSave
SaveSave