If you have teens you'll know it's not easy to keep them entertained. Everything is BORING. And if you suggest you like an activity, it automatically earns the "uncool" factor.
We visit San Francisco often, and I know it better than I know London. As a young adult it was one of the first cities I lived and worked in. I have fond memories and would like my children to have the same appreciation.
This trip, now that the girls are nearly all teens (one is still 12 – but she acts like a teenager!) we focused on food, shopping and I let them pick some cool places to visit.
I'm happy to say my daughters have come away with a new appreciation for San Francisco, my favourite city on earth.
5 cool places to eat with teens in San Francisco:
1. Tony's Pizza Napoletana
Possibly the best pizza we have ever had. Unfortunately this is not a secret – as the queues are very long! They don't take reservations – you stand in line just to have staff put your name down and text you when your table is ready! (We were told the wait was an hour and a half!) They won't text internationally – but we just came back 45 minutes later and were seated at an outside table in the sunshine – perfect for sipping Merlot and watching North Beach go by.
My 12-year-old's perspective

Tony's Neopolitain Pizza was amazing! It's really popular and the line was really long – and that was just to get our name on the list. After we put our name down they said the wait was an hour and a half! We used that time to walk around North Beach (the Italian area of San Francisco). The wait was definitely worth it though – it was some of the best pizza I've ever had!
It's not just pizza. We started with meatballs with pecorino and parsley and the Little Italy salad (mixed greens, chopped castelveltrano olives, walnuts, imported italian gorgonzola, olive oil, balsamic reduction,cherry tomatoes, shaved parmigiana).
Then we went for the Sicilian-style BURRATINA DI MARGHERITA, the 2008 gold cup winner international pizza championships in Lecce, Italy. Cooked at 550 degrees, it had: Burrata, cherry tomatoes tossed with fresh basil, extra virgin olive oil, balsamic reduction. It said it served 2 – 6. We had leftovers with 5, so not sure how 2 people would eat it!
2. Bubba Gump Shrimp Co.
Middle daughter (13) has been bugging us to go to Bubba Gump Shrimp Co. since she saw Forest Gump a couple years ago. I admit to not being very excited about visiting a restaurant themed on a film – but we actually enjoyed it very much. It's located at end of Pier 39 (total tourist trap – but teens will love all the activity and shops). The menu of course has lots of shrimp/prawns, but other items too like Mama's Southern Fried Chicken and Jambalaya.
My 13-year-old's perspective

As soon as I saw the film "Forest Gump" I really wanted to visit the Bubba Gump Restaurant. I had been there once before I had seen the film but didn't really appreciate it and understand what was going on. Now that I had seen the movie I was enlightened! There were quotes from the movie EVERYWHERE (including the loos). The food was delicious. Don't worry if you don't like shrimp there are plenty of other things to order. I got Mama's Fried Chicken and it was real good.
After putting our name down (another restaurant with a long wait), we checked out Pier 39 and were sent a text (internationally!) when our table was ready. Being located at the end of the Pier means pretty much every table has a view and we had a panoramic view of the San Francisco Bay and Alcatraz. Staff were very friendly too. We took a Forest Gump "quiz" and won all the salt and pepper we could use! The food was good and the girls were amused. A pleasant surprise.
3. Far East Cafe
The Far East Cafe is a Chinatown fixture serving Cantonese & Sichuan dishes accompanied by traditional Chinese decor – fans, umbrellas, ornate lanterns and an aquarium with love fish, lobster and crabs (to eat of course). I've been coming here from years! Get favourites like sweet and sour chicken, beef broccoli, and General Tsao's Chicken.
My 15-year-old's perspective

Going out for Dim sum was a really interesting and fun experience. It was firstly fascinating to try genuine Chinese food, as opposed to fast food Chinese food which I had tried before. The restaurant was decorated in a traditional Chinese way, which was cool to see. The dim sum was also really delicious, and is now one of my favourite Chinese foods!
4. Hang Ah Dim Sum Tea House
This is a hole in the wall – hidden in a side alley near the Willy Woo Woo Wong's kid's playground (yes that is really the name). Hang Ah has been serving dim sum since 1920! My girls had not had dim sum before – and they loved pursuing the menu and ordering different dishes to share that would come out when they were ready. It was a never ending treat! Order the BBQ pork rolls and fried pork pot stickers.
5. Twirl and Dip Soft Serve
Ice cream is a "thing" in San Francisco and we stumbled upon this food truck coming out of the California Academy of Sciences in San Francisco. Twirl and Dip is known for it's organic soft serve with fair trade dark chocolate dip with 60.5% Tcho chocolate – with optional sprinkle of Maldon sea salt. I ordered "grasshopper pie" which was mint ice cream with Oreo cookies and it was possibly the best ice cream I've ever had. Ok that is an exaggeration but it was very very good.
Also – we didn't make it here but I know teens would think it's cool: Off the Grid at Fort Mason Fridays 5 – 10 pm Landmark Building C, 2 Marina Blvd, San Francisco, CA 94123 https://offthegrid.com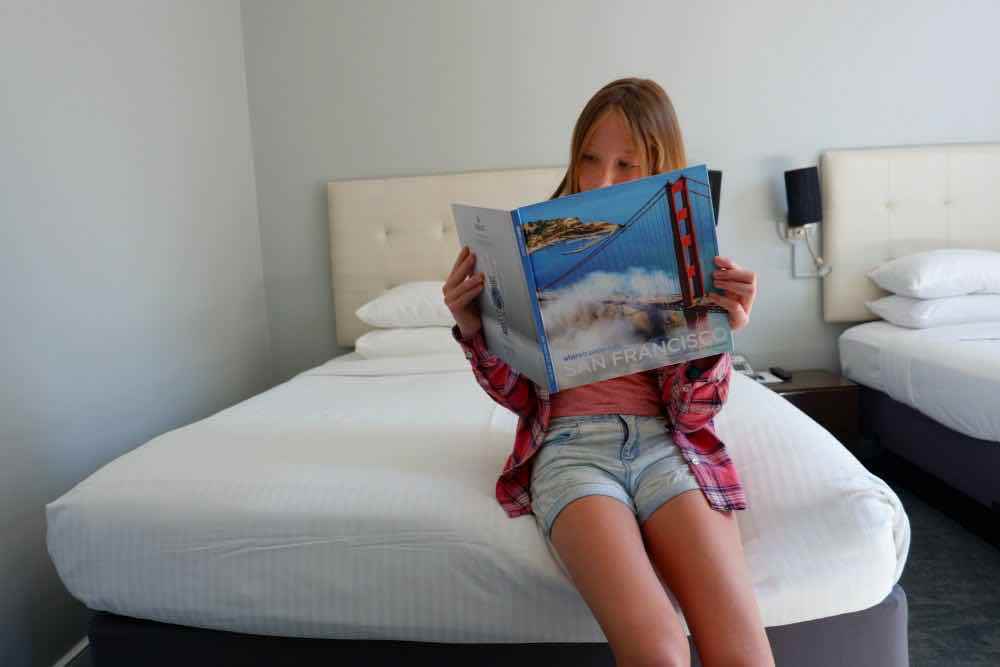 Where we stayed: Hotel Union Square
Hotel Union Square is a boutique hotel in San Francisco smack in the middle of the action in Union Square. It's upscale – but very affordable. It's an older building with lots of character — it reminded me a lot of my first studio apartment in San Francisco when I lived their as a young adult just out of Uni.
Apart from very slow wifi (sort of unbelievable in the heart of the social media capital of the world) and housekeeping knocking on our door at 8 am — we really enjoyed our room. It was large (two queens and a rollaway) and light and airy. Rooms are tastefully updated with modern features and lots of Cost Plus white. You could easily spend a week here, even with 5 in a room. The best part was walking outside and being right in the middle of Union Square. The cable car turnaround was half a block away, Uniqlo and Urban Outfitters across the street. We easily walked to Chinatown and North Beach.
Tips: Take advantage of the free wine hour (5 -6 pm) and the free earplugs – even not he 6th floor we could hear the bustling city below. You can park in the lot next next (pricey) or leave your car at the Ellis-O'Farrell Garage garage (next door) for half the price. There's no restaurant, but it partners with the iconic Tad's Steakhouse and will bring food to your room.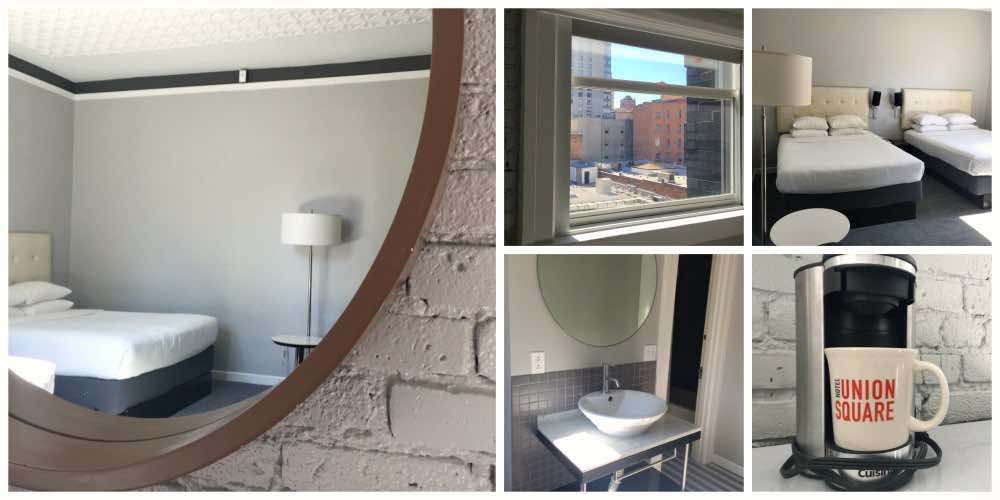 IF YOU GO
Visit California http://visitcalifornia.co.uk If you are visiting California this should be your first point of call, make sure to order the free brochure
Hotel Union Square 14 Powell St, San Francisco, CA 94102 +1 (415) 397-3000 http://hotelunionsquare.com
Bubba Gump Shrimp Co. at the end of Pier 39 Beach Street & The Embarcadero, San Francisco, CA 94133 +1 (415) 781-4867 http://www.bubbagump.com/locations/san-francisco
Far East Cafe 631 Grant Ave, San Francisco, CA 94108 +1 (415) 982-3245 http://www.fareastcafesf.com/
Hang Ah Dim Sum Tea House 1 Pagoda Pl, San Francisco, CA 94108 +1 (415) 982-5686 http://www.hangah1920.com
Twirl & Dip Soft Serve 335 Martin Luther King Jr Dr, San Francisco, CA 94118, USA +1 415-205-8261 http://www.twirlanddip.com
Off the Grid at Fort Mason Fridays 5 – 10 pm Landmark Building C, 2 Marina Blvd, San Francisco, CA 94123 https://offthegrid.com
Tony's Pizza Napoletana 1570 Stockton St, San Francisco, CA 94133 +1 (415) 835-9888 http://tonyspizzanapoletana.com
Disclosure: Visit California paid for 50% of our hotel stay. All opinions are my own.
SaveSave
SaveSave