Everyone wants to ride the iconic San Francisco cable cars and during peak season you can wait in long queues just to get your turn. In the past, I've waited more than an hour (!)
While the atmosphere in the line can be fun – there's fellow tourist camaraderie and usually a couple of street entertainers – sometimes you just don't have the time or inclination to wait in line!
The official way to ride the cable car is to join the queue at the start or end of each line. The main turning point is at Powell/Market turntable (you can't miss it – look for the line of tourists!). There are also turntables at the end of each line, and watching the turnaround is quite a site itself.
The three cable car routes
It's useful to understand the three cable car lines:
The Powell-Mason line starts at Powell/Market and ends at Bay Street at Fisherman's Wharf, and is nearest Pier 39.
The Powell-Hyde line also starts at Powell/Market and ends near Ghiradeli Square and is very close to the other side of Fisherman's Wharf.
The California line runs from the Financial District to Chinatown.
If you don't want to wait in the queue
Walk up the Powell Street line (or any line) a bit and wait for one to come by at one of the stops, marked with the sign above. If there's room, they'll take you on board. If not, keep walking and try the next stop.
This obviously works better if you have a smaller party. When I've been there the conductors took "the first 6 in line".
If you have a City Pass you can ride it as many times as you like (in 3 consecutive days).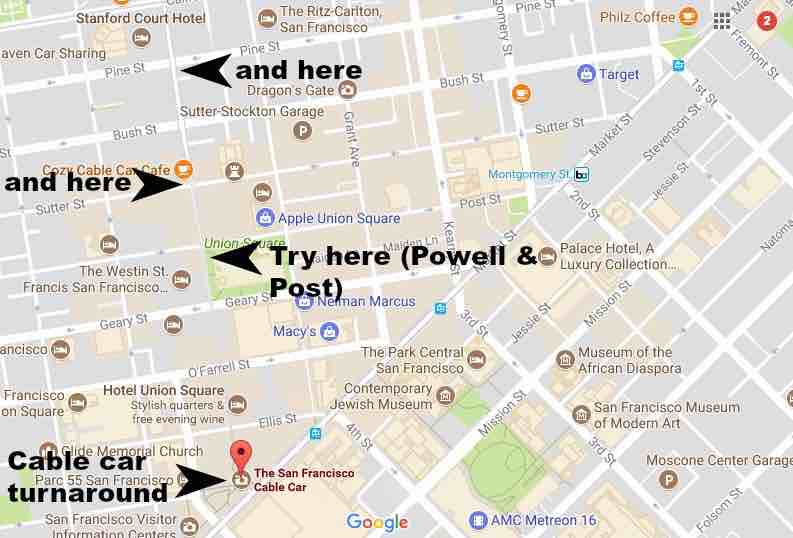 Other cable car tips
The line starts at Market street and it takes A LONG TIME.
The Market/Bay route stops a few streets from Fisherman's Wharf and is less popular. If they ask if you want that one, take it and you'll jump the queue.
Our car started at Market Street and picked up 5 groups of "the first 6 in the line" on Powell Street.
Beware: I've had the cable car pass us up even when it looks like it has room. My theory is that is was a green light and they didn't want to lose momentum. Or they just weren't in the mood for picking anyone up!
Make the most of standing in the line! Talk to others (lots of tourists from around the world), watch the street entertainers, or send someone to get something to eat.
There's a free cable car museum at Washington and Mason. It's goes over the history plus you can see cars/cables in action! Well worth a visit.
IF YOU GO
Visit California http://visitcalifornia.co.uk If you are visiting California this should be your first point of call, make sure to order the free brochure
San Francisco Cable Car Museum 1201 Mason St, San Francisco, CA 94108, USA +1 415-474-1887 http://www.cablecarmuseum.org/
San Francisco City Pass 900 Market St, San Francisco, CA 94102 + 1 (888) 330-5008 http://www.citypass.com/san-francisco