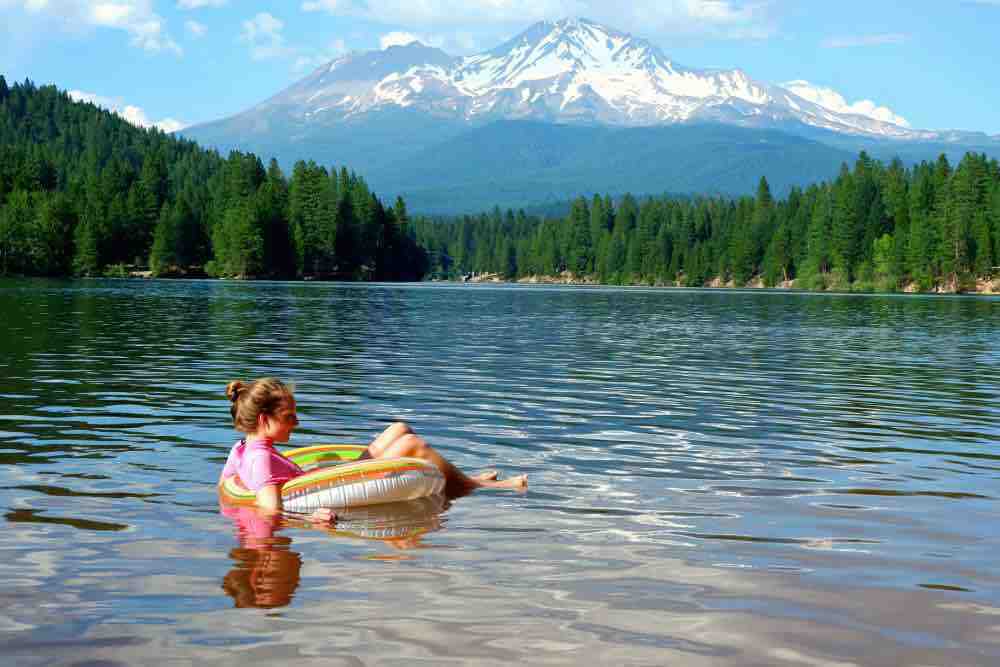 Want to venture beyond California's theme parks and beaches? Shasta Cascade might just be the region for you! Nestled at the northern tip of California, it's a nature lover's paradise. Volcanos, lakes, waterfalls and caverns grace the landscape. The region is a hidden gem and barely affected by mass tourism.
From skiing to horseback riding, families will find loads of activities to keep them busy. Or if you just want to relax, stay on a houseboat on Lake Shasta, California's largest recreational lake. The best thing about this region is you won't get stuck in traffic or fight for a parking space.
When Visit California challenged us to travel beyond the usual we were up for it! We coupled the week-long trip with a stop in San Francisco, and it worked really well. I highly recommend this for families visiting from the UK.
For example, you could fly London to SFO direct, take BART into the city and spend a few nights in San Francisco. Then rent a car and travel north to Shasta Cascade (4 – 5 hours driving) and either rent a houseboat on Lake Shasta or drive on up to Mount Shasta and stay there. Then drive 90 minutes on to Lassen to discover one of California's lesser known National Parks. If you have longer, you could drive back through the Sonoma or Mendocino Coasts, or do some wine tasting in Napa.
We were so impressed with the region, it was hard to narrow down the highlights. Below are our top reasons to visit.
Family Travel: 9 reasons to visit Shasta Cascade
1. Rent a houseboat
With 1,000 house boats for hire and more than 400 miles of shoreline, Lake Shasta is often called the houseboat capital of the world! Where else can you sit out in the back of a boat and fish in pyjamas. Boats range from basic amenities to those with hot tubs, satellite TVs and home theatres!
2. Explore Lake Shasta Caverns
Get a real life geology lesson by taking a guided tour of Lake Shasta Caverns, a world of stalactites and stalagmites 250 million years in the making. It's open year-round and only accessible by boat. The tour includes the boat ride, and then an air-conditioned bus ride up to the caverns. Guides are very knowledgable (some even sing!). You might be lucky and get a cave kiss – a drop of water on your cheek- which is considered very lucky!
My 15-year-old's perspective I really enjoyed our visit to Shasta Caverns as it brought to life what I have learnt in the classroom in an entertaining and captivating way. Our tour guide Maria was very engaging and humorous and even started singing (the caverns have good acoustics). Through her we learned about the different formations and the historical story behind the caverns. I found it all very interesting. Plus it was a cool 70F in the caverns, while it was 100F outside!
3. Visit Shasta Dam
Get a free tour of the 183 meter Shasta Dam, the 2nd largest concrete dam in the United States. Completed in 1945, it was constructed to provide irrigation and flood control to Central Valley farmers. Woody Guthrie wrote the song "This Land is Your Land" while helping build the dam's arch barrier. This was geeky dad's favourite!
4. Go tubing and wake boarding
Spend an afternoon exploring the 350+ miles of shoreline of Lake Shasta (which is actually a reservoir). The Fun Factory will kit you out and take you tubing on a "sofa" or teach you how to water ski or wakeboard. The lake's average temperature in summer is in the 80s – so you won't need a wet suit. Visit one of the marinas and get an ice-cream. A perfect afternoon.
5. Float the day away on a lake
Take your pick – there are hundreds of lake and streams! Our favourite was Lake Siskiyou, at Mount Shasta, where we found a campground with a beach and small aqua park. The girls spent the whole afternoon in the water – and so did I!
My 13-year-old's perspective Lake Siskiyou was right outside our hotel and a fun place to visit. There's a hike that goes all around the lake and it has beautiful scenery. There are places to stop for picnic and beaches scattered all around it's perimeter, so it's easy to find a spot to sit and enjoy. I found it really fun to swim in the lake with my sisters – we brought our own inner tubes and floated in the cool water surrounded by redwood trees and the snow-capped Mount Shasta. So retro and so relaxing!

My 15-year-old's perspective My favourite place in Mount Shasta was the Lake Siskiyou Campground. We didn't camp there but used their beach. I love a beach on the lakeshore – especially this one with Mount Shasta in the background. What stood out most to me was the obstacle course on the lake, which consisted of slides, water trampolines, mats and more. It was great fun and I highly recommend it to anyone visiting!
6. Swim at McCloud Falls
There are 3-tiers of McCloud Falls, and you can hike all of them and swim in the middle and lower falls. The Falls are powered by the spring-fed McCloud River which runs cold – a perfect way to cool off in the hot summer months.
7. Visit Burney Falls
Called the "eighth wonder of the world" by Theodore Roosevelt, 100 million gallons of water flow through this 129-foot falls each day. Huff Post proclaimed it the most beautiful waterfall in North America. It's unusual because of the constant water volume from underground springs. If you are driving from Mount Shasta to Lassen it's on the way. Don't miss it.
My 13-year-old's perspective On our 2nd day in Shasta Cascade we went on a trip to Burney Falls. Although the falls were about an hour from our resort, it was well worth the trip. There was a short walk to the base of the falls with different views throughout. There's a main falls which is absolutely stunning and smaller falls next to it. The falls fell into a large pool of really cold water – and we had fun climbing the rocks and dipping our feet in.
8. Check out Lassen Volcanic National Park
This is real undiscovered California. Lassen Volcanic National Park has the incredible mountain scenery of Yosemite coupled with the thermal mud pots and hot springs of Yellowstone – but without the crowds. If you have ever waited an hour in traffic in Yosemite you will understand how wonderful this is. Lassen is one of the few places you can see the 3 different types of geothermal features and the four types of volcanoes. Check it out!
9. Discover Sundial Bridge & Turtle Bay Exploration Park
The Sundial Bridge in Redding – California's largest northern city – reaches over the Sacramento River. Built by Spanish architect Santiago Calatrava, the 217-foot-tall sundial casts a time shadow every day. The bridge connects the north and south campuses of Turtle Bay Exploration Park, where families can spend a whole day playing and learning about the unique relationship between people and nature.
Where we stayed: Mount Shasta Resort
At the foot of snow-capped Mount Shasta and in the funky town of the same name, Mount Shasta Resort is a popular all-season resort on the shores of Lake Siskiyou. The resort has a golf course and spa, and a fabulous restaurant with a huge outdoor deck. We stayed in a two bedroom lakeview chalet, which was perfect for the 5 of us. There was a full kitchen, sofa bed, and a deck overlooking picturesque Lake Siskiyou.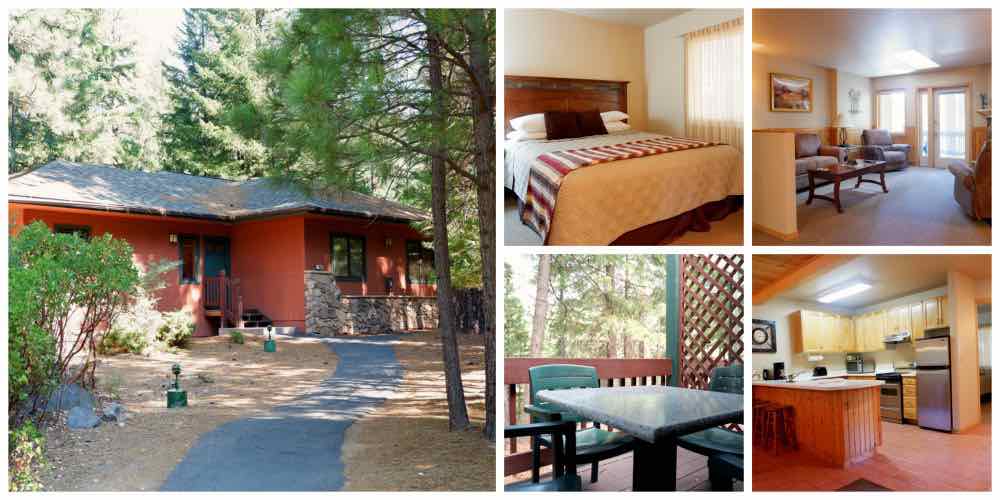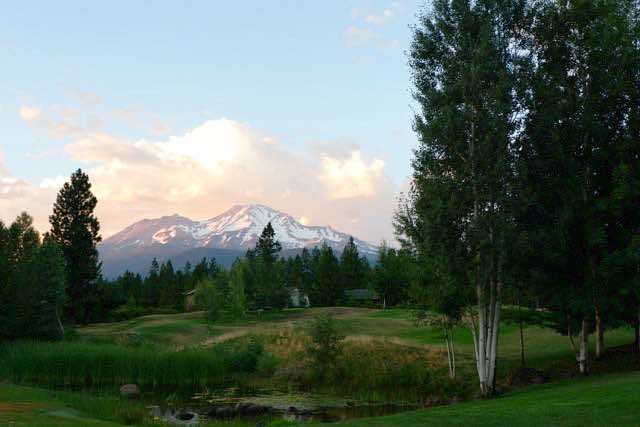 My 12-year-old's perspective

The restaurant at the Mount Shasta Resort was really nice. There was a big redwood deck that overlooked the golf course and Mount Shasta – which is white with snow all year round. The food was good and we ate there every night. After we ordered I walked around with my sisters and I saw deer, ducks and some teeny weeny frogs!
IF YOU GO:
Visit California If you are visiting California this should be your first point of call, make sure to get the free visitors guide.
Shasta Cascade Wonderland Association 1699 Hwy 273, Anderson CA 96007 www.shastacascade.com Order a guide or see the online version here.
Mount Shasta Resort 1000 Siskiyou Lake Blvd, Mt Shasta, CA 96067 +1 (530) 926-3030 https://mountshastaresort.com
Lake Siskiyou Camping 4239 W A Barr Rd, Mt Shasta, CA 96067 +1 (888) 926-2618 http://www.lakesiskiyouresort.com
Lake Shasta Caverns 20359 Shasta Caverns Rd, Lakehead, CA 96051, USA +1 (800) 795-2283 http://lakeshastacaverns.com
Shasta Dam 16349 Shasta Dam Blvd, Shasta Lake, CA 96019 https://www.usbr.gov/mp/ncao/docs/shasta-tour.pdf
Fun Factory Rentals Snowmobile Rentals and Tours & Powerboat Adventures +1 (530) 925-1465 Info@funfactoryrentals.com http://www.FunFactoryRentals.com
McCloud Falls Upper Fall Rd, McCloud, CA 96057 +1 (530) 964-2184
McArthur -Burney Falls Memorial State Park 24898 Volcanic Legacy Scenic Byway, Burney, CA 96013 +1 (530) 335-2777 https://www.burneyfallspark.org
Lake Britton Boat Rentals http://www.burney-falls.com/marina-boat-rentals/
Lassen Volcanic National Park +1 (530) 595-4480 https://www.nps.gov/lavo/index.htm
Sundial Bridge/Turtle Bay Exploration Park, 844 Sundial Bridge Drive, Redding, CA 96003 +1 (530) 243-8850 http://www.turtlebay.org
Avis Car rentals. https://www.avis.co.uk
Disclosure: Our accommodation at Mount Shasta Resort was provided by Visit California. All opinions are my own.
SaveSave