I often joke that my children are ruining my holidays! If you have kids in senior school, you'll understand what I mean. I'm referring to the English education system that revolves around a strict testing regime – which usually takes place right after a school break!
Our May half term is prime study season for our two younger girls, which means if we want to go away it's a "staycation" – anywhere we can drive with loads of books and binders. The girls revise in the mornings – and then we use the afternoons to explore.
I give lots of thought in to our accommodation – all 5 of us crammed into a hotel room just won't work! From experience I know a cottage suits us if it has enough areas the girls can spread out with their studies – and not interfere with the "non-studying" contingent. I've reviewed Sykes Cottages for a few years now, and I've always found exactly what we need.
This year we stayed in Sandy Loft, a four-bedroom, red brick terraced property in centre of Hunstanton on the north Norfolk Coast. The cottage's quirky layout over 3 floors is really good for families that want to spread out a bit. Each of the girls had their own room and small area which was perfect for revising.
It's evident a lot of thought went into Sandy Loft's decor: Floorboards have been striped and restored, brightly coloured furnishings are throughout – and I loved the use of brick as a feature in the kitchen. The cottage has a Farrow and Ball feel, with lots of nice modern features too. Sandy Loft is a high quality period property, with all that entails. Windy steep steps aren't for anyone mobility challenged, and while all of the seating and eating areas are lovely, they are compact.
But what you may give up on size, you gain by being in the centre of a traditional seaside town. Don't worry about noise – Sandy Loft is set back from the shops and surprisingly quiet. A few steps out your front door is seaside shopping! There are high street brands like Sainsbury's, M&Co and Costa sprinkled between lots of tourist/trinket shops and cafes.
Sandy Loft can sleep up to seven. On the ground floor there's a sitting room (with sofa bed) and lots of toys and game – one daughter claimed it as "hers" for revising, but I have my doubts she was probably playing Scrabble. Up a flight of stairs and there's a well-equipped kitchen with small dining area leading to the main living area of the property with another sitting room and small dining area, two bedrooms and a HUGE gorgeous 5-star bathroom with roll-top bath and separate shower.
From the sitting room winding stairs lead up to a magnificent large bedroom in the eaves with fabulous views over the rooftops of Hunstanton (Hubby and I claimed that as our own). There's also another small room perfect for a child. The property has been baby and toddler – proofed, with gates, high chair and kids dishware.
There's parking for one car (it easily fit our SUV) and a small patio area – where you can enjoy a glass of wine after a day out exploring. But the best part is you are right in one of my favourite parts of the country – the North Norfolk Coast. There's so much to do and explore.
What to do on the Norfolk Coast:
Hunstanton Beach
From Sandy Loft it's a 5-minute walk to Hunstanton Beach, which has a traditional seafront and promenade, arcade, fun fair and all that goes along with that! Take a tour on the Wash Monster or visit Hunstanton SEA LIFE Sanctuary – it's all in easy walking distance.
Old Hunstanton Beach
A 20-minute walk in the opposite direction will get you to Old Hunstanton Beach, which is a lovely dog-friendly beach with sandy expanses, rockpooling and beach huts. There's a Light House, beach cafe and shop. We loved this beach and walked there most mornings.
Brancaster Beach
About 15 minutes by car and is Brancaster Beach, a gorgeous, sandy dog-friendly beach that goes on for miles and miles when the tide is out, which is also when you can see the remains of an old shipwreck! The SS Vina got stuck there in target practice for the WWII D-Day Landings. You can walk out to see it at low tide – but beware of the fast-moving Norfolk waters which can move quicker than a galloping horse!
Thornham
Before you get to Brancaster is the town of Thornham, which has the Thornham Deli. It's a great place to get a coffee or bite to eat, sit in the garden and then browse all the lovely items in the shop. In addition to the deli (fresh crab salad and frozen homemade meals perfect for self catering) there's a "lifestyle' shop. I pretty much wanted to buy it all – flowy kaftans, vintage jam jars, cashmere jumpers and beachy house accessories. There's also an excellent pub in Thornham called The Orange Tree.
Holkham
A bit further along is Holkham National Nature Reserve, voted best beach in Britain in 2016. You get to the beach by walking on a boardwalk through tall pine woods – and are rewarded with an expansive white sand beach with sand dunes, perfect for pitching down a blanket and having a picnic or flying a kite. Access to the beach is via Lady Anne's Drive at Holkham village, or along the coast road west at Wells-next-the-Sea. There is ample paid-for parking at both. Holkham also has a naturist beach, so make sure you're on the right one! Also be warned there are no toilets.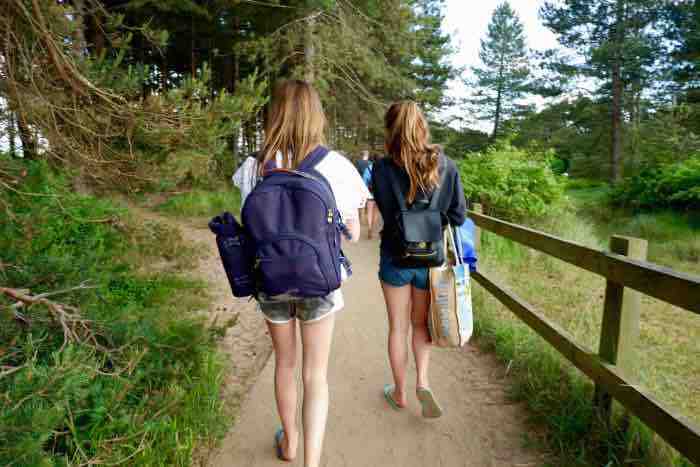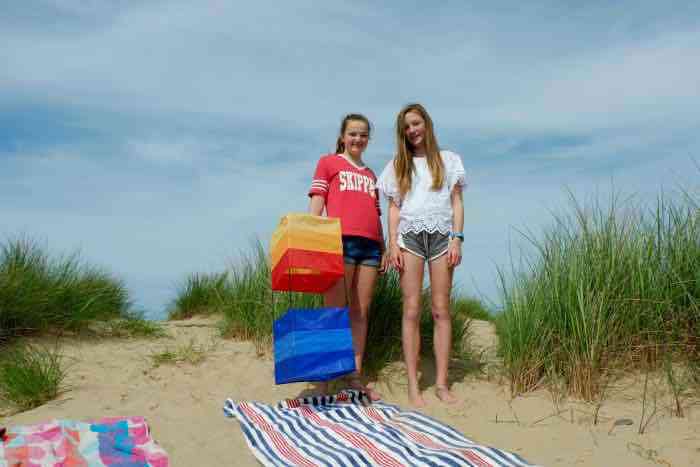 Holkham Hall
Holkham National Nature Reserve is part of a 25,000 acre estate, which includes Holkham Hall, an 18th century house and home to the Earl of Leicester. The property is massive! You can hire cycles right on sight and explore the picturesque parkland or rent a boat, canoe or kayak and explore via the water.
Wells-next-the-Sea
Holkham Beach is joined with Wells-next-Sea – you could walk there on low tide or drive 5-minutes by car. Park at the car park at the far end of Wells Harbour, and walk up the steps by the café, go over the bridge and admire the 100 candy-coloured beach huts and walk the mile or so until you reach the sea! It's a great place to fly a kite or just relax.
The car park deserves a special mention, I've never seen anything like it. First off, one of my favourite stores, Joules, has a shop there (yes I know, in a car park!). Then there's the funky Beach Cafe, a bright and colourful space serving fresh local produce. Kids can get 'Beach Bites' which come in a bucket they can keep. The cafe also has a self-service 'Wash 'n' Wag' dog wash!
Wells Harbour is also THE place to go crabbing (if you time it right you can try the tidal creeks at Brancaster Staithe or Burnham Overy Staithe). Find a place on the Harbour wall and throw in your line (the shops up and down the main street all carry the gear). Then walk over to French's and have fish and chips.
Burnham Overy Staithe
Burnham Overy Staithe is another secluded Norfolk beach. One of the best things to do here is to swim in Deadman's Hole. This was right out of the Famous Five. Park at Burnham Overy Harbour (at the Hero Pub in Burnham Overy Staithe go down East Harbour Way) and look for people carrying towels. Walk through sand/mud/ to this local's secret. Be careful not to step on the teeny-weeny crabs and heed the sign and take note of tide warnings!
Burnham Market
If the weather is a bit iffy, try the shops in Burnham Market. Burnham Market, aka Chelsea-on-Sea, has lots of cute shops, cafes and delis. It could be called Cotswolds-by-the-Coast, evidenced by the amount of Farrow & Ball paint used on this gentrified stretch of coast.
Places to eat
The Orange Tree Inn in Thornham, which was awarded 2017 Norfolk Dining Pub of the Year. There's a kid play area in the back and check out the dog menu!
The Honeystone in Hunstanton, part of the Marston restaurant chain. Eldest daughter got a burritto/calzone which she thought was funny.
The White Horse in Brancaster Staithe. It has the best views of any pub in Norfolk, across the marshes – the mussels on the menu will have been brought in at the bottom of the garden.
The Jolly Sailors in Brancaster Staithe. Anywhere with the motto of eat, drink and be jolly deserves a mention. A huge outdoor area and very popular with families. They have a wood-burning pizza oven.
French's Fish Shop on the Quay in Wells-next-the-Sea. A VERY popular place, the queues stretched for 2 shop fronts. Good quality traditional fish and chips.
And for picnics
Sainsbury's! 88 Westgate, Hunstanton PE36 5EP +44 01485 534438 https://stores.sainsburys.co.uk/2148/hunstanton
The Norfolk Deli 16 Greevegate, Hunstanton PE36 6AA, England
+44 1485 535540 https://www.norfolk-deli.co.uk
Thornham Deli Thornham, Hunstanton PE36 6LX +44 01485 512194 http://www.thornhamdeli.co.uk
Check out try full list of things to do on the north Norfolk coast!
IF YOU GO
Sykes Cottages sykescottages.co.uk A huge choice of over 5,000 personally inspected holiday cottages to rent in the UK and Ireland. We were really pleased the with high quality of our rental Sandy Loft.
Visit Norfolk This website should be your first port of call before visiting.
Beans Boat Trips Morston Quay, Morston, Norfolk NR25 7AA +44 01263 740038 beansboattrips.co.uk
Hunstanton SEA LIFE Sanctuary Southern Promenade, Hunstanton PE36 5BH +44 01485 533576 https://www.visitsealife.com/Hunstanton/
Holkham Hall Holkham, Wells-next-the-Sea NR23 1AB http://www.holkham.co.uk
Scolt Head Island, 10 miles from Wells-next-the-Sea, North-West of Burnham Market Accessed by ferry (seasonal) from Burnham Overy Staithe
Honeystone 10 Southend Rd, Hunstanton PE36 5AW +44 01485 534463
The White Horse Main Rd, Brancaster Staithe PE31 8BY +44 01485 210262 http://www.whitehorsebrancaster.co.uk
The Orange Tree Inn and Restaurant High St, Thornham, Hunstanton PE36 6LY +44 01485 512213 http://www.theorangetreethornham.co.uk dog menu!
The Jolly Sailors Main Road, Brancaster Staithe PE31 8BJ +44 01485 210314 http://www.jollysailorsbrancaster.co.uk
French's Fish Shop Ltd 10 The Quay, Wells-next-the-Sea NR23 1AH +44 01328 710396 http://www.frenchs.co.uk
Thornham Deli Thornham, Hunstanton PE36 6LX +44 01485 512194 http://www.thornhamdeli.co.uk
The Norfolk Deli 16 Greevegate, Hunstanton PE36 6AA, England
+44 1485 535540 https://www.norfolk-deli.co.uk
Picnic Fayre Deli The Old Forge, Cley next the Sea, Norfolk NR25 7AP +44 01263 740587 www.picnic-fayre.co.uk
Disclosure: My stay at Sandy Loft was provided by Sykes Cottages for the purpose of this review. All opinions are my own.
SaveSave