Middle daughter (13) is OBSESSED with Hamilton the musical. She can recite nearly every song and even has me rapping some of it. That's how I got her interested in our review trip to the Hotel Felix in Cambridge. All I had to do is mention we were visiting King's College – even though the "I'm 'a get a scholarship to King's College" lyrics refers to Columbia in New York!
As we were packing she mentioned she has to read a non-fiction book for her next school project. She's decided to read Alexander Hamilton, the book that inspired Lin-Manuel Miranda to create the musical. I told her Cambridge was a university town and I'm sure we could find a copy there. So off we went to discover Cambridge as a family – and search the bookshops!
Hotel Felix is a luxury 4-star boutique hotel just a mile outside Cambridge city centre. The hotel combines traditional 1850's Victorian architecture with contemporary design. If you are looking for something a bit out of the ordinary, Hotel Felix is for you. It's full of surprising features, including a huge art collection that features works inspired by Edward Muybridge's famous motion photography studies in the 1900s!
We stayed in a Junior Suite overlooking the courtyard. The large airy room has vaulted ceilings and easy accommodated the 5 of us with a king-sized Hypnos bed, Queen sofa bed and rollaway. Decor was rich and contemporary with a heather tweed sofa, bronze raw silk curtain and a risqué oil painting of a human bottom (over which we had much discussion over whether it was of a male of female).
The bathroom was nicely done with walk in rain shower and in-bath TV! The girls loved the novelty of a television in the bath – the only issue being they probably spent longer in the bathroom than needed. I loved the fluffy white towels and bath robes and White Company toiletries (I'm still dreaming about the jasmine, rose and neroli bath and shower gel). I was also impressed with the coffee-making facilities – with fresh milk in the fridge and filter coffee.
A word on the bed: I'm a huge Hypnos fan! After much research, it's the bed we have at home (if it's good enough for the Queen, it's good enough for me!). They are hand-made of gazillions of layers of natural materials and are so so comfortable. I highly recommend them.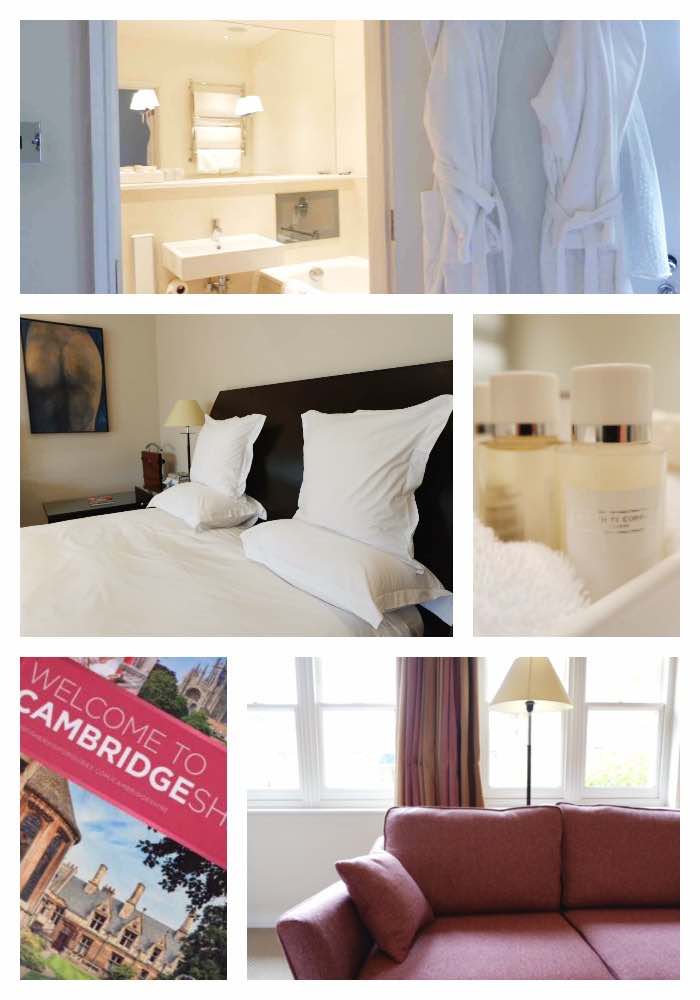 After getting settled we went to explore Cambridge. It's a 5-minute journey by car into the centre (or roughly 10 minutes by bus). We found free parking by Magdalen Bridge, which was the location of our first activity of the day: Punting! The hotel has a Stay and Punt package which includes an overnight stay, breakfast, 3-course dinner and a chauffeured punt tour with Scudamores. I was so glad we already had e-tickets because once you approach the bridge, you are accosted by tour operators offering tours.
We scheduled our tour then decided to pop across the road to Fitzbillies while we waited for our punting time. Fitzbillies is a Cambridge institution and we were told to try one of their famous sticky Chelsea buns. I ordered one to share, and the girls loved them so much I had to go back and get more because one was clearly not enough!
Punting was simply amazing and the highlight of the trip. The Scudamores tour goes along the backs of the colleges, where you can admire the architecture and soak up the atmosphere. Tourists mix with locals and college students on the water and there are varying degrees of punting talent. It's much harder than it looks (I know this after witnessing several self punters fall in the water or caught up in trees!). I enjoyed relaxing in a chauffeured tour and learning about the various colleges.
After punting we had lunch (an excellent hamburger at Byron Burger) and then went in search of the Alexander Hamilton book. Our first stop was Heffer's, which is related to Oxford's Blackwell's (my husband's favourite book store). Unfortunately they didn't have it (backordered and not available from the publisher!). Then we went to Cambridge University Press Bookshop (they only carry their own books). Our last stop was Waterston's – they had one paperback left! Middle Daughter sprinted up the 3 flights of stairs to get it. The look on her face was priceless. Turns out that biography of Alexander Hamilton is 800 pages!
After finding THE BOOK, we headed to the Cambridge University Botanic Garden, which has 8,000 species of plants from the University collection. We felt right at home when we spotted a Sequioadendron Giganteum (Giant Redwood from California!) The Botanic Garden is a lovely place to have a wander – Kids will love all the little secret hiding places and paths that meander through the garden. My 15-year-old brought a sketchbook and planted herself on a bench to draw.

By now our legs were getting weary and we went back to Hotel Felix to relax and have dinner. We were pleased to find plenty of parking, then I ordered a cup of fresh mint tea and started reading about the hotel. It was built in 1852 and originally used as a family home for a local surgeon from Addenbrookes hospital, then subsequently as a venue to teach needle work and ballroom dancing. The name comes from Saint Feliz of Burgundy who was the first person to introduce Latin Christianity to Cambridgeshire in the 7th century. The company also run The Grange, a 4-star luxury hotel in the centre of York.
While I relaxed with my tea, Middle Daughter got her nose stuck in her huge book, and the other 2 took turns in the bath, making use of the TV. Then we dressed for dinner (which meant changing into nice tops) and went to Graffiti, the hotel's AA two rosette signature restaurant which specialises in modern, European cuisine with fresh seasonal ingredients.
We don't usually take the girls to fine dining, but we thought it would be nice to have a "grown up" dinner and take advantage of having one of the best restaurants in Cambridge just a few steps from our room. We dressed up – which meant the girls changed their Pink jumpers for button down shirts – and we headed over. We were shown to the conservatory, which overlooks the south-facing terrace and gardens and ordered drinks and perused the menu. Middle daughter brought her book, and our two other girls took the camera and iPhone to explore the property.
We took the time to discuss was Middle Daughter had learned about Alexander Hamilton (he was born in the Caribbean and his mother was quite a character). The girls compared all the menus and mainly ordered from the bar menu (lamb tangine with cous cous). For starters I had tagliarini with asparagus, fonduta and breadcrumbs and then roast breast of duck, beets, blueberries, girolle and toasted seeds.
The next morning we enjoyed breakfast Graffiti (the girls had avocado on sour dough toast and I had the most amazing home-made toasted granola with yogurt and berries).
We packed up and headed back into the city centre and King's College and Chapel. Note this King's College has nothing to do with Hamilton the musical!
Next we headed to the Polar Museum, which has a collection of items (including clothing, maps, journals, etc.) from polar exploration in the Arctic and Antarctic. It's part of the The Scott Polar Research Institute which has continuing research into our changing environment. Any young environmentalist will find it fascinating.
The Fitzwilliam Museum was just around the corner on Trumpinton Street, so we went in to explore. The museum is the art and antiquities museum of the University of Cambridge, including Constable, Hogarth, and Gainsborough and many say its the finest small museum in Europe. It certainly has that vibe. We walked through one of the recent exhibitions: Madonnas and Miracles. The Fitzwilliam is one of the few museums where the exhibitions are free. I would definitely go back and spend more time and check out the family activities.
After heading back to the main shopping area by Market Square and the Grand Arcade, we took one last look at King's College before we headed home. Middle Daughter's parting words, of course, were "I'm 'a get a scholarship to King's College". I told her that's wonderful darling, and I'll stay at Hotel Felix when I come visit!
IF YOU GO:
Hotel Felix Whitehouse Ln, Huntingdon Rd, Girton, Cambridge CB3 0LX One night's stay at Hotel Felix starts from £190 (B&B basis with free parking and Wi-Fi). For more information or seasonal discounts / packages please visit the website www.hotelfelix.co.uk; +44 01223 277 977.
Scudamore's Quayside Punt Hire Quayside Punting Station, Magdalene Bridge, Cambridge CB5 8AB enquiries@scudamores.com +44 01223 359750 http://www.scudamores.com/punting-quayside
King's College Chapel, King's Parade, Cambridge CB2 1ST +44 01223 331212 http://www.kings.cam.ac.uk/chapel/index.html
Queens College, Silver St, Cambridge CB3 9ET +44 01223 335500 http://www.queens.cam.ac.uk
Jesus College Jesus Ln, Cambridge CB5 8BL +44 01223 339339 https://www.jesus.cam.ac.uk/index.php
Trinity College Cambridge CB2 1TQ +44 01223 338400 https://www.trin.cam.ac.uk
Clare College Trinity Lane, Cambridge CB2 1TL +44 01223 333200 http://www.clare.cam.ac.uk
Fitzwilliam Museum Trumpington St, Cambridge CB2 1RB +44 01223 332900 http://www.fitzmuseum.cam.ac.uk
The Polar Museum, Scott Polar Research Institute Lensfield Road, Cambridge CB2 1EP +44 01223 336540 http://www.spri.cam.ac.uk
Cambridge University Botanic Garden 1 Brookside, Cambridge CB2 1JE +44 01223 336265 http://www.botanic.cam.ac.uk/Botanic
Byron Burger 12 Bridge St, Cambridge CB2 1UF +44 01223 462927 https://www.byronhamburgers.com/bridge-street
Waterstones 22 Sidney St, Cambridge CB2 3HG +44 01223 351688 https://www.waterstones.com/bookshops/cambridge-sidney-str
Disclosure: My stay at the Hotel Felix was provided for the purpose of this review. All opinions are my own (and my family's).