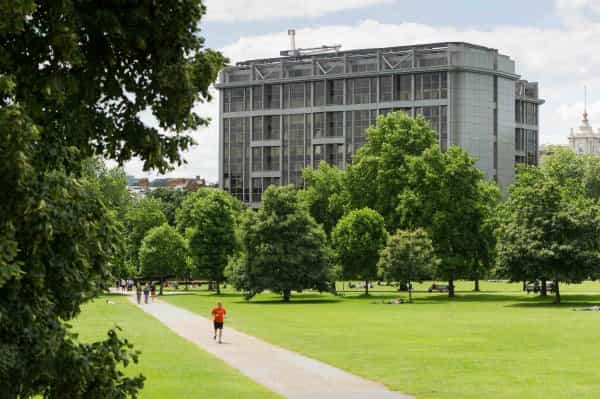 Have I told you about how Mr. and Mrs. Modern started dating? Back in the height of the dotcom boom when we were mid-level executives living on separate continents and working for Silicon Valley startups?
Well … I was in San Francisco in corporate marketing at a software company. Mr. Modern was in sales for the same company, but in one of our satellite offices in the UK. Slough. Yes, I know. After meeting 3 times, we started dating, which was quite complicated as in order to see each other with any regularity, we would both go to great lengths to conceive legitimate reasons via work to cross the Atlantic.
After 6 months into our relationship I was asked to attend our company's User Group meeting in London. I couldn't believe my luck. The venue was the 5-star Royal Garden Hotel – smack in the middle of Kensington.
At this point in our courtship only a few people in the company knew we were a "thing". Customers certainly didn't know. It could be quite awkward at times, with us having to tow the corporate line, then at the end of the evening disappearing back to our room. It was romantic, exhilarating and I would never have thought we'd return 20 years later with three daughters!
The Royal Garden Hotel asked us to check out their Family Explorer Package, which includes accommodation, breakfast, Food and Flicks, tickets for the Big Bus Tour and discounts for attractions like the London Eye, Madame Tussaud's, Sea Life and Tower of London.
Our girls, now 12, 13 and 14, were very excited for a trip into London. Though we live nearby by – we don't visit as much as should. We fall in love with it each time we visit, and vow to come back more often.
Our trip started with a quick visit to the National Gallery and the National Portrait Gallery in Trafalgar Square. Two of our daughters are art scholars and they spent time examining painting and sketching their own versions. We popped around the corner to Tortilla, which is the best fast-food Mexican I've had in the UK. Finally a somewhere to get a good burrito! The owners are from San Francisco. BTW – Sundays are a great day to travel into London. There is no congestion charge and parking is free.
We then checked into the Royal Garden Hotel. They conveniently have a NCP Car Park right under the hotel. We all got a very warm welcome – especially the kids. They got backpacks with all kinds of goodies, including a well thought out map/information booklet with everything you need to know about London using the hotel as a base. Helpfully, it even gives walking times. Using the map, we went out to explore!
My 11-year-old's perspective

One of the best things about the Royal Garden Hotel s that you get to borrow scooters and go around Kensington Gardens and Hyde Park. There were scooters for everything (even mum and dad) and it was fun to get the whole family involved. It was weird to see mum and dad on a scooter! The parks are huge! I got a bit tired but it was good exercise and helped to burn off the pancakes and bacon from breakfast!
Kensington Gardens is right next door, literally just a few steps away, and both kids and adults can borrow scooters to explore the park. Just as close is Kensington Palace, which is probably most famous for being Diana's home after she and Prince Charles divorced. The Palace is open to the public and you can tour the state apartments. I hadn't realized that Queen Victoria grew up there. The Palace often has family activities, and we dressed up as Georgian courtiers and took a family photo!
Then we went back to our room to relax. That was a whole discussion in itself when we were planning the trip: Should we have the super large Royal Suite or connecting rooms? Families have a couple of options that are similarly priced. The Royal Suite has a sitting area and sweeping views over Kensington Park. Kids sleep in the sofa bed. Or you can get an Executive Room with a connecting twin.
We opted to have some privacy and to be able to close a door at night. I was really impressed. The photos on their website don't really do it justice. We had an Executive Room has a king bed with a connecting twin – the two rooms together were really spacious it was almost like having a mini apartment.
My favorite part of both rooms was the raised sitting area, which had a comfy sofa, coffee table and an armchair. Our room was on the 9th floor and overlooked Kensington High Street. We put our feet up in the afternoon and relaxed reading the papers while the girls kept themselves busy in their room, starting their Food and Flicks package. London lights are really magical from up above.
My 13-year-old's perspective

The Flicks and Food package was amazing! Room service delivered a whole tray of food and we could watch as many movies as we wanted. We got chicken wings, home-made fish fingers, potato wedges, pizza wheels, dough balls and fruit kabobs. For dessert there was ice cream and melted Toblerone dip for the fruit. We watched Dolphin Tale and Me Before You. Dolphin Tale was really fun and uplifting, but Me Before You was really sad because the main character died.
Food and Flicks package includes all the films you can watch in 24 hours and a big tray of dishes that included BBQ chicken wings, pizza wheels dough balls, fruit kabobs (watermelon, kiwi, pineapple, strawberry and melted Toblerone fondue. There was much discussion about which movie to watch. Finding Dory or Dolphin Tale 2? They finally decided on a film to suit our younger daughter (Dolphin Tale 2) and a "sad romantic one" for the our older girls (Me Before You).
Then we left our nearly 15-year-old in charge and travelled 8 floors down to the Park Terrace Restaurant for a pre-Valentines Day dinner. The restaurant overlooks Kensington Park and we spent much of dinner trying to remember our trip to the hotel 20 years ago. Because it was a work trip, I don't remember the park being such an integral part of the hotel. I'd say the location is one of Royal Garden Hotel's biggest assets.
We were impressed with dinner too. It was a set menu for a very reasonable price. I was a bit mean and quizzed our waiter on his knowledge of the menu and wine list. He knew quite a lot, and I took his recommendation on which fish dish to order (there were 3!). Roasted North Sea cod steak with with razor clams, sun choke puree, kale and shellfish nage. I started with an oven-baked Cheltenham beetroot salad with orange and soft cheese. My husband ordered pan-seared diver scallops and lavender-crusted Essex lamb. We ordered the recommended wines by the glass for February: I had a Domaine Bruno Sorg Reisling, which was cold and crisp and my husband had the hearty Chateau de Cardallian. I cannot tell you how wonderful it is to sit down to nice meal with my husband.
We got back at a decent time and the girls had just finished their last film. I got to hear how sad the film was … "why did he have to die in the end, mum?".
The girls' favourite part of any trip is a hotel breakfast! There were all kinds of things that appealed to them including their own pot of hot chocolate.
My 14-year-old's perspective

There was a huge range of options for breakfast for kids at the Park Terrace Restaurant and along with the amazing view, it made a very good start for a busy day in London. There was a continental breakfast, which included Danish pastries, lots of fruit and a menu to order cooked items. I chose the poached egg and avocado on toast but there were many other options including American pancakes and bacon (which my sisters ordered), chia seed porridge and French toast. I really enjoyed the avocado on toast and the Danish pastries!
Our next day was all about exploring London. The Explorer Package come with Big Bus tickets – so we used that to get the girls acquainted with London from the top of a bus!
Kids get a Welcome Backpack, which is full of all kinds of goodies for exploring London. Watch the video and find out what's inside!
IF YOU GO:
Royal Garden Hotel 2-24 Kensington High St, Kensington, London W8 4PT +44 020 7937 8000 royalgardenhotel.co.uk
Park Terrace Restaurant 2 – 24 Kensington High St, Kensington, London W8 4PT +44 020 7937 8000
Kensington Palace, Kensington Gardens, London W8 4PX +44 020 3166 6000
hrp.org.uk/kensington-palace
Science Museum Exhibition Rd, Kensington, London SW7 2DD +44 0870 870 4868 sciencemuseum.org.uk
Natural History Museum Cromwell Rd, Kensington, London SW7 5BD +44 020 7942 5511 nhm.ac.uk
Victoria and Albert Museum Cromwell Rd, Knightsbridge, London SW7 2RL vam.ac.uk
Kensington Gardens London W2 2UH +44 0300 061 2000 royalparks.org.uk
Serpentine Bar & Kitchen Serpentine Road, London W2 2UH +44 020 7706 8114 benugo.com
Madame Tussauds Marylebone Rd, Marylebone, London NW1 5LR +44 0871 894 3000 madametussauds.com
Coca Cola London Eye Lambeth, London SE1 7PB +44 0870 990 8881 londoneye.com
Wholefoods Market The Barkers Building, 63-97 Kensington High St, Kensington, London W8 5SE +44 020 7368 4500 wholefoodsmarket.com
Prezzo 35 Kensington High St, Kensington, London W8 5BA + 44 020 7937 2800
National Gallery, London Trafalgar Square, London WC2N 5DN nationalgallery.org.uk
National Portrait Gallery St. Martin's Pl, London WC2H 0HE npg.org.uk
Tortilla 460 Strand Charing Cross, London WC2R 0LQ tortilla.co.uk
Our stay at the Royal Garden Hotel was provided for purposes of this review. As always, my opinions, and those of my stroppy teens/preteens, are our own.