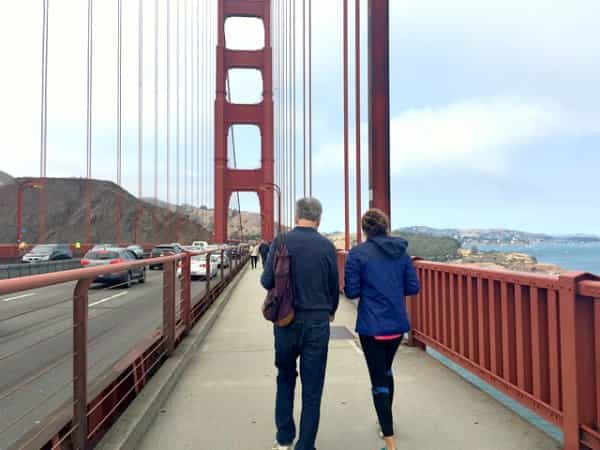 Going to San Francisco? Then you MUST set aside a few hours to walk over the iconic Golden Gate Bridge (which is painted red, btw, not gold). It's a wonderful way to experience the city. You can walk or bike across the 1.5 mile art deco-inspired bridge and enjoy sweeping panoramic views to the Pacific, Marin Headlands, San Francisco Bay to the sparkling lights of the city. It's a unique way to experience San Francisco — and best of all it's absolutely free!
On a recent California trip, I tagged along with my brother, a local, who is a big geek when it comes to the best places to go/park etc. I took lots of notes and photos to share with you. Check out my guide below.
A Modern Mother's Guide for walking over the Golden Gate Bridge with kids
How to get there:
The best walking experience starts at Golden Gate Bridge Visitor Plaza on the southeast end of the bridge. From San Francisco/Highway 101: going northbound on Highway 101, take the last San Francisco exit. From Marin/Highway 101: Go over the bridge southbound and after you pass through the toll plaza quickly get in the far right lane and exit on Merchant Road. Make a right (down a hill) and another right at the stop sign which takes you underneath the Toll Plaza and then directly to the southeast parking lot.
Where to park:
The closest car park is the Golden Gate Bridge Welcome Centre (directions). It fills up quickly, especially during peak tourist season – but people come and go all the time so just be patient and you'll eventually find a place. If you get fed up waiting for a place, there are 4 additional parking lots you could try (there's a good description of where they are here). They require a bit of walking, but it's not too far.
Once you are there:
The bridge is part of the Golden Gate National Recreation Area, and the Golden Gate Bridge Visitor Plaza at the southeast side of the bridge is a bit of a destination itself. The centre has a nice gift shop, where you can purchase bridge-inspired trinkets, books and artwork. There are two eateries including the Round House Café which serves American classic like hotdogs, apple pie and clam chowder and the Bridge Café which is good for a quick coffee or muffin.
Tips for walking over the Golden Gate Bridge:
Wear layers! San Francisco has a cool microclimate and it can often be even windier and colder on the bridge! It can also be warm. Make sure to bring an extra layer or two just in case.
Pull back your hair. The bridge is a gateway to San Francisco Bay – and is open and very windy. If you have long hair – make sure to tie it back to avoid hair in your face and a tangled mess.
Bring a camera! You'll want to capture the moment. I only say this because my teenage daughter forgot hers and kept wanting to borrow mine.
Watch the kids. Of course you watch your kids. But the bridge is always busy with traffic, so take extra care.
Take your time! You'll want to enjoy the views.
Walk close to the rail – so bikers can get past and you are as far away from the cars as you can be
You can bike across too. Note there aren't any places to rent bikes at the Welcome Centre, but you can try Blazing Saddles or San Francisco Bicycle Rentals.
San Francisco City Guides offer free guided walking tours http://www.sfcityguides.org
Electric bikes and small scooters can only be pushed (i.e. cant use on power mode); roller blades, skateboards, or roller skates are not allowed and guide dogs/service animals are the only 4-legged creates allowed.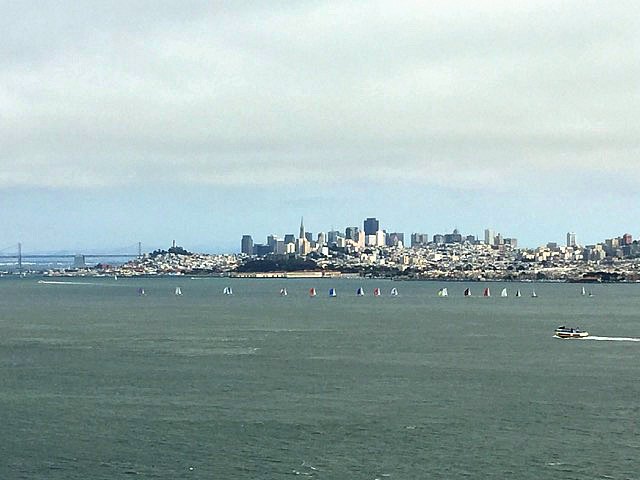 IF YOU GO:
Golden Gate Bridge Welcome Center Golden Gate Bridge +1 415-426-5220 Website, Map