The Westin Maui Resort & Spa on Ka'anapali Beach is a good choice for families. It's location – right on one of the world's most beautiful beaches – is a major plus. The resort also have a 5-swimming pool complex with water slides which makes it very popular with kids. It's a bit busy, and if going on my own sans kids I would probably pick another resort – but our kids absolutely loved the Westin!
Below are some tips we gleaned from our trip. If you are going – have fun! And my 10-year-old wants to know if there's space in your case!
The Modern Family's tips for the Westin Maui Resort:
Bring your own Body Boards and snorkel masks (or buy cheap ones at Costco which is right by the airport). That way you can use them anytime you want – without having to rent by the hour or day.
Rent a cabana. I'm so glad we did this. It gave us our own base for a pool/beach day and it came with iced water service and pineapple. You can prebook a cabana at the Westin Maui here.
Walk down to Black Rock and snorkel. It's one of the top spots on the island. You don't need to go all the way out to Molokini – you can see tropical fish and turtles as soon as you dive in!
There's a window of time from about 15th August when the US school are back in and is a great opportunity for British tourists.
Buy the inner tubes for the pool ($8). The girls used them in the ocean too and we took them home with us!
Try surfing with the Ka'anapali Surf Club. They have kiosks all along the beach walk, and the instructors are super nice!
Go to Leoda's Pie Shop. Seriously the best.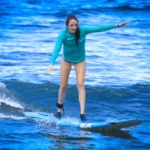 My 14-year-old's perspective
Surfing with the Ka'anapali Surf Club was so much fun! We started off the session by going over safety procedures and then put our boards on the grass to practice standing up. Our instructor jumped on our board and rocked it to give us a simulation of what it would be like in the ocean. I stood up on our first wave! Make sure to watch the video.
Watch our vlogs of the trip!
IF YOU GO
The Westin Maui Resort & Spa, Ka'anapali 2365 Kaanapali Pkwy, Lahaina, Maui, HI 96761 +1 (808) 667-2525 http://www.westinmaui.com
Whalers Village H-6, 2435 Ka'anapali Pkwy, Lahaina, HI 96761 +1 (808) 661-4567 https://www.whalersvillage.com/en.html
Leilani's on the Beach Whalers Village, 2435 Ka'anapali Pkwy, Lahaina, HI 96761 +1 (808) 661-4495 Right next door! We've been to Duke's in Huntington Beach and Jake's in Del Mar. Order the fish tacos – it's their specialty.
Hula Grill Whalers Village, 2435 Kaanapali Pkwy, Lahaina, HI 96761 +1 (808) 667-6636 http://www.hulagrillkaanapali.com
Relish Bistro Burger 365 Ka'anapali Pkwy, Lahaina, HI 96761 +1 (808) 667-2525
Merriman's Maui 1 Bay Club Pl, Lahaina, HI 96761 +1 (808) 669-6400 Food and service is OK but the location more that makes up for it. Snorkel at Kapalua and then head up for a meal. It's a bit she-she, but in a kale and pineapple juice sort of way.
Leoda's Kitchen and Pie Shop 820 Olawalu Village Road, Lahaina, HI 96761+1 (808) 662-3600 Counter-serve cafe featuring farm-fresh American eats & handmade baked goods in a quaint setting. This place is awesome. Don't miss it.
Star Noodle 286 Kupuohi St, Lahaina, HI 96761 + (808) 667-5400 Asian shared plates, noodle dishes & sake cocktails in an airy, light, wood-trimmed space.
Ka'anapali Surf Club http://www.kaanapalisurfclub.com
Hayes and Jarvis have packages from the UK to Maui, staying at the Westin