One of my favourite things to do when I lived in San Francisco Bay Area during the dotcom boom was to take my bike on the ferry from Tiburon to Angel Island and cycle the whole way around. In addition to the history — Angel Island was the Ellis Island of the west acting as an entry point for immigrants entering from Asia — the bike journey is not too difficult, and there are stunning views around every corner.
I thought it would make a great excursion for the girls (10, 11 and 13) during our San Francisco trip, so I researched the options and came up with the perfect schedule. Friends from Henley were in the area, and it gave us the perfect opportunity to test out my itinerary.
I'm a bit older than I was in the dotcom days, but I managed to make it around the island on two wheels. The girls loved it too and our Henley friends commented that it was like cycling in the Mediterranean!
Plan your Angel Island bike ride: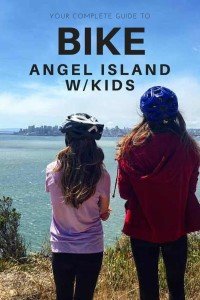 First check out the ferry time schedule. We left from Tiburon because I wanted to end up at Guaymas for lunch, but you can also depart from San Francisco, Alameda/Oakland, Vallejo or Alcatraz. You buy tickets as you board – but make sure to bring plenty of cash because they don't accept cards!
From Tiburon it's only a 10-minute ferry ride to Angel Island. The ferry ride is scenic with views of the Golden Gate, Alcatraz and the East Bay. You can rent bikes once you disembark, but note it's first-come, first-served and there aren't masses of bikes. You could also bring your own bikes, or rent some in Tiburon. We took to first ferry over and went right to the bike rentals and there were plenty available to hire. The smallest bike worked for my 10-year old.
Plan on about 1 and 1/2 to 2 hours hours to get around the island. It took our group 2 hours to cycle around and that was with lots of stops and some slow peddlers (me). There is only one main road around, Perimter Road, and it only gets a few maintenance vehicle and tourist trams. The road is paved and challenging in sections, but it's not difficult. If I can do it so can you!
We had about an hour to hangout before the return ferry left. Half of our group went for a hike, and the other half went to the cafe. Yes, I was one of the ones at the cafe, which btw serves lots of organic food and drinks. Very San Francisco.
When we got back to Tiburon, we stopped by Guaymas for a late lunch on the deck and enjoyed more views of the San Francisco skyline. The whole trip is a great day out and magical.
To get an idea of what it is like, watch this video of our journey!
My 10-year-old's perspective

First we got on the ferry. When we got there (after about 10 minutes) we got off the ferry and rented bikes. The views were pretty. We saw Alcatraz, the Golden Gate Bridge and lots of other stuff. We saw old houses that soldiers and immigrants stayed in. It was very interesting. My bike was terrible, but the roads were nice and paved and were easy to ride on (except the hills where I walked my bike up).
My 11-year-old's perspective

Bike riding was tiring but overall very enjoyable. We started off going on a ferry with stunning views and then we rented bikes on Angel Island and started our ride. There were a few hills, but nothing I couldn't do. When we were finished we gave the bikes back, and to regain energy I had a chocolate chip cookie at the cafe!
Questions: Biking around Angel Island with kids
Can you rent bikes on the Island?
Yes! They aren't loads and you can't make reservations, so my suggestion is to take the first ferry out and quickly make your way to the bike rental building. You can also bring your own bikes, or rent them in Tiburon.
How far it is around Angel Island?
It's about 5 miles/8 kilometres around the island.
How difficult is the journey?
There are two very steep bits, but our whole party made it (including me!) The main part of the journey is rolling hills and the down parts are very fun!
How long does it take?
It takes 1 to 1 and 1/2 hours – depending on how fit you are and how many stops you make! It took our group 2 hours. We stopped many times to rest and admire the view, and we took some time out to explore the old army barracks.
Can kids make it around the island?
My girls made it! They are 10, 11 and 13. My 10-year-old walked her bike up some of the steeper bits (so did I). I saw kids as young as 5 riding around.
What else is there to do?
We had some time left, so some of us went on a short hike; the rest went to the cafe and ate cookies! You could also tour the Island, camp, picnic, bird watch or take a Segway tour!
Can you eat there?
There are several picnic areas, plus a cafe that serves organic food (of course!). We took some bottled water and snacks to eat while we were there. We waited until we got off ground in Tiburon to have a late Mexican lunch at Guaymas, which is right on the water. The perfect way to end the excursion!
IF YOU GO:
Angel Island Conservancy Check out their guide to ferry schedules from Tiburon, San Francisco, Oakland, Alcatraz and Vallejo.
Angel Island – Tiburon Ferry 21 Main Street Tiburon, CA 94920+1 (415) 435-2131 angelislandferry.com Just show up and get in line (not in group line). You buy tickets ($15 adults/£13 kids) as you board. Cash only! You can bring your own bikes too.
Angel Island Company angelislandsf.com Rent bikes ($12.50 an hour) right on the Island. It's first come, first served. We walked right over rented them. They don't have massive amounts, so go on an early ferry.
Guaymas 5 Main Street Tiburon, CA 94920 +1 (415) 435-6300 guaymasrestaurant.com I just love the views (and Mexican food) overlooking the San Francisco skyline!
New Morning Cafe 1696 Tiburon Blvd, Belvedere Tiburon, CA 94920 +1 (415) 435-4315 Great breakfast and brunch