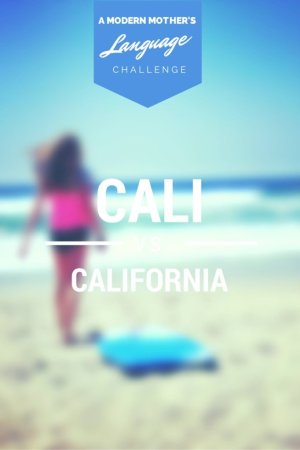 The first time I heard the apocopation Cali I cringed. I almost broke London etiquette and corrected the offenders on the tube. They had smart Prada bags, looked like they were in PR, and were discussing a recent trip to "Cali".
Erm, no one in California would actually use the term Cali. They might name their cat Cali. But please don't say Cali in the presence of a native Californian. They will immediately think you are an idiot. Just saying.
I didn't actually articulate my thoughts, instead I just shook my head (with highlights from our recent California trip) and speculated.
Cali vs California
Having lived in the UK for the past 20 years, I wondered if I was out of touch. Maybe my fellow Californians have abandoned their morals and say Cali. After all, it's so much easier to say Cali than California. Stepping back from the I-was-born-there-don't-you-dare-play-with-the-name attitude, it's a kinda cute abbreviation. Plus #Cali takes up much less social medial real-estate, and is easier to type out on your iPhone (which was created in California, btw).
My first go-to was my family. A firm no from my Dad, 86, who moved from Ohio to Southern California to be a tennis star (didn't happen, but he did have five wonderful kids :D). Mom (born in Santa Maria) just rolled her eyes. My geeky engineering brother (52) thought about it for a little while and just said no.
My 40-something friends? "Only people who weren't born in California use Cali" (one of my best friends in high school). Another sorority friend said "It's as cringe-worthy as using Frisco for San Francisco". I was sensing more and more heated responses. They were obviously just as annoyed at the prospect as I was. Are you frigging joking? (another college friend).
I told my daughters (who have grown up in the UK and have British accents) never to say Cali. It's uncool, I explained to my daughters, one who was clad in a pastel blue coloured Hollister T-shirt that had Cali emblazoned on the front.
But then my 12-year-old daughter pointed out that my parent's neighbour in Silicon Valley (age 13, a California native, and avid soccer player and instagrammer) uses it. And so do some of her friends.
REALLY?
No, no, no. That's just wrong. You can't just make up words like that (unless you are Dan Quayle).
And then she showed me #Cali on Instagram, which has more than 8 million tags.
Cali vs California: So here's my conclusion..
>>If you are over 25 and were born and raised in California you would never, ever say Cali.
>>If you are under 25 and live in California, you may say Cali. Mainly to annoy your parents.
>>If you are not from California and don't know anyone from there, you won't really care.