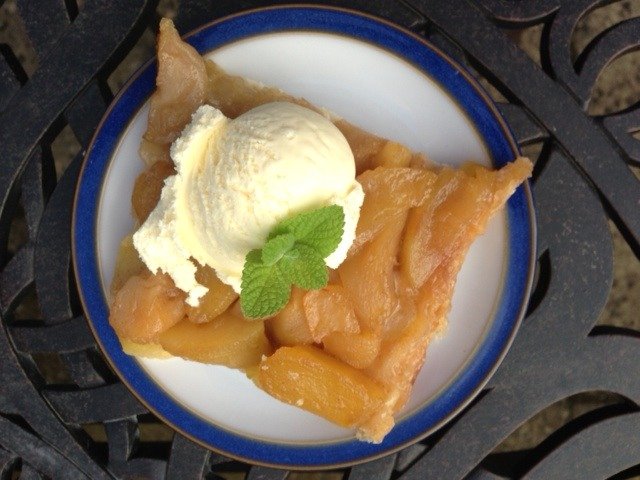 I love this time of the year, when there is a glut of shiny apples and juicy pears. We make lots of crumbles, crisps, cakes and muffins. Here's another one of our favourite apple recipes: Apple Tarte Tatin. It's not made the traditional way in one hob-to-oven dish, but it's a really easy alternative.
Easy Apple Tarte

Ingredients:
10 apples, peeled, cored and cut into six pieces (you can use pears too)
100g (1 cup) caster sugar (do not substitute granulated sugar!)
1 tsp vanilla
1 Tablespoon ground cinnamon
2 Tabespoons brandy (use Calvados if you have it)
320g puff pastry sheet (such as Jus-Rol)
Method:
1. Peel, core and cut apples into six chunky pieces
2. Melt butter in frying pan. Add sugar. Stir. When it start bubbling, add in cinnamon, vanilla and brandy.
3. Preheat oven to 200C/fan 180C/gas.
4. When toffee coloured, add the apples to the carmel mixture.
5. Let them mix around with with toffee mixture, and carmelise, about 8 – 10 minutes. Don't leave the apples in too ling or they will turn into applesauce!
9. Let cool a little, then pour apples into a 10 by 13 oven proof pan.
10. Oh, I should have told you to take the puff pastry out of the fridge, roll out and let it come to room temp! (leave it in the blue plastic wrap). When at room temp,take a rolling pin and roll over the pastry to stretch it a little (you are going to place it over the 10 by 13 pan, so this makes it a little bigger).
11. Drape the pastry into quarters (so easy to handle) and place over the apple mixture. Tuck under the fruit. Pierce pastry a few times (so it doesn't bubble up).
12. Bake for 20 minutes on 200/180.Then reduce to 180/160 and bake a further 20 minutes.
13. Let cool for 10 minutes, then invert onto a baking sheet.
14. I put mine under the boiler to brown.
12. Serve with vanilla ice cream.
Gorgeous!