Each time we visit my parents in California we make a point to go into nearby San Francisco, and this year I wanted to make sure we saw the new Bay Lights Sculpture.
Designed by New York artist Leo Villareal, the Bay Lights Sculpture is a public art display of 25,000 LED lights on the western span of the San Francisco Oakland Bay Bridge.
The show commences at dusk and the lights dance, pulse and glitter till 2 am. The computer-generated display shows non-repeating patterns of fish, clouds, fog, waves, cars and trucks, and it's spectacular!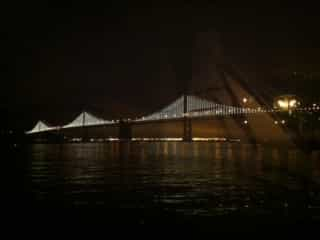 The art installation cost $8 million and was created by The Bay Lights. Its isfunded by private donations – they are looking for funding to keep it going until 2015.
Scottish hubby wanted to just drive along the Embarcadero to watch the light show, but I thought it would be nice to view while having dinner. We settled on Sinbads Pier II, which is just about the closet dining you can get without being on a boat. The restaurant is tired, expensive, and serves mediocre food, but you can't beat the bay bridge view from nearly every table. PLUS, they have valet parking ($5). You could always skip dinner and just have a Mai Tai at the bar.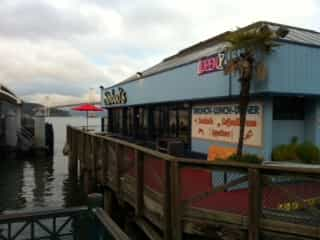 There are other restaurants on the Embarcadero, including the Waterbar and EPIC Roasthouse, which look like they would have good views too.
Of course, you can always bundle up and walk along the Embarcadeo Promenade or hangout out on Pier 7.
Go behind the scenes of the Bay Lights project and find out more.
IF YOU GO:
Sinbads Pier II Restaurant. 141 The Embarcadero San Francisco, CA 94111 (415) 781-2555 The restaurant is tired and the food is pricey and won't win any Michelin stars, but they offer great views from nearly every table.
EPIC Roasthouse. 369 The Embarcadero San Francisco, CA 94105 (415) 369-995 www.epicroasthouse.com
Waterbar. 399 The Embarcadero San Francisco, CA 94105 (415) 284-9922 www.waterbarsf.com
Pier 7. The Embarcadero San Francisco, CA 94199 Yelp reviews. Dress warmly!
Embarcadero Promenade Public Walkway from the Bay Bridge to the San Francisco Ferry Building
San Francisco, CA