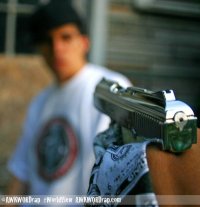 In addition to holding a British passport, I have an American one. I spent my first 24 years in Silicon Valley, but call Blighty home, living here for 20 of my 47 years.
We travel to the US regularly, spending holidays with my ageing parents in California.
Being raised by teachers, I was taught to dissect and debate issues. Owning a gun was never OK in our house. The purpose of a gun was to kill. We're also Christian. Why would we want to own a weapon that would kill someone?
Of course I was aware of families that owned guns. The argument was always the same: "It's my right to protect myself." Sometimes "right" would would be proceeded with "God-given" or "constitutional". Fair enough.
But what about MY right to protect my family from people that do atrocious things with guns?
I've never paid much attention to Piers Morgan (I hate reality TV and I'm not a huge fan of the papers he worked on). That aside, I think I've just fallen in love with him. He's been able to articulate so well what I have been thinking regarding gun control in the US. He also uses the word hogwash.
Watch this debate; Piers points out that after the shooting of 16 children in a school in Dunblane, the UK banned private ownership of handguns. He also asks how many children have to die before the US decides less guns would be better (there 270 million guns in the US). Nicholas Kristoff wrote a nice opion piece too. I'd say I was in love with him, by my husband reads my blog and he may begin to wonder.
There are 60 million people in the UK, a country with strict gun control laws, and 35 deaths by guns.
There are 330 million people in the US, a country with minimal gun control laws, and 30,000 killed by firearms.
It took me a little while to work out maths (feel free to correct me): the UK is about 1/5 the size of the US, implicating that if we had the same gun control laws, we would have 6,000 deaths per year via guns, not 35.)
Back to living in the UK. There are some things I don't like about this country: I love that the NHS is available to everyone, but dislike that a yearly mammogram is not available and I can't easily get my kids flu jabs. I love the British "we will prevail spirit", but could do without the class system and whole self depreciating thing. I love Sunday roasts and OMG I love Marmite. Period. I mean FULL STOP.
But the biggest thing I love about the UK? I feel safe. If some moron broke into my home they would steal a laptop or iPad or some other electronic device. But most likely they wouldn't point a gun at me. I feel the the same about going to the cinema or mall.
I've been trying to figure out why I burst into tears when I read the stories of the families affected the Sandy Hill shootings. I didn't know them and they are thousands of miles from me. But when I read that Emilie, 6, loved art and that she carried crayons with her everywhere and made cards to cheer people up, I thought of my youngest and wept.
As I picked up my girls (aged 7, 8 and 10) from the school gate on Friday, I felt a heavy sadness for the families of the Sandy Hill shooting victims. Then I quietly thanked God that my girls came rushing out, as they do every Friday, thrusting their music cases and ruck sacks into my arms, demanding to know where their Friday cake sale treats were.
Photo credit: awkwordrap