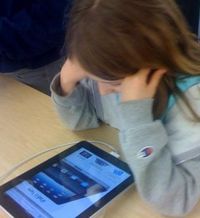 Wow. I've been blogging for more than four years. I really need to update my about section; this blog no longer has anything to do with nappies, fish fingers and endless loads of laundry! Now it's carting the kids around to five million clubs and trying to get them off You Tube.
All my kids want to do these days is get on the Internet. We've tried avoiding it (yah, right), and then severely limiting it. But it's like trying to put a hose pipe to syphon the Ocean. And why should we try to limit it, there's so mcuh great content out there for kids. Which brings me to YouTube. My girls love all the craft videos there. My 8-year-old found this one on how to make a swimsuit for a doll out of an old sock! But there are some creeps too! What is a parent to do?
While we were in the US this summer, I picked up "A Smart Girls Guide to the Internet" and I've been reading it to all three girls as bedtime reading. You would think they would be bored stiffless, but they are fascinated. I'm glad because it touches on issues I couldn't quite articulate myself.
The book culminates in and online contract for your kids to sign. The idea is that your kids specifically agree with you what they will and won't do when they are surfing the net (which is more of a commitment that just telling them what is safe). There are pros and cons to this, and while I'm not sure I will actually have them sign it, it does bring up some excellent discussion points…
Top ten rules for staying safe online
I will not give out any personal information, including my name, address, phone number to anyone. This includes any hints about where you live.
I will tell a parent right away if I find anything on the Internet that makes me feel uncomfortable or scared.
I will never agree to meet anyone I have "met" online unless a parent goes with me.
I will check with a parent before I sent/post a picture of myself online.
I will not send hurtful messages online. If I get one I will not respond, and will tell a parent right away.
I will not give out my Internet password to anyone, except my parents.
I will check with a parent before I download software.
I will ask a parent before I sign up for any accounts online.
I will respect my parents rules for the Internet
I will share my favourite things to do on the Internet with my parents, so we can have fun together.
How do you handle online safety in your household?