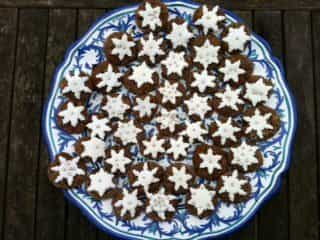 My mother is visiting from California. When she is here, we always try to cram in as much as we can. However, our plans to go into London for one of the National Gallery's children's programmes were ruined when hubby was turned out to be. (BTW- have your tried the National Gallery programme yet? That's a whole other post). So we decided to stay home and bake!
First we made our Christmas cake (I cheated and bought the Delia Waitrose pack, which are half price at the moment!). As we were mixing and stiring, my mother asked if I remembered the Christmas we baked cookies for Christmas presents. My family didn't have loads of money when I was growing up, and there was a time when my father didn't work (I can appreciate now how stressful that must have been with five little mouthes to feed). My mother told me how my dad used the rest of our food stamps to buy flour, butter, eggs, icing sugar, and spices — and we baked all night.
Sadly, I didn't remember any of this, though I generally have fond memories of Christmas baking, the smell of cinnamon and cloves filling the hosue.
Here's my mother helping us to ice our Christmas cake.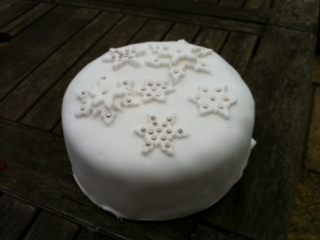 And here's the cake. We've already started eating it.
What did you bake for Christmas?