Review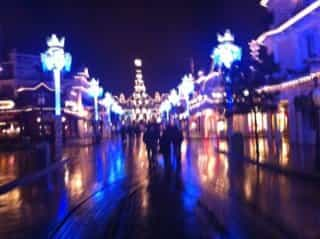 Disneyland is magical year-round, but at Christmas it is simply spectacular.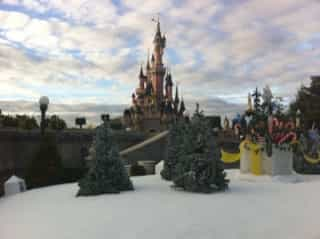 Here's Sleeping Beauty's Castle after a snow fall. We were surprised it snowed in Paris too. 😀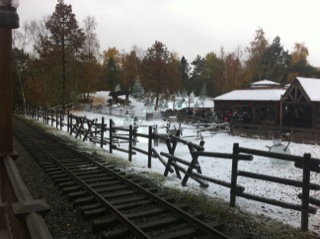 And this is Frontierland after the same snowstorm. I nearly took out my cross country skies.
Seriously, Disneyland is one of my all-time favourite places on earth any time of the year. This was our first trip to the Paris park, and were curious how it would compare to the California park, my old stomping grounds. We were especially looking forward to Parisians having to be nice to us.
Our favourite rides included:
1. "it's a small world"
This tops the festive rides. The multi-national dolls are decorated for Christmas, and the theme tune is seamlessly interspersed with seasonal songs. It's a fantastic experience. The attention to detail is amazing, with red furry hats and trimmed trees, you can even smell pine in the air. The best part of our trip was when the park opened at night and instead of heading for the group dinner, we noticed there was no queue at "it's a small world". The girls got to sit in the front of the boat, and when the ride ended, the very nice and handsome ride operator smiled at the girls and let us go round and round. I'm sure they will remember that for a long time.
2. Big Thunder Mountain
My girls (ages 5, 6 and 8) are not big roller coaster fans and we tried this ride on a whim, on the recommendation of Eva. I'm so glad we did because it was favourite #2 for the girls. The ride is a mine train roller coaster; but it is not one of those "makes you feel like your tummy is in your throat" rides. It's fast, pitch black in some parts, and BRILLIANT. It was a breakthrough for the girls, and I think they felt a bit grown-up actually liking a roller coaster.
3. Peter Pan's Flight
We went on this five times in a row. I'm not kidding. Based on J.M Barrie's children's novel, you "fly" through the ride as if you were Peter Pan, starting in the nursery, over London, into Neverland and then Skull Rock. Captain Hook, Mr. Smee, Princess Tiger Lily and the Crocodile all make appearances. The detail in this ride is phenomenal, with moving London traffic, fog and an erupting volcano. Of course hubby kept reminding us … did you know JM Barrie was Scottish???
4. Pirates of the Carribean
My eldest's first experience of this ride was in the California Park when she was four. She made it very clear then that she didn't like the ride, especially the drop. After this trip, Pirates of the Carribean in now a favourite. It has the same elements of the California version, just in a different format (and the California version has Jonny Depp.)

5. Phanton Manor
AKA: The Haunted Mansion. This ride is almost exactly like the California park, except in French! Phantom, sorciere, esprit: it's not so scary in French! The ride is a tour through a haunted mansion, and a goblin accompanies you on the way. We could not get four in a ride here … so the 6YO and 8YO went in their own buggy and were just fine.
6. Star Tours
This motion simulator attraction is based on Star Wars. You are a space tourist on a voyage that goes astray. You get wiggled around quite a bit, so don't go if you have any back troubles, but the ride is brilliant and you really feel like you have escaped the Dark Side.
7. Buzz Lightyear Laser Blast
The girls loved this interactive ride! It's a video-game-inspired attraction; you shoot lasers at targets to collect points. My 5YO was thrilled she beat me. This blows the Legoland equivalent out of the water.
8. Mad Hatter's Tea Cups
An all-time favourite and classic. You spin round and round and round. And there is hardly ever a long queue.
9. Autotopia
I remember this from my childhood. My 8YO was able to drive on her own, and the 5YO and 6YO went with me. I let the 6YO drive, which was a bit of a mistake because I ended up taking over the wheel. But never mind…
10. Le Carrousel de Lancelot
Another classic. We rode them at night with Sleeping Beauty's castle sparkling in the background.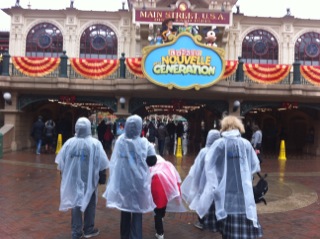 Does it matter if it rains?
NO!! It absolutely poured when we were there. We had rain jackets and umbrellas. A lot of the rides are indoors and the queues are covered. If you forget your rain gear, you can pick up these rain covers for 8 Euros.
And were the French nice?
The French attitude only came out once over the weekend. A middle-aged female restaurant employee told me it was "non possible" to prepare a 10 Euro hamburger without catchup and relish. Thankfully the very nice man at the counter saw the look on my daughter's face and made one special order. What would a trip to France be without a little attitude???
Have you been to any of the Disneyland parks and which rides are your favourites?