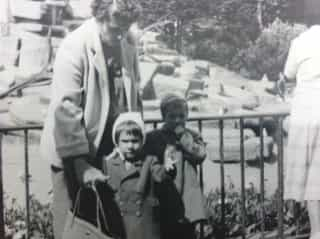 My first visit to Disneyland was when I was two. We drove seven hours on Interstate 5 from the Bay Area to Anaheim in a Ford station waggon (that's an estate for you Brits). Being only two, I don't remember much about that trip, but it left its mark. Mention Disney to me, and from the back of my psyche images of Tinker Bell casting her wand upon Sleeping Beauty Castle magically appear. During my childhood, we made several more trips to Disneyland as a family, and as teen, I looked forward to grad night, when graduating seniors were granted exclusive use of the park. I went to "Cal State Disneyland," the nickname given to CSUF because of it's proximity to the park. Disney has always been part of my life, and I've always associated it with wholesome fun.
Being a marketer I'm facinsated by the strategy– expose a whole generation of children to the happiest place on earth, and they then want to share the experience with their children. Sure enough, as we are in California this summer, I went out of my way to fit in a trip down south to take the girls to Disneyland. Like me, the park has grown up. Like me, its family has expanded. It is still a top destination and I loved the look on my 5-year-old when she saw "it's a small world" for the first time.
This post is about our recent trip. It gives tips for getting the most out of the park, favourites rides and a review of the Disneyland Hotel. My children are girls, ages 5, 6 and 8.
Disneyland Resort Survival Tips
• Decide which rides you want to go on BEFORE you get there. The guides to both parks do not explain what they are … so it can be a bit hit and miss.
• Get there when they open. Disneyland is busiest between 10 am until after the fireworks. Our package let us in the park early (7 am!!!) and we did a lot of our rides then.
• Bring your own autographs books (we bought ours at a nearby dollar store)
• Bring a small camera and video camera. I used my iPhone 4.
• Take your own snacks. A package of Cheeto's (crisps) is $3.75.
• Don't forget sun cream. I've been at Disneyland in December with 80 degree weather. Southern California is HOT.
• Use the Fast Pass system. It' there for a reason.
• Avoid the queues. If you buy a package from Disney Travel Company you get all your tickets when you check in, a great time saver.
• We watched the fireworks from our hotel (you can ask for rooms that face the park)
• Eat at Downtown Disney – there is a great variety and it is better than what is in the park. We ate at Tortilla Joes and the Rainforest Café. Remember – the portions are huge in the US and it is not looked down upon to share meals.
Disneyland Park
Aka:The happiest place on earth. If you have children ages 5 – 9, don't miss: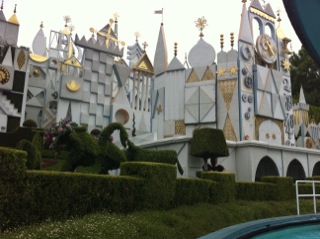 "it's a small world"
This was the girls' all-around favourite. We went on it four times in a row! It's like a huge multi-cultural doll city, with more than 400 dolls all singing the theme song. There are flying carpets, hula dancers. The exhibit was created for the 1964 World's Fair in New York. Every time we stepped into our little white boat and set sail through the exhibit, we noticed more details and complexity. Not bad for a 46-year-old! (ride that is).
Enchanted Tiki Room
Another family favourite. This fascinated me as a toddler. Birds sing and flowers dance. Retro and very cool. "Let's all sing like the birdies sing, tweet, tweet, tweet, tweet, tweet!""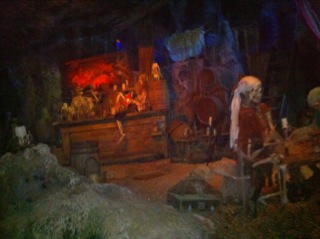 Pirates of the Caribbean
There are two minor drops at the beginning of the ride (my six-year-old said her tummy felt funny) but the rest is FANTASTIC. Johnny Depp/Captain Jack even makes an appearance.
Haunted Mansion
This was the girls' least favourite, they found it a bit spooky. You ride through a haunted house in "doom" buggies and meet all kinds of spooks. Boo!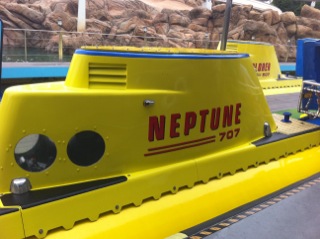 Finding Nemo Submarine Voyage
When I was little, this was called "1000 Leagues Under the Sea". It's been revamped and the new version includes animation and searches for Nemo. It's like living a condensed version of the film. The girls loved this one.

Jungle Cruise
This river cruise combines humour and authentic-looking jungle animals. I don't think the jokes have changed since I was a kid. You won't find this ride in Disneyland Paris — so definitely catch it if you are in any of the other parks.
A spinning tea cup ride, based on Alice Wonderland's un-birthday party passage. It's good fun, and you can go as fast or as slow as you want. Plus, as this is not an "E ticket" ride, the queues are never long.
Pixie Hollow
This is a new addition, and you won't find this one in Paris. Walk and talk with Tinkerbell and Terrance. The Disney Fairies are some of our favourites, they are based on Scotsman J.M. Barrie's novels. BTW — What a cool job. Imagine being in thousands of holiday pics dressed as a fairy. Mind boggling.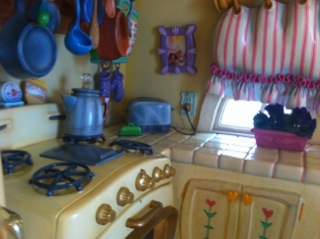 Mickey's Toon Town
We didn't go on the rides here, but they are perfect for the toddler set. We did go into Mickey and Minnie's homes' and took photos with the characters.
Princess Fantasy Faire
Whoever decided to market the Princess together is a genius. This area was full of little girls, many of them in princess costumes. After a lesson in how to be royal, the princesses came out for pics and autographs.
Disney Story – Great Moments with Mr. Lincoln
Another attraction that has its roots in the 1964 world's Faire. My mother insisted we take the girls to this, to enhance their knowledge of American history. It worked. My eight-year-old wanted said after the performance "without Lincoln there would be no President Obama, would there mummy?"
Innoventions
Tomorrowland has always been about the future, and this technology haven has all sort of gadgets in tomorrow's Dream Home (sponsored by Microsoft, HP and Taylor Morrison). I had a fab time playing around with a Microsoft Surface. I WANT ONE. It's like a big iPad. Now I just need 10 grand!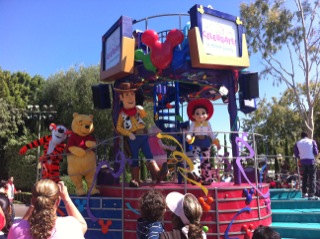 Celebrate! A Street Party
A high energy parade with many familiar faces including Mickey, Minnie, Woody, Jesse, Winnie the Pooh, Mary Poppins, and Goofy (my five-year-old remembers every character). We caught the beginning of this while in line for "it's a small world" (nothing like multi-taking). I think this, and Fantasmic!, has replaced the light parade I remember as a kids. Oh well.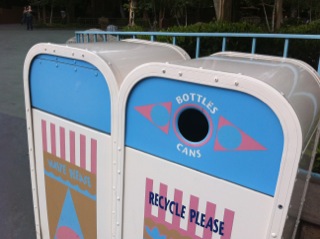 In addition to be the happiest place on earth, Disneyland is also the cleanest. My grandmother visited the park soon after it opened in 1955, and said it was a great place, and VERY CLEAN. She repeated this to us grandchildren several times over her lifetime.
A note on dining: We ate at the French Market and is was, well, umm, the food is better on United. Not sure what was going on with the mac and cheese but it was rejected by all three daughters. Everyone advises that you book restaurants in advance (which we did). But we decided to make other plans, and cancelled. My advice is to eat at Downtown Disney District, it is only a few minutes away and offers a varied dining selection.
Disney California Adventure Park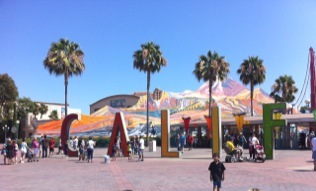 This park was my greatest discovery! In 2001, Disneyland turned into "The Disneyland Resort" with the addition of Disney's California Adventure Park, upgraded and new hotels and Downtown Disney District. Despite it's lackluster launch, Disney's California Adventure is well worth a visit. It is the best of the golden state rolled up in a pastel coloured package and tied with a big bow. You can experience most of a (Disney-fied) California in a day here: Giant Redwoods, the Russian River, the beach, Hollywood — it's all there. To be honest, I wasn't planning on visiting this park, I wanted to focus on Disneyland, but Patti at the travel agency kept going on about California Adventure and all the great shows they had. She was right! I loved the park and want to go back and spend more time.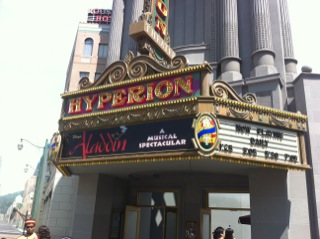 Disney's Aladdin at the Hyperion Theatre
This 40-minute musical was on par with any London production and it was one of my trip highlights (and my mother's). It's based on the classic story of Aladdin, and has flying carpets, larger than life genies and elephants. Plus it's 40 minutes in an air-conditioned building with comfortable seats! I really want to know the name of the actor that played the genie, he was BRILLIANT and stole the show. This is a must see.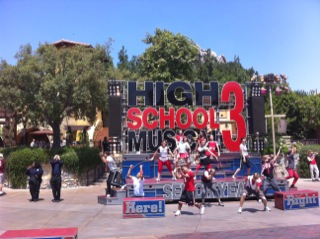 High School Musical 3: Senior Year Right Here! Right Now!
W-I-L-D Wildcats! I felt like a was back in high school at a football rally and almost broke out into a cheer. My eight-year-old was selected to go on stage and be a Wildcat, and she was just beaming. Look to the left, see those people dressed in black? They are sign language interpreters, for the hearing impaired. How cool is that??!!! This was another favourite, and worth going over to California Adventure.
Soarin' Over California (min height 40"/102 cm)
We missed this attraction, but local friends highly recommed it and we are definitely going to go back to see it. It's a simulated hot air balloon that flies over the state. The I-max attraction used to be over at Disneyland, this is reminiscent of the Circle Vision 360 and the now defunct America the Beautiful attraction.
The Disneyland Hotel
We stayed at Disneyland Hotel primarily because my 76-year-old mother accompanied us on the trip and the hotel has easy access to the park. It is a five-minute walk to the Monorail in Downtown Disney, which whisks you right into Tomorrowland. We bought a two-night, two-day park hopper package, which cost $1,625 for a family of five. It included some cool extras – like early access to the park and VIP seating at the shows. The Walt Disney Travel Company was very knowledgeable and accommodating. We came down with the flu last minute, and we were able to rebook with no penalties. Our room was GIGANTIC, with two American Queen sized beds (larger than UK ones) and a day bed. The complex has a very cool swimming pool with water slides. The staff is very friendly and helpful. When my mother ran out of steam after our first day there, we were able to rent a wheel chair for $10/day.
Net: No one does theme parks as well as Disney. I would stay at the Disneyland Hotel again, mainly because of the convience to the parks and the swimming pool. I also want to go back and spend more time exploring Disney's California Adventure.

What are your Disney memories?