Britain's best family travel bloggers join forces to create Family Travel Perspective group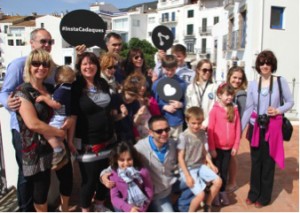 As the demand for authentic and useful travel information explodes in a digital world, Britain's most influential family travel bloggers have joined forces to create a professional travel blogging and social media "supergroup".
The Family Travel Perspective group has been created by BritMums, the UK's largest parent blogging network, social and digital editorial consultancy Travel Perspective, and leading British bloggers and journalists.
The founders' knowledge of travel journalism in print, digital and social media is the starting point for the network, a group of leading bloggers handpicked for their creativity, professionalism and influence.
Founder members are:
The Family Travel Perspective group will share practical, accessible and genuine travel advice for families with children of all ages, available via the members' established websites. The group also serves as a powerful think tank, content provider and research resource for travel destinations and brands.
BritMums cofounder and former Times journalist Jennifer Howze said the new collaboration works on many levels: "For many parents who are planning travel, blogs are the first port of call for information and reliable recommendations. Bloggers are a trusted source, and the Family Travel Bloggers group is a way for readers to find top quality content as well as a shortcut for brands who want to reach those families."
Steve Keenan, former online travel editor of The Times and The Sunday Times and co-founder of Travel Perspective, said: "We've been working with these parent bloggers since 2012, running seminars with expert speakers and sharing expertise, knowledge and best practice in the sector. As a result this group is uniquely placed to work with destinations, travel brands and PRs in an innovative, professional and informed way."
Jaume Marin, Marketing Director of Costa Brava Girona Tourism, said: "We ran a very successful trip to Costa Brava with this group that showcased what the area has to offer specifically for families. Ours is a very family-oriented destination, and this was the activity that made a difference in our action plan. We invited the bloggers and got digital ambassadors for our brands who, over the course of a week, experienced not just the destination but the activities and people in our destination. We will definitely keep working with Family Travel Perspective on interesting projects, to target relevant prescribers for family travel. It's a very professional team, full of passion and very involved in their projects."
Each of the group's founder members has their own trusted online family travel brand, including a blog, vibrant video content, and social reach via platforms such as Twitter, Facebook and Instagram.