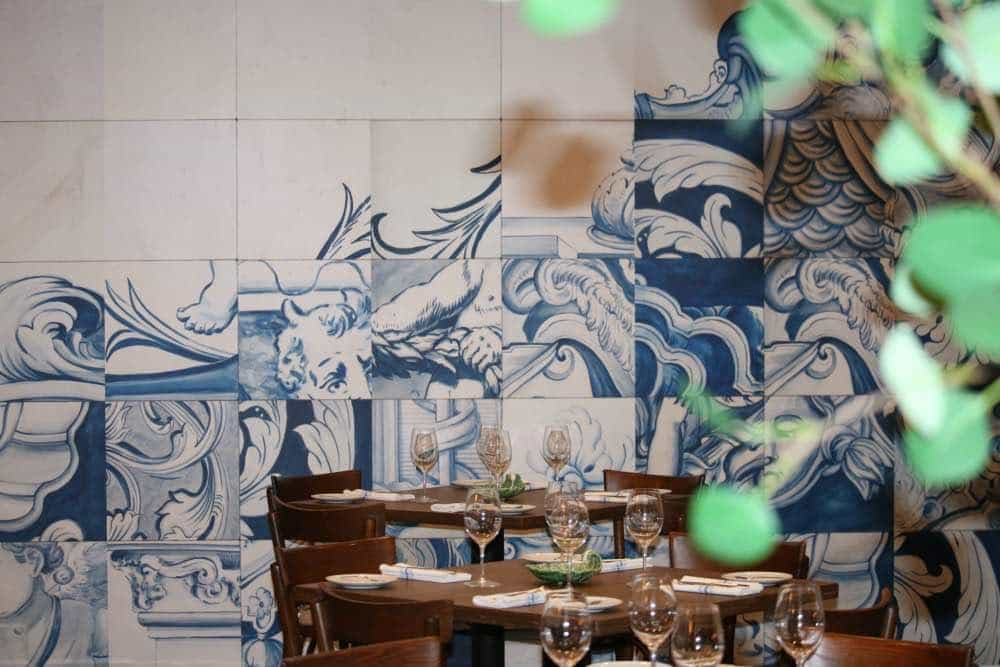 My regular readers know I gave up on English summers long ago and we spend August in California. I grew up in San Jose and it makes a fabulous base to explore the surrounding area. San Francisco is 50 minutes north and the beach cities of Santa Cruz/Monterey are about 30 miles south.
San Jose is a destination in itself. Smack in the middle of Silicon Valley, there are Tech Tours which include Apple/Google/Facebook, wineries (including Ridge, one of the original "Paris Tasting" wineries that put California wine on the map) and now a local eatery has earned the city it's first Michelin star!
Adega, a friendly neighbourhood restaurant in "Little Portugal" was honoured with 1 Michelin star last November, proclaiming it "High quality cooking, worth a stop!"
So how could I go to San Jose and not stop by?!
I love the story that goes along with the restaurant. When Carlos Carreira's 23-year-old daughter Jessica – a classical trained pastry chef – returned to San Jose after working in a top Lisbon restaurant, she brought her Portuguese-born chef boyfriend with her. The opportunity was too good to pass up and Carreira opened Adega, a friendly neighbourhood restaurant in Silicon Valley.
They wanted to give locals an experience similar to eating Portugal – especially the restaurants in Lisbon and surrounding coastal area – and took traditional recipes, updating them with fresh California ingredients. Seafood takes centre stage – just as it would in Portugal. The wine is Portuguese too. Carlos is a wine buyer and is able to use his buying power and connections to source some real gems. The wait staff dress in black and white gingham shirts and black khakis – not stuffy tuxedos you find in some fine dining restaurants. The result is a high class casual eatery with really, really good food.
David Costa and Jessica Carreira were already on the Michelin radar because of their experience at Eleven in Lisbon and Adgeda was awarded a Michelin star last November.
I adore a tasting menu – and Adega has two! All the work of picking the right mix of dishes is done for you by people who have thought extensively about it. It's even better if there is a wine pairing put together for you by a wine expert. The tasting menu includes 5 courses, with lots of "gifts from the chef" thrown in.
The "Classico" menu ($79 per person with an optional wine pairing $59 per person) is all traditional dishes that have been on the menu since opening. They are smaller portions than the ala carte menu. The "Chef's" Tasting Menu is new each season. It's slightly pricier at $99 per person with an optional wine pairing $79 per person. We picked one of each and with our orders placed, I was in relaxation heaven.
We started with Sangria Branca, white wine and port with peaches, lemon, orange, cinnamon and mint. Then our waiter with three different types of bread (white, sweet and granary) with olives, churned butter and humous. I seriously wanted to kidnap the table and take it to a swimming pool on the Med. I found the Sangria Branca recipe online and have been making it myself!
Then came a couple of gifts from the chef: A shot of a brilliant red gazpacho soup and then a ravioli and sausage. Yum.
Our first courses arrived: From the Classico menu we had Pastel de Bacalhau: Light and fluffy codfish cake on a spring mix salad with a 2015 Adega de Monção Alvarinho. And from the Chefs menu: Carabineiro: Scarlet shrimp in a sesame seaweed salad and cilantro sauce 2014 Luis Pato Sparkling Wine. The fishcakes were good but the shrimp dish was amazing – especially the fresh cilantro sauce.
Then came the 2nd course. From the Classico menu we had Calvado Verde Cream of potato soup, freshly cut collard greens, chouriço bits and chouriço oil paired with a 2015 Niepoort Redoma White. From the Chefs menu there was Favas Cold fava bean salad with house-made duck chouriço and soft-boiled egg paired with a 2016 Herdade de São Miguel Rosé. Both these dishes were outstanding. The soup was simple and comforting and the salad refreshing.
For our 3rd courses we had Polvo à Lagareiro: Oven roasted octopus with potatoes sautéed in garlic, spinach and olive oil from the Classico menu. It's mate was a 2013 Post Scriptum Douro Red. From the Chefs menu ee were served Espadarte: Seared swordfish with house-made pasta and saffron sauce with a 2013 Monte D'Oiro Madrigal White. The octopus was the clear standout and was amazing!
4th course: Λrroz de Pato from the Classico menu: Seared duck breast over chouriço shredded duck rice with demi-glace, with a 2011 Luis Pato Old Vines Red And from the Chef menu:Leitão Crispy suckling pig with orange, brussels sprouts and sweet potato purée with a 2010 Quinta das Murças Reserva Red. The rice reminded me of a Portuguese version of paella and was perfect with the red.
Next we were surprised with a "pre dessert": a super tart lemon mouse with a freeze-dried lemon slice. The size was perfect and was like Portuguese sunshine. Then the official desserts came. From the Classico menu: Ohos Conventuais: A selection of centuries-old Portuguese "convent sweets" made with egg yolks and sugar. These cam with a 1996 Justino's Madeira. And from the Chefs menu: Sericaia Cinnamon soufflé cake with strawberry and rhubarb marinade and goat cheese ice cream with a 30 Years Old Poças Porto. This was a real star – both the dessert and wine. A perfect way to end the evening. However of course it was not the end as next came a selection of after dinner treats!
If you are visiting San Jose – don't miss Adgea. It's a great mix of neighbourhood friendliness mixed with amazing food.
IF YOU GO:
Adega 1614 Alum Rock Ave, San Jose, CA 95116 +1 (408) 926-9075 http://www.adegarest.com