Yay! July marks the end of exams, the end of homework, the end of dragging kids out of bed and stuffing them into school uniforms.
By the end of the school year everyone needs a Mums Night Out and I found the glamorous Henley Festival on the riverbanks in Henley-on-Thames to be the perfect venue.
Many of you, especially if you've been to BritMums Live, know my friend Charlene. She's helped out at every one of our bloggers conferences for the past 7 years! This year we were guests of the Festival and on a mission to show how much fun it can be for two knackered mothers.

The 5-day Henley Festival celebrates the best in food, music and art. It's black tie and quite an event. I've been going for years – the whole town goes. Each year you can expect something outstanding and a little different.
Our first stop was to see Mr Doodle, a lad from London with ODD – obsessive doodle disorder (I'm not kidding – there's a documentary about him). He had camped out in a quiet corner doodling, and indulged me and Charlene.
Next we ran into Pedalo, an amphibious pedal with two hilarious paddlers trying to impress with sporting prowess and dreadful stunts. We bumped into them several times throughout the evening, and I was very impressed they remembered our names.
Headliner Goldie also indulged us by agreeing to pose for a selfie. His story is unique (from years in the care system to giving TED talks). He's also very personable and makes some of the funniest faces I've seen.
Fabulous food is another trademark of Henley Festival and self-taught local celebrity chef Paul Clerehugh from the Crooked Billet was there cooking up local seasonal foods. He really does use produce from local gardens. If you have some extra purple carrots or fresh basil — barter with him and he may exchange for lunch!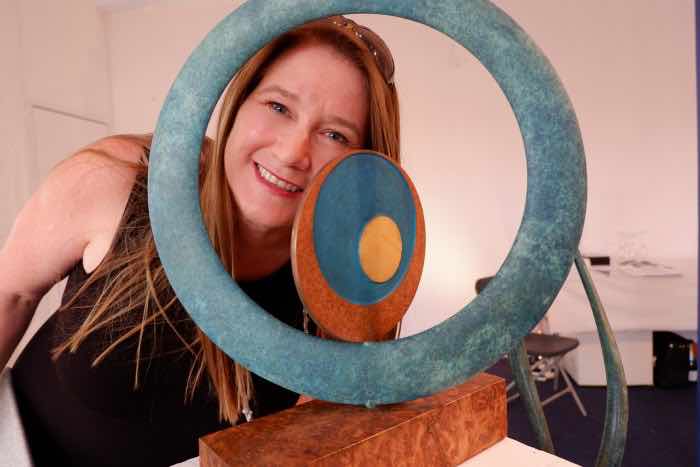 Art and especially performing arts is a huge part of the festival. Charlene recognised sticking artist Harriet Riddell right away. Harriet was there stitching portraits of festival goers with her sewing machine. Harriet has travelled around the world with her sewing machine, stitching portraits and landscapes from the slums of Nairobi Kenya to the tea fields of the Himalayas in India.
#daytonight is the 2017 art programme. Each evening culminated with a 'moment' where art in the day transitions to art at night and the whole Festival site becomes part of the installation using fire and light. It's pretty cool.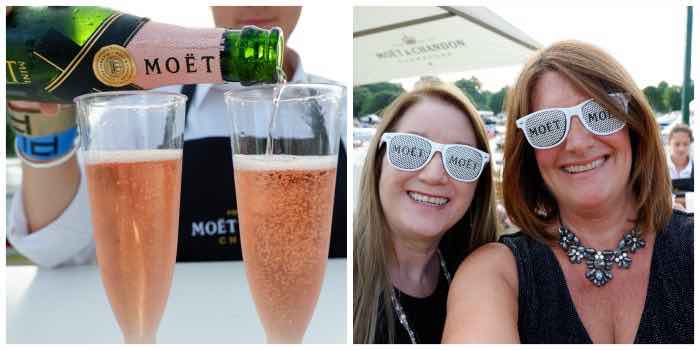 And of course what is a festival without a glass of champagne! We only had a couple of glasses (Scouts honour).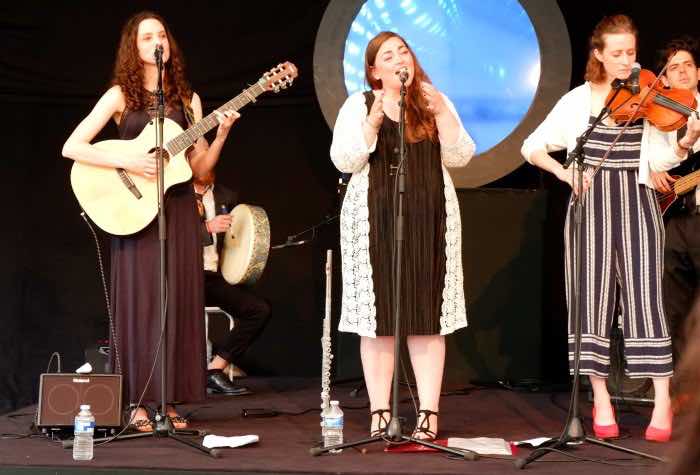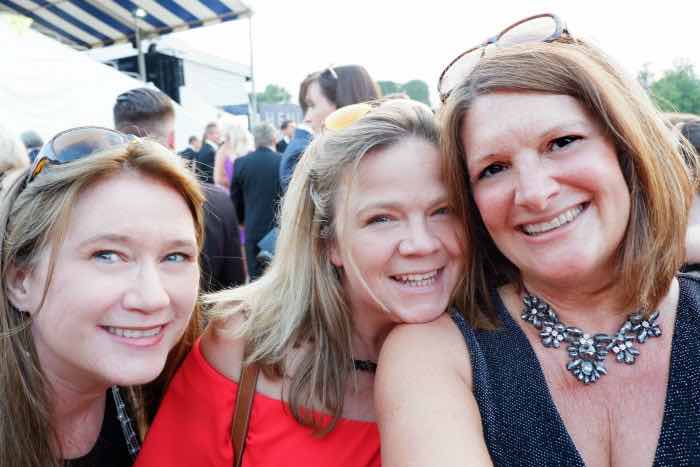 We ran into several friends, including my favourite novelist in the whole wide world, Amanda Jennings!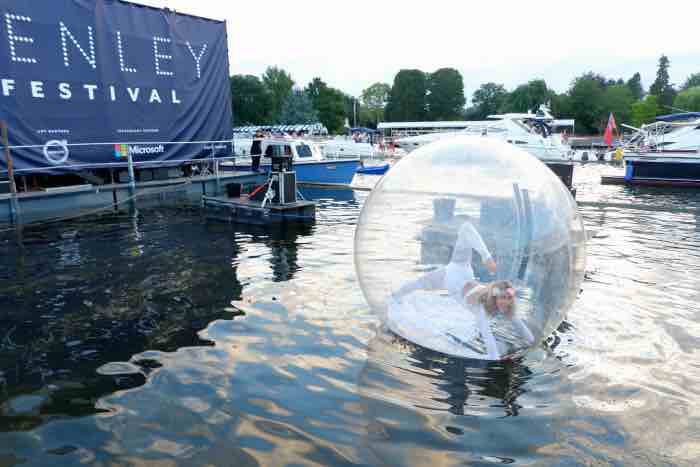 This was Bubble Spheres – yes you guessed it acts in a bubble. I love it how she smiled for the photo while performing!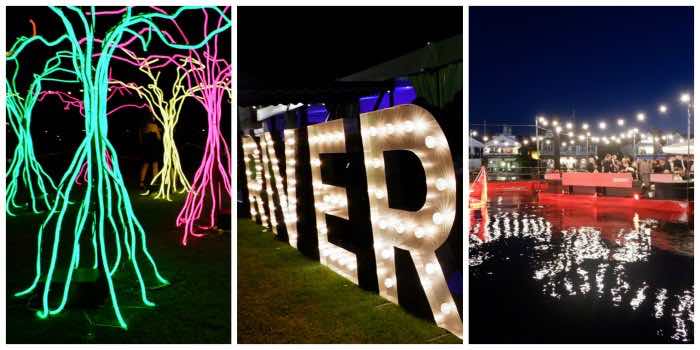 After dark the festival really sparkles. Isn't this gorgeous?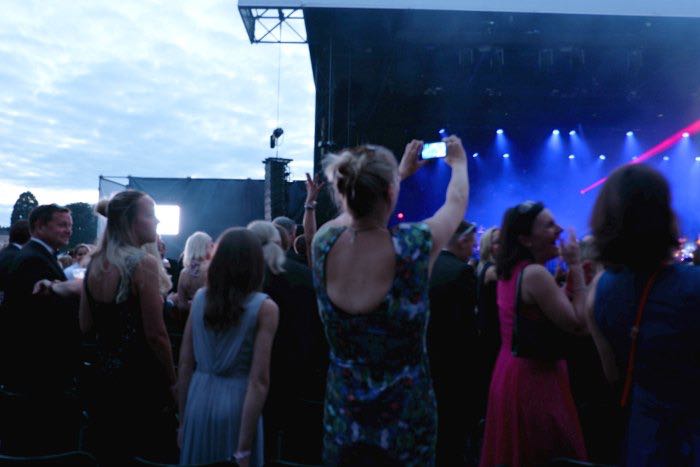 Everyone went wild for Goldie and the Heritage Orchestra.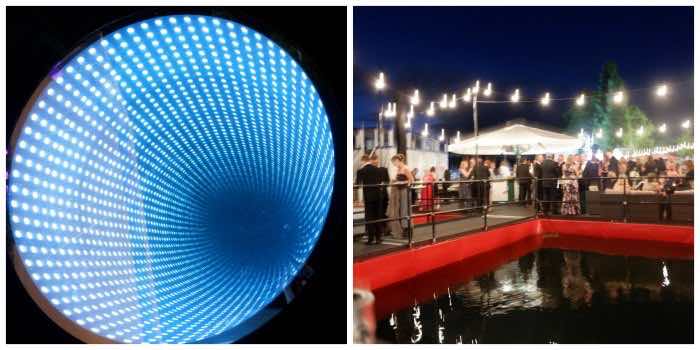 All in all it was a wonderful evening out, and even though I was still knackered, it was a happy knackered.
IF YOU GO:
Henley Festival, +44 01491 843400 http://henley-festival.co.uk
Disclosure: Entrance to the festival was complimentary for the purpose of this review.