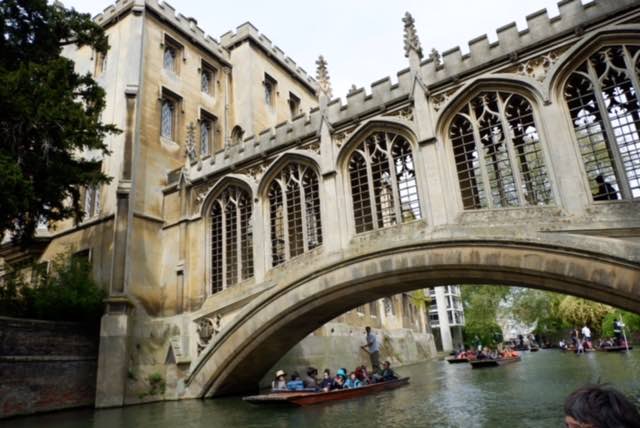 You won't be short of things to do when you visit the historic city of Cambridge no matter what time of year. From punting on the River Cam to visiting the colleges – children – especially older ones – will be just as awed by the uni atmosphere as the majestic architecture. And if history isn't your family's thing, immerse yourself in the natural beauty of the Botanic Garden or get a fresh squeezed lemonade from the open air market. It's all cool and it's all in Cambridge!
On our recent trip to review the Felix Hotel, I researched the best things to do with kids. Check out our tips below.
10 activities for families in Cambridge
1. Go punting!
If you visit Cambridge, you simply MUST go putting. It's a fabulous way to see Cambridge and soak in the atmosphere. We took a chauffeured punt with Scudamores Punts that toured the "Backs", seeing some of the main colleges (King's, St John's, Trinity) from the water. It was very relaxing way to spend 45 minutes. The tour started at Magdalen Bridge and we were very glad we had already had e-tickets (tix are cheaper online, btw) because you are accosted by vendors selling their tours as you near the bridge. We went on the family tour and our chauffeur was very knowledgeable giving us all sort of tips for kids (under 4s are free and kids get an activity sticker passport). If you are brave you can hire your own punt and try it yourself, but it's way more relaxing to let someone navigate the waters for you. Scudamores has a day trip to Grantham which sounds amazing, I will definitely try that next time!
2. Visit the colleges
There are 29 undergraduate colleges at Cambridge and many allow you to visit their campuses for free or a small charge. The bigger ones (Kings College and Chapel, Queen's, Jesus, Trinity, and Clare) charge varying fees for an entrance. Make sure to check beforehand as most are closed to visitors during exam season.
3. Check out the museums
The Fitzwilliam Museum (free) is the art and antiquities museum of the University of Cambridge, including Constable, Hogarth, and Gainsborough. It is a widely held opinion that the Fitzwilliam is the finest small museum in Europe". The Sedgewick Museum of Earth Sciences (free) exhibits collections from Charles Darwin's expeditions. The Centre for Computing History hosts hands-on exhibitions and educational workshops on the history of personal computing. The Polar Museum (free) has is a collection of items (including clothing, maps, journals) from polar exploration in the Arctic and Antarctic. It's part of the The Scott Polar Research Institute which has continuing research into our changing environment. Any young environmentalists will find it fascinating (and you can try on polar clothing too).
4. Wander around the Botanic Garden
Set in 40 acres, the gardens boast 8,000 species of plants from the University of Cambridge collection the Botanic Garden is a rich research resource. We felt right at home we found the Sequioadendron Giganteum (Giant Redwood from California!) It's a lovely place to have a wander – kids will love all secret hiding places and paths that meander around the grounds. My 15-year-old brought a sketch book and planted herself on a bench to draw.
5. Ride a bike!
Jump on a bike and see Cambridge the old-fashioned way. It is definitely the preferred mode of transport for locals and students. Bicyclists are everyone – make sure to be aware of your surrounding so you don't run into one. To hire a bike try Rutland Cycling.
6. Take the "Hop on Hop off" bus
Take the 'Hop on and Hop off' bus tour which leaves from the Visitor Information Centre and takes in all of the City's important landmarks.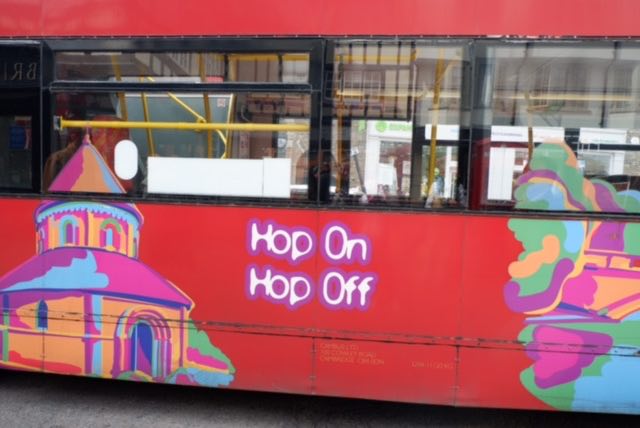 7. Go shopping
High street shops mix with boutiques and specialists creating a unique shopping experience. The Grand Arcade shopping centre has just about everything (including an Apple store). The Cambridge Market on Market Square is an outdoor marketing and is open daily. You can find books, clothing, 2nd hand bikes, fruit and veg and food stalls. Don't miss Cambridge Satchel Shop which is just around the corner.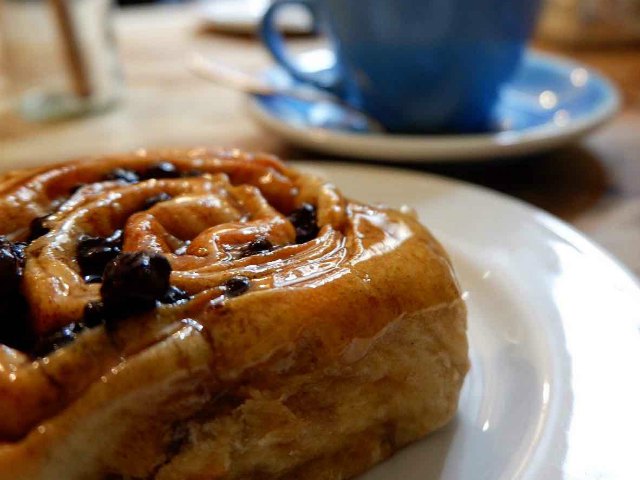 8. Get a Chelsea Bun at Fitzbillies
Fitzbillies is Cambridge institution known for its sticky Chelsea buns. You must stop by and try one, but make sure you get a few because one is not enough!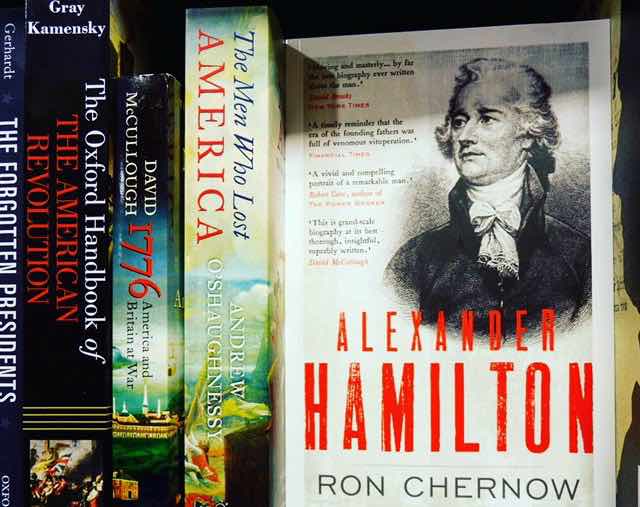 9. Browse the bookstores!
Choose from Cambridge University Press Bookshop, Heffer's and Waterstones. Many have a kids section and special activities.
10. Climb a church tower
You can climb the tower at Great St Mary's (the university church). Once at the top you are rewarded with spectacular views the city. Entrance to the church is free, but there is a small charge to climb.
Where to stay: Hotel Felix
Just a mile from the centre of Cambridge is Hotel Felix, a luxury 4-star hotel just a mile outside Cambridge City Centre. The hotel combines traditional 1850's Victorian architecture with contemporary design. If you are looking for something a bit out of the ordinary, Hotel Felix is for you. It's full of surprising features, including a huge art collection that features works from Edward Muybridge's famous motion photography studies in the 1900s!
It's a very comfortable (think Hypnos beds!) place to base yourself to explore Cambridge. The Junior Suites are very large and can easily accommodate a family of 5. Plus there's free parking – a huge plus for Cambridge. Make sure to eat at Graffiti, their AA 2 rosettes restaurant.
One night's stay at Hotel Felix starts from £190 (B&B basis with free parking and Wi-Fi). For more information or seasonal discounts / packages please visit the website www.hotelfelix.co.uk / 01223 277 977.
IF YOU GO:
Hotel Felix Whitehouse Ln, Huntingdon Rd, Girton, Cambridge CB3 0LX
+44 01223 277977 http://www.hotelfelix.co.uk
Graffiti Whitehouse Ln, Huntingdon Rd, Girton, Cambridge CB3 0LX
+44 01223 277977 http://www.hotelfelix.co.uk
Scudamore's Quayside Punt Hire Quayside Punting Station, Magdalene Bridge, Cambridge CB5 8AB enquiries@scudamores.com +44 01223 359750 http://www.scudamores.com/punting-quayside
King's College Chapel, King's Parade, Cambridge CB2 1ST +44 01223 331212 http://www.kings.cam.ac.uk/chapel/index.html
Queens College, Silver St, Cambridge CB3 9ET +44 01223 335500 http://www.queens.cam.ac.uk
Jesus College Jesus Ln, Cambridge CB5 8BL +44 01223 339339 https://www.jesus.cam.ac.uk/index.php
Trinity College Cambridge CB2 1TQ +44 01223 338400 https://www.trin.cam.ac.uk
Clare College Trinity Lane, Cambridge CB2 1TL +44 01223 333200 http://www.clare.cam.ac.uk
Fitzwilliam Museum Trumpington St, Cambridge CB2 1RB +44 01223 332900 http://www.fitzmuseum.cam.ac.uk
Grand Arcade St Andrew's St, Cambridge CB2 3BJ +44 01223 302601 http://www.grandarcade.co.uk
The Polar Museum, Scott Polar Research Institute Lensfield Road, Cambridge CB2 1EP +44 01223 336540 http://www.spri.cam.ac.uk
Cambridge University Botanic Garden 1 Brookside, Cambridge CB2 1JE +44 01223 336265 http://www.botanic.cam.ac.uk/Botanic
Hop on and Hop off bus tour https://www.hop-on-hop-off-bus.com/cambridge/cambridge-hop-on-hop-off-tour_5106
Fitzbillies 51 – 52 Trumpington St, Cambridge CB2 1RG +44 01223 352500 http://www.fitzbillies.com
Great St Mary's The University Church, Senate House Hill, Cambridge CB2 3PQ +44 01223 747273 http://www.gsm.cam.ac.uk
Rutland Cycling 156 Great Northern Rd, Cambridge CB1 2JW +44 0330 555 0080 https://www.rutlandcycling.com
Disclosure: My stay at the Hotel Felix was provided for the purpose of this review. All opinions are my own (and my family's).