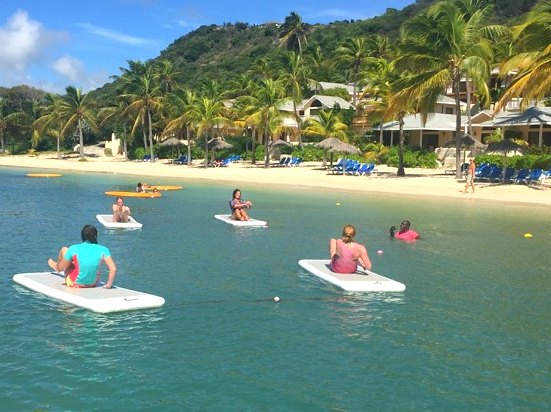 Perhaps he sensed my apprehension.
"Don't worry – you can modify any of this." Super Dave, on Elite Island Resort's activity staff at St. James' Club in Antigua, is wearing a fluorescent pink sports shirt and black Lyra gym shorts. His Antiguan accent oozes enthusiasm and I'm instantly reminded I'm on holiday.
He looks over my Lands End swim suit and asks if I brought any shorts. "You know … there's a bit of moving around," and he does a little shake. I turn as red a Hibiscus flower. I only have my swimsuit (with tummy control, mind you) and a matching rash guard.
On our quest to keep fit as a family, we are at St James' Club in Antigua to try out their new floatfit classes on CARIBBEAN aqua base® boards. My husband has decided forgo the fitness opting for a leisurely breakfast reading the resort's daily printed copy of the New York Times. We bid him goodbye and my three girls and I make our way to the end of Mamora Bay. It's a beautiful day and the sparking Caribbean on our left hugs the white sand beach.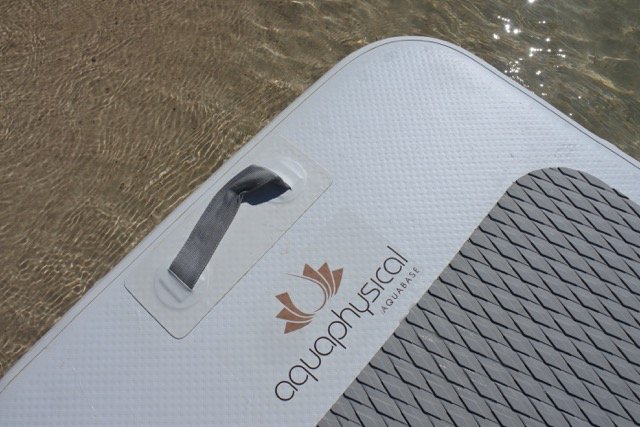 Super Dave get the boards, which are a bit like thick floating yoga mats, and secures each end to a wire base in the water. There's 9 of us in the class. Four uni girls clad only in bikinis (they obviously weren't worried about wearing shorts), me, another mum and my three girls.
As soon as my girls get on their board they start trying to do hand stands (what is it with teens and hands stands?). But they quickly fall in to the water and find that balancing on the aquabase boards is harder than it looks!
Super Dave gets us started. First we lie face down and stretch like a starfish to get the feel of the board. Then we rock side to side trying to make waves. All is ok. It's when he tells us to stand up that things get a bit tricky. I just modify and take it a bit slower. The uni girls start to fall in one by one and I secretly smile to myself.
I try to go to 2 Pilates classes each week, it's how I keep my Sciatica at bay. Super Dave starts to introduce more moves, and I'm pleased that I'm familiar with them and I feel that my core is engaged.
Then Super Dave says something and I can't quite make it out. I look around to see what the others are doing, but end up in the water. My three daughters find this extremely hilarious.
We do moves in 20 second intervals. Super Dave is jolly, but firm. Lower your glutes he tells to me as we do our first plank.
At the end, I'm exhausted. The class is a low-impact, cross-training class with a full body workout – incorporating isometric exercises like the plank, plyometric exercises like burpees and stretching.
The floatfit®CARIBBEAN aqua base® classes are part of Elite's commitment to giving guests the option to keep fit while on holiday. Other wellness activities at Elite Island Resorts include:
A new Caribbean Colour Me Calm colouring book which features views and landmarks at Elite Island Resorts locations and includes mindfulness techniques.
A Smart Sun Protection Guide and bespoke advice by Ultrasun and resort team members. Ultrasun's UVA and UVB filter level products are available exclusively at Elite Island Resorts.
Watch our video about floatfit Caribbean Aquabase!
IF YOU GO:
Elite Island Resorts Their impressive collection of Caribbean resorts includes St James's Club and Verandah, both family resorts in Antigua.
Antigua and Barbuda Tourist Board The beach is just the beginning! Check out this site for suggestions for activities.
Our stay at The Verandah Resort and Spa was provided for purposes of this review. As always, my opinions, and those of my stroppy preteens and teen, are entirely our own.