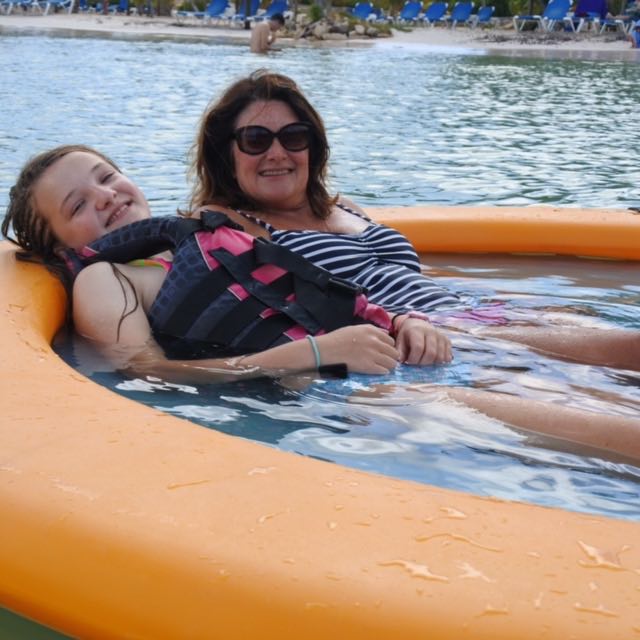 I knew we'd be back! After visiting last year, Antigua is now one of our favourite holiday destinations. Minimising travel time is a key factor for us and Antigua is the closest Caribbean island from the UK (less than 8 hours flying time). Plus if you pick a resort near the airport, you can save a couple of hours of travel time which is a godsend when kids are involved.
We returned to Antigua for October half term as guests of Elite Island Resorts. October suits us for a few reasons. School has just got underway and we are void of the heavy-duty revising that takes place in the Spring breaks. The weather is just starting to turn – and one last blast of sunshine is just what we need psychologically to get us through the winter. Plus – its low season which translates into less crowded resorts and bargain prices.
This year we stayed at The Verandah Resort and Spa, an eco-friendly resort tucked away in the north-east coast of Antigua occupying 30 waterfront acres in Dian Bay. It's adjacent to the historic Devil's Slide National Park and a 5-minute walk to Long Bay – one of the most beautiful beaches on the island. The best bit is The Verandah is less than 30 minutes from the airport!
We like to combine sunshine with being active so all-inclusive suits us well. In addition to all meals, "all-inclusive" extends to non-motorised water sports and fitness classes – so you can develop your inner core on a paddle board, kayak in the pristine blue waters or challenge your family to a tennis match anytime you want.
The resort itself is stunning. There are 180 Caribbean plantation-style white washed wooden suites dotted throughout coconut palms and banana trees. Each bungalow has its own name and are linked through a maze of paths that are just wide for electric golf carts. We stayed in an enclave of 2-bedroom villas which are perfect for families. There's even children's swimming pool nearby.
Built in 2007, and only removing trees and vegetation that were absolutely necessary, The Verandah has Certified Green Globe status for eco tourism. The resort reuses/recycles 99% of water, and uses solar panels. My girls got into the Save the Sea Turtle campaign – and skipped the straws with their smoothies for most of their trip. There are signs at the bars that explain the campaign.
Accommodation
Two bedroom villas are good for families, each sleeping up to 6 people. The master bedroom has a California king sized bed (with comfy mattress topper). There's a private verandah and en-suite bathroom with his and her sinks and a shower. The daily maid service always placed fresh flowers in our room. The girls shared the adjacent room which had twin beds, a large walk in closet, and bathroom with shower and over-sized bathtub.
The living room area has a sofa bed (perfect for our 3rd daughter) with oversized rattan chairs looking out to the verandah. There's a full-sized kitchen you probably won't use if you are on all-inclusive (we made the most use of the coffee and tea making facilities). There are flat screen TVs in both bedrooms and living area – but we never use these (do you???). Our only niggle is the toilets are only accessible through the bedrooms, making it slightly awkward for person sleeping in sofa bed.
Dining Options
The resort is all-inclusive – which my family loves. With 3 restaurants and a snack shack there's lots of choice so it doesn't seem "samey". When we told the girls we were going back to an Elite Resort, their first question was if the meals were all-inclusive because they love to be able to choose what and how much they eat and the freedom to try what they want. Our youngest tried passion fruit for the first time and became a huge fan.
Sea Breeze
Sea Breeze is the main restaurant and the only one that doesn't take reservations. It serves breakfast, lunch and dinner – all buffet style. The restaurant enclosed and air-conditioned, which is a nice break from the hot Caribbean sun. Breakfast is fresh fruit, cereals, pastries and baked goods (including banana bread and warm, gooey cinnamon rolls which was a daily favourite). There's the usual bacon/eggs etc plus awesome waffles and a station that will make something fresh for you. One morning we had lobster omelets! The fruit and veg come from neighboring islands – including avocados from Guadalupe. We used these to make avocado on toast with bacon on top. Lunch has a selection of hot entrees, salads, sandwiches and of course desserts. Dinner is the same, with more choices plus there is a different theme each evening. My daughters absolutely loved this restaurant and wanted to eat there for every meal.
Buccaneers
Buccaneers, the a la carte restaurant, was the adult favourite! Order the Shrimp Brochette, which is grilled jumbo shrimp on a bed of spiraled vegetables in a light coconut sauce with vegetable rice pilaf. I also eyed the conch fritters but ended up with the beetroot and orange salad with rocket and toasted cashews in a lemon garlic parmesan dressing. On the second night we booked Buccaneers and the girls decided they wanted to try the Italian night buffet at Seabreeze, so we had a "date night" on our own while they had their own meal and then played pool at the games pavilion.
Nicole's
Nicole's is the upscale restaurant, which carries a $35 surcharge. We ate there on our last evening as a treat, and the girls dined at Seabreeze, which they love. We started with calamari in a chili sauce then went on to grilled Antiguan lobster with jasmine rice and asparagus in a garlic lemon butter. My husband had seafood Primavera with shrimp, scallops, mussels, peppers, onion and mushroom in a arrabiatta sauce with linguine. We shared tiramisu for dessert.
Beach Grill
On select evenings you can eat outside at the Beach Grill and order items like jerk marinated pork chop, grilled fish, dry-rub pork spare ribs, veggie kababs, wraps, pizza, and salads. It's near the beach and more laid back.
Wadali Snack Shack
If you are at Rasta Beach, this is your closest place to get something to eat – and it's right next door to the Rasta Beach Bar. For lunch they have hot dogs, cooked-to-order burgers with pineapple and freshly made paninis and pasta salad. The vibe is laid back, you can put your feet in the sand and watch the beach volley ball.
My 12-year-old's perspective

The restaurants were amazing! We ate at Seabreeze most nights. It is a buffet and has different themes every night (Caribbean, BBQ, Mexican). Even though lunch and dinner was really good – breakfast was my favourite! There were cinnamon rolls, pancakes, waffles, fruit, and banana bread everyday.
Bars
There are also 3 bars where there's a variety of options of smoothies for kids (and lots of adults drinks). My girls loved ordering drinks for themselves! There's the main pool bar – with larger than life Caribbean inspired murals; The Beach Bar & Grill overlooking the watersports beach (this was one of our favourites spots – we'd pick a seat overlooking the bay and beach); and the Rasta Beach Bar – which is very laid back with friendly staff. This was my favourite place to have a rum punch made by Vera.
Beaches and Pools
The resort has 3 pools – a free-form main pool, which is largest on Antigua, a quiet adult pool with a waterfall and family suites pool – which was just outside our front door!
There are 2 white sand beaches – on opposite ends of the resort. The watersports beach is near the main eating areas and is a gorgeous half-moon shaped beach with lots of shaded areas and sun loungers. We loved the yellow floating rings – which the girls used to jump off of and do hand stands. A few vendors are on site – the girls commissioned Aytesha to make them personalized anklets with turtles!
Rasta Beach is on the other end, near reception, and has a quieter vibe. There's beach volleyball and resort's new catamaran, The Calypso Cat, is docked there on the pier.
Family Fitness and Wellness Activities
Each day we made it a goal to do at least one physical activity that lasted at least 30 minutes. There's a lot to choose from so it was easy. Elite Island Resorts focus on wellness programmes, and many are included in the price of a stay. In addition to yoga, hiking and watersports, there's aqua aerobics, gym classes, beach volleyball, tennis, and 18-hole mini-golf.
One of our favourites was taking a guided hike from the resort to Devil's Bridge, a historical site adjacent to the resort. The walk was short and brisk, but still challenging in the hot weather.
We also spent a lot of time kayaking – paddling all the way to Rasta Beach! We saw fish along the way and it was a fun way to burn some calories. Paddle Boarding is a firm family favourite – and it's great for core strength. The good thing about "all-inclusive" is that you can take out equipment any time you want.
Classes and Activities
If you get bored with the beach, there is loads to do both at the resort and offsite too. For kids/teens there's a games pavilion with table tennis, pool and shuffleboard. Our girls hung out here a lot and met other kids. There's a Kid's Club too for little ones.
There are daily culture classes, including Caribbean dancing, cooking and local dialect classes. You can book all kinds of excursions – from hanging out with stingrays to ziplining to visiting historical sites such sugar plantations and English Harbour. Whatever you do, book the Calypso Cat, it's Elite's new catamaran. It mainly services guests of the Verandah and Pineapple Hotels and is a super snorkelling cruise that has the most friendly staff I've ever encountered.
My 11-year-old's perspective

At The Verandah you will never be bored. There are tons of activities and entertainment to keep you busy. Everyday there are different classes to try. We took the Antiguan Dialect class, tie-dye and Caribbean dancing! Tie-dye was on the beach and we made a starburst pattern on a bandana. I wanted to take the Caribbean cooking class but we ran out of time.
Tranquility Body & Soul Spa
Tranquility Body and Soul is a full service spa with everything from massage, facials, and hair and nails. Cornrow braiding and wraps are available for a very reasonable price – which of course is the best souvenir for teens and preteens. My girls got 5 rows of braids with beads that matched their swimsuits. I had a well-being massage – at the end of the hour I had nearly fallen asleep.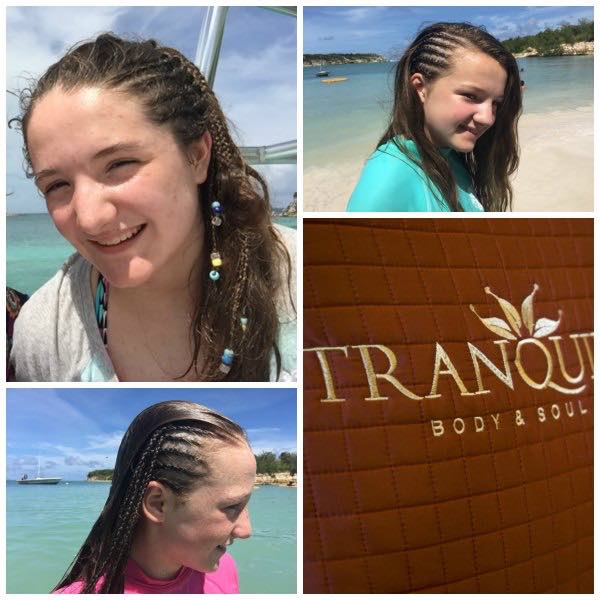 A word on the staff
The staff at The Verandah have obviously been trained well. Many went out of their way to learn our names and then remembered them a few days later. We really felt we got to know them, which just adds to your whole holiday experience. Special shout outs to Vera at Rasta Beach, Angela (who will grill you the best burger at the snack shack), Sandra at the main bar, and Tiffany and Maria in Seabreeze, the latter who went out of her way and found me avocados!
***SPECIAL OFFER FOR BRITMUMS MEMBERS***
7 nights' accommodation at the Verandah in a Waterview suite with direct flights from LGW with Virgin Atlantic for 2 adults and 2 children under 12 from £4399 or £1099 per person, leaving on August 24th. Britmums members will also receive 25% off in-resort expenditure, for example, Spa, signature restaurant, excursions offers by the resort and the gift shop. Britmums members wishing to check availability and book should call 0330 880 5064 and quote "Britmums in-resort expenditure 25% off offer". Offer good until 15 February 2017.
IF YOU GO:
Elite Island Resorts Their impressive collection of Caribbean resorts includes St James's Club and Verandah, both family resorts in Antigua.
Virgin Holidays Three flights a week from Gatwick.
Antigua and Barbuda Tourist Board The beach is just the beginning! Check out this site for suggestions for activities.
Our stay at The Verandah Resort and Spa was provided for purposes of this review. As always, my opinions, and those of my stroppy preteens and teen, are entirely our own.