A text pings and I can't decide. Feathers or foam?
I tap my 14-year-old on the shoulder. She's dozed off, summer reading strewn to the side, wearing one of the 7 bikinis she packed for our trip. We've had a hard morning. Up before 7 to get on a 64-ft catamaran to sail to the Molokini crater to snorkel and look for sea turtles. Excursions start early in Maui because the trade winds pick up in the afternoon, making the waters choppy and water cloudy.
We're staying the Fairmont Kea Lani in Maui's south coast. It's Hawaii's only all-suite and villa oceanfront resort and is perfect for families. The resort recently benefitted from a $70 million renovation – focused mainly on upgrading the suites – and it shows. Suite footprints are all the same; it's the view that changes with varying prices. We've got a master bedroom with an American king sized bed. Two of the girls are in the sofa bed in the living area, and our eldest is in a rollaway. We need two extra pillows for her. That's why I'm texting with Silke at the front desk.
Always striving to give the best service – you can text the front desk any time with questions. It's extremely handy if you have forgotten something and are not on site. Or in my case – lounging at the beach. I was especially impressed they didn't blink an eye when I gave them my UK phone number (another resort on the island couldn't figure out how to text internationally when our room was ready).
The 14-year-old finally stirs. She wants feathers.
We're on the last leg of our Maui trip. One of the reasons I picked the Fairmont Kea Lani is because of the high rating on Trip Advisor. I know the Canadian-based hotel chain well – I worked at the San Jose property whilst at University. Staff are highly trained for customer service.
The Fairmont Kea Lani has surpassed our expectations and has quickly become our favourite hotel in Maui. One of the reasons is the "extras" offered. Each season features different cultural experiences (the resort employs a fulltime cultural director) which are aimed at visitors who want a deeper understanding of Hawaii's culture beyond the stereotypical leis and Mai Tais.
To my daughters' despair, we arrive too late in the week for the ukulele and hula lessons but managed to fit in Ti leaf bracelet making, keiki (kids) sushi making, star-gazing, a cultural walk and ΄Ōlelo Hawai'i (Hawaiian language lessons).
My 11-year-old's perspective

At the Fairmont there are lots of fun classes to do, but by far one of the best was the language lessons. It taught you about the Hawaiian culture and language. You could learn the basics – there are only 13 letters (5 vowels and 7 consonants) plus the okina. After our instructor looked up our Hawaiian names. My mum's is Uki-Uki and we thought that was really funny.
I also tried Kiakahi – a combination of new age exercises with Hawaiian and Polynesian training methods. We chanted to ask permission (a strong theme in Hawai'i), crawled (and sweat) like apes and focused on our inner core. The resort has a full "Inspire Your Energy" programme which is focused on keeping you fit while you are away.
But perhaps our overall favourite was the sunset Torch Lighting Ceremony. Each evening at dusk a mysterious figure dress in a pau (grass skirt) and ankle bracelets would light each tiki torch across the property. Kids would follow him across the resort, like the Pied Piper, and we'd have fun sitting back watching the sunset.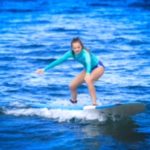 My 12-year-old's perspective
The pool at the Fairmont Kea Lani was AMAZING. I especially liked the slide which was really fun and really scenic on the way down. It was like a mini nature tour. Next to the pool there are lots of cabanas and we rented one for the day. With the cabana we got soft drink all day long including guava juice which I tried for the first time, a tropical fruit tray and mochi ice cream (which is ice cream covered in yummy rice stuff). I think it's Japanese.
IF YOU GO:
Fairmont Kea Lani, Maui 4100 Wailea Alanui Dr, Wailea, HI 96753 +1 (808) 875-4100 fairmont.com/kea-lani-maui
Sail Trilogy Excursions 101 Maalaea Rd +1 (808) 874-5649 sailtrilogy.com
United Mileage Plus United.com
Go Hawaii gohawaii.com/uk
SaveSave
SaveSave