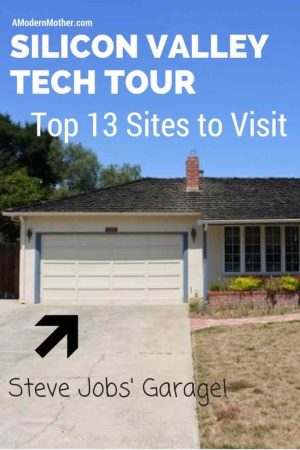 There's something a little je ne sais quoi about California's Silicon Valley. It oozes coolness. Silicon Valley attracts 40% of all venture capital money invested in the U.S and San Jose generates more patents than any other place in the United States.
But why the Bay Area? Academics, industry and government research all collided in a perfect storm to create an environment where money, talent and ideas were rampant.
As the birth place of hundreds of technology companies that play an integral role in our lives – think Apple, Google, Facebook – adults and teens alike are fascinated and want a little taste of what it is really like.
"Tech tourism" is starting to take off in Silicon Valley in a big way. Many companies are still figuring out how to cater to the thousands of tourists that show up on their doorsteps (in hoards and with a smile and selfie stick at the ready). While Silicon Valley tourism is in its infancy – many of the larger tech companies are ahead of the game and the smarter ones already accomdate tourists.
Team San Jose sent me on a little tour and here's my list of the top sites to visit – especially if you have older kids in tow.
1. Apple Headquarters
1 infinite loop, Cupertino, CA 95014 apple.com
Take a photo in front of the 1 infinite loop sign and then pop into the Apple company store, which was designed by Jony Ive, Chief Design Officer at Apple. The store at 1 infinite loop has very select (and very expensive) Apple branded items you won't find anywhere else, such as sleek Hasami Porcelain mugs ($25), 1950s design pens ($35) and the beautifully crafted S'well water bottles which are made of steel and keep water cold for 24 hours ($35).
2. Apple Park "The Spaceship"
Apple Park Visitor Centre 10600 North Lantau Ave Cupertino CA 95014 +1 408 961 1560. Hours Mon – Fri 9 am – 7 pm, Sat 10 – 6 pm, Sun 11 – 6 pm
Apple hinted that its next announcement will be from its new Apple Campus (dubbed the Spaceship by locals) but until it opens you'll see more from this drone Youtube video than visiting in person. Once complete, there will be a visitor centre with a glass-walled structure. On the ground floor there will be a 2,386-square-foot cafe and 10,114-square-foot store, which allows visitors to view and purchase the newest Apple products. The project is expected to be complete at the end of this year. It sounds amazing and as soon as it opens I'm sure it will be top of the everyone's tech tour list!
*Note* Apple Park has now opened and you can visit! Read my post Now open: Apple Park Visitor Center
3. Steve Jobs' Garage
2066 Crist Drive, Los Altos, CA 94024
Steve Wozniak insists that Apple started not in the garage of this house, but in the bedroom! It is here in the 70s that Steve Jobs and Steve Wozniak put together the order for the world's first commercial personal computer, the Apple I. They made 50 machines and sold them for $500 each. The house is still occupied but you can view and photograph the property from the street. (There is no sidewalk.)
4. Googleplex Campus, Company Store & Android Statue Garden
1600 Amphitheatre Pkwy, Mountain View, CA 94043
The Googleplex campus looks just like it does in The Internship film – lots of young trendy employees getting around via a Google bike or driverless car or just walking looking intelligent. There is memorabilia everywhere you turn – the large oval "pin" from Google Maps and a Google Street View Car. If you know someone, they can sign you into the visitor centre. For everyone else – visit the Android Lawn Statues (series of sculptures for each Operating System, which are named things like Donut, Ice Cream Sandwich and Marshmallow). It makes for quite colourful photo opps so make sure to bring your selfie stick. Adjacent to the garden is the company store where visitors can shop for reasonably priced Google clothing and accessories (including a $24 water bottle). Then drive down to the main entrance, take a selfie and soak up the atmosphere.
My 14-year-old's perspective

My favourite part of the tour was visiting the Google HQ. I liked it because it gave me insight into what it would be like to work at a company like Google. I found it particularly fascinating how employees of Google are provided with food, exercise opportunities, cars and bicycles! I also liked seeing the Android Garden with the different deserts.
5. Computer History Museum
1401 N Shoreline Blvd, Mountain View, CA 94043 computerhistory.org
The Computer History Museum chronicles Silicon Valley's history with a collection of over 1,100 historic artifacts, including some of the very first computers from the 1940s and 1950s. It's weird seeing things I have used myself (such as the Palm Pilot!) on display in a museum. Fascinating, but made me feel old!
6. The Tech Museum of Innovation
201 S Market St, San Jose, CA 95113 thetech.org
The Tech Museum of Innovation is a real gem, especially if you have kids. We spent hours there, literally, designing a robot, experiencing the Taiwan earthquake, growing alternative building materials out of mushrooms, programming a roller coaster (then riding it!) and more. A definite must see, especially if you have kids. Make sure to read my full review of The Tech.
7. Facebook HQ
1 Hacker Way, Menlo Park, CA 94025 facebook.com
Unless you know someone or have a meeting, there is not much to visit at Facebook HQ with the exception of the large Facebook billboard which is perfect for taking photos (be prepared to wait in line). The HQ took the old digs of the now defunct Sun Microsystems, which is still evident on the back side of the sign. The founders left it there as a lesson to us all as to what can happen if you don't stay one step ahead.
8. HP Garage
367 Addison Avenue, Palo Alto, CA 94301 hpmuseum.org
The HP Garage is where Bill Hewlett and Dave Packard established the now legendary Hewlett-Packard partnership. HP owns the garage and has restored it to what it would have been in the 1930s. There's not much to do here except take a photo (unless you know someone who can get you in). But – it's close to some of the other locations.
While you are in the hood drive by the homes associated with Steve's Jobs (2101 Waverley Street, Palo Alto, CA 94301) Mark Zuckerberg (1456 Edgewood Dr, Palo Alto, CA 94301) and Larry Page (111 Waverley Oaks Palo Alto, CA 94301).
9. Beam Store
425 University Ave, Palo Alto, CA 94301 suitabletech.com
Staffed entirely by robots, the Beam Store's employees are located in remotely in locations around the wold and operate robots equipped with screens, speakers and wheels that allow for full mobility and conversation. We were greeted by Ari in Bermuda. Pretty cool!
10. b8ta store
516 Bryant Street Palo Alto, CA 94301 b8ta.com
Walk a short block to b8ta, a new retail store designed for trying & buying cutting edge technology. Some of the items are not even available yet (hence the beta name). The girls loved the app controlled bb-8 – and we nearly bought it!
11. Buck's of Woodside
3062 Woodside Rd, Woodside, CA 94062 buckswoodside.com
Venture capitalist and entrepeneur hangout where, legend has it, numerous deals have been cut, including those for Netscape, Hotmail, PayPal, Tesla and Facebook. Wacky decor and a serious wine list, though an under-age Mark Zuckerberg ordered a Sprite on his first visit.
12. Flagship Tesla Showroom
377 Santana Row, San Jose, CA tesla.com
You can combine this one with some upscale shopping in San Jose's Santana Row, the Rodeo Drive of Silicon Valley, known hangout for the tech elite. Just walk in and sit in a car (and take a pic of course!)
13. Intel Museum and Headquarters
2200 Mission College Blvd, Santa Clara, CA 95054 intel.com
The Intel museum gives you a behind the scenes in the high-tech world of California's famed Silicon Valley, by dressing in a clean room suit and going inside an ultra-clean, highly automated silicon chip factory.
IF YOU GO:
Traeger Travel with Sharon Traeger gives bespoke tours of Silicon Valley. She is one of the most knoweldgeable tour guides I have ever met – animating facts with stories (did you know there is as much computing power in your iPhone as there was in all of the US government in 1959?)
Robot Butler Aloft Cupertino 10165 North De Anza Boulevard, Cupertino, CA Aloft Cupertino, located near Apple Headquarters is the first property to introduce Bolt'r, a robot butler. Standing at 3 feet tall and weighing in below 100 pounds, the Botlr has a carrying capacity of 2 cubic feet, and is designed to travel at human walking pace. It also moves independently between floors via the hotel elevator.
Team San Jose The not-for-profit agency whose mission is to stimulate tourism, check out their web site for the latest info about Silicon Valley.
SaveSave