For a while, everything in medieval England revolved around Hampshire, especially Winchester, the former capitol. Thanks in part to Henry VIII, the surrounding areas flourished when the ruler went a bit mad building castles and fortifications to save England from invasion. Henry hunted in the New Forest and his 3rd wife was from the county.
Now Hampshire is the largest county in the South East and home to some of the best places for families to explore. From Southsea to South Downs to Downton's Highclere Castle, Hampshire offers a nice weekend away or day out.
We visited, courtesy of Hampshire's Top Attractions, a collective of places to visit in the area (it includes the Isle of Wight too). Make sure to check out their voucher page where you can get all kinds of discounts and special offers, including 2-for-1 tickets.
You'll not be stuck for ideas for things to do! With our tweens and teen, we went to Marwell Zoo and Paultons Family Theme Park to satisfy our animal lovers and thrill seekers.
Marwell Zoo
Lions and tigers and meerkats, oh my! Mention Marwell Zoo, and many will tell you its their favourite. Many of the inhabitants of this global conservation charity have been rescued and they help endangered species prosper.
The 140-acre zoo is built around Marwell Manor, the ancestral home of Jane Seymour, the 3rd (and most beloved) wife of Henry VIII. It's rumoured that the royal couple were married in the Manor, not long after Anne Boleyn was beheaded.
We had a good workout just walking around the massive grounds. On the way we hung out with the Penguins, meerkats, giraffes and more. There's an impressive number of animals, especially some you rarely see in the UK, like the red panda. It's a nice day out and even nicer knowing that the charity plays a part in helping to save animals.
My 10-year-old's perspective

We went to Marwell Zoo and it was fantastic! They had tigers, cheetahs, giraffes, zebras, rhinos, snow leopards, meerkats, penguins, flamingos and many more. My favourite was the red panda – he climbed up a tree and was REALLY cute. The penguins are really friendly. All the animals were really cool and it was a fun place to go.
Paultons Family Theme Park
I had not really considered taking my tween and teenage girls to Paultons Family Theme Park, succumbing to the thought that the theme park, known for Peppa Pig World, was more for toddlers. I of course was not aware that tween idol Zoella loves it there, vlogging a birthday celebration right from the park. Paultons Park has a good mix of entertainment for the whole family. We spent an entire day exploring 140 acre park that has more than 60 rides, many of which were perfect for my girls who like a bit of an adrenaline challenge (they have ziplined and white water rafted around the world) but aren't really fans of upside down stomach wrenching roller coasters.
Their favourite was the Cobra, and on the morning of their opening day of the season, they rode again and again. The also liked the Edge, a giant disc that is propelled on a 90-metre track, giving you a floating feeling. You WILL get wet on the Raging River Log Fume, but there are giant air dryers to help warm you up again. They also went on the hand-decorated Sky Swinger several times.
Peppa Pig World is a haven for toddlers, but my girls had fun hanging out with pint-sized kids all charged up by the Peppa Pig theme song, which is ubiquitous in the park.
There's also a 4-D cinema, themed gardens, Humboldt Penguins, African Meerkats and pink Flamingos. The new Lost Kingdom, with 2 new thrill rides, opens in May 2016.
We had a great time and whole family was snorting the Peppa Pig theme song long after we left! Oink, oink!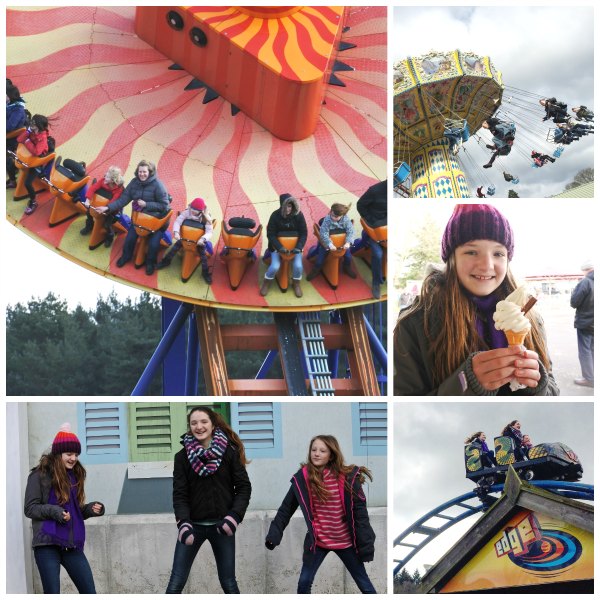 My 13-year-old's perspective

Being 13, I was worried that I wouldn't find anything fun to do at Paultons Park – but I was wrong! The first ride that we went on was the Sky Swinger, and it was a favourite. After going on that a few times (there wasn't a queue) we went to the Cobra. At first it looked a bit intimidating, and I was scared to go on it, but as soon as we went on it all of my fears vanished. This was my favourite ride because it was exhilarating and had lots of unexpected turns and bumps. We went on this ride 5 times in a row! We also went on the Edge which was very fun. In Peppa Pig World we played in Mr Potato's Playground and had an ice cream. Next time we go I want to go on the Wave – it looks like a blast!
Where we ate: The Stable
The West Country has coyly kept
The Stable
to themselves, but I predict that soon the rest of the UK will be privy to this trendy Pizza, Pie and Cider establishment.
Their philosophy is to do a few dishes really well, with locally sourced ingredients, and offer them at decent prices. Their pies come from one supplier in Dorset and are served with roast potato wedges and tomato chutney. They put English food on their sourdough pizza base – think Barkham blue cheese bubbling with herb roasted potatoes and Spanish olives, or marinated lamb, mint and Rosary goats cheese. My favourite was the curried goat, fresh spinach, Indian spiced potato, roasted cauliflower and mozzarella topped with coriander and honey riata.
Being from West Country, they are good at cider and you must try some! The perfect way is the Cider Tasting Board where you can sample their wide range of ciders (they usually have 60+ varieties on hand). The tasting board comes with 5 1/3 pint samples selected by staff and will go from dry to sweet. The are specially picked and the handwritten sheet includes the names and alcohol percentage. We tried Devil's Leaf, which has been infused with Nettles (6%), Ashridge Elderflower (4%), the cloudy Devon Mist from organic apples (4.5%), and Devon Blush, with a hint of blackberry (4%). The whole experience is fantastic and reminded me a bit of wine tasting in Napa.
It's not often you see such enthusiasm and energy from every member of staff. Watch this space – you'll be hearing more about this bar and restaurant chain soon, I'm sure. If one pops up near you, be very happy.
Where we stayed: Best Western Chilworth Manor
Being from California, I am intimately familiar with the Best Western brand, where the hotel chain grew out of an informal network of properties that would refer each other to travellers. Quality and value are key for this chain of mainly 3 and 4 star properties. The British Best Western branch is known for properties with personality — and Chilworth Manor in Southampton certainly has that.
An Edwardian Manor House with Galleried Hall set in 12 acres of landscaped gardens, Best Western added Chilworth Manor in 2010, and has recently refurbished the hotel. We had small but perfectly formed connecting rooms which had just been done up, including, to my delight, with a period black and white tiled bathroom (which we have just done in our own home).
You have use of the state-of-the-art facilities at theclub@chilworth-manor, though note under 17s can only use the beautiful ozone cleansed pool very limited hours.
Chilworth Manor's location makes it a great place to base yourself and explore Hampshire, being near several family attractions.
IF YOU GO:
Best Western Chilworth Manor Chilworth, Southampton, Hampshire SO16 7PT +44 0844 387 6287 bw-chilworthmanor.co.uk
Paultons Park, Ower, Romsey, Hampshire SO51 6AL +44 023 8081 4442 paultonspark.co.uk
Marwell Zoo Thompson's Ln, Colden Common, Winchester SO21 1JY +44 01962 777407 marwell.org.uk/zoo/
Stable Pizza The StableUnit 6Above Bar StreetSouthamptonSO14 7DU stablepizza.com/locations/southampton/
National Motor Museum, Beaulieu John Montagu Bldg, Beaulieu, Brockenhurst, Hampshire SO42 7ZN beaulieu.co.uk
Sir Harold Hillier Gardens Jermyns Ln, Ampfield, Romsey, Hampshire SO51 0QA +44 01794 368407 hants.gov.uk/hilliergardens
We were guests of Hampshire's Top Attractions for the purpose of this review. As always, my views and the views of my stroppy teen and tweens, are entirely our own.