Last Saturday we stayed at the Holiday Inn Brighton Seafront as part of the Holiday Inn You're Welcome campaign, which is all about families feeling welcome, whether you have muddy boots, messy eaters or stroppy tweens. As a family, we were especially interested to hear that breakfast and kids' meals are included with stays for children under 13*.
I wasn't entirely sure how the girls were going to react to going away. It was a busy term time weekend – tennis, 11+ exams, and lots and lots of homework.
So the day before, I just sprung it on them. "Guess what?" I said in my most enthusiastic voice, "We're going to Brighton!"
Brighton?!" they exclaimed as they all danced around. "That's where Zoella is from!" They were referring of course to the famous YouTuber. Then my youngest piped in that Choccywoccydoodah has its flagship shop in Brighton. I quickly googled it (mainly because I wasn't aware of what Choccywoccydoohdah was) and found it was walking distance from the Holiday Inn. What more could preteens want?
Tennis, tests and revising done, we drove the 1+ hour to the south coast. Satnav amazingly took us straight to the hotel car park. On the lift to the lobby, the girls spotted a "teens are welcome" ad, which pointed out that they get free wifi so they don't have to miss out on any potential gossip! That got big smiles.
* Up to 2 children under the age of 18 stay free when sharing a room with up to 2 adults if suitable accommodation is available. Children under the age of 13 are offered breakfast free of charge and free lunch & dinner can be taken from the children's menu when accompanied by at least one adult taking at least one main course from a full-priced table d'hote or à la carte menu.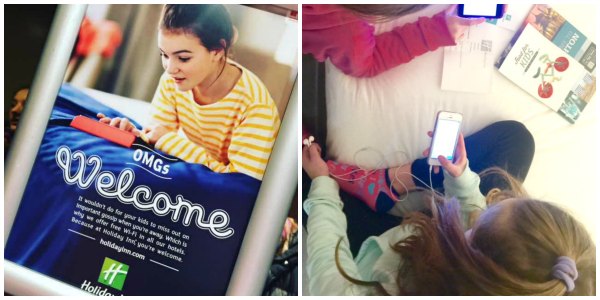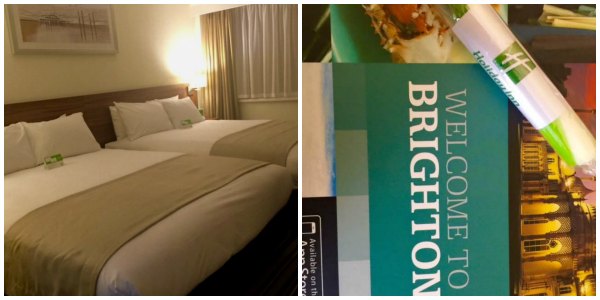 The Modern Dad and the girls settled into the cozy, funky chairs in the lounge area and ordered hot chocolate, while I checked in. There were loads of things in the lounge to keep them busy: Games to borrow, a television showing the cricket match and a football table, on which they immediately started playing.
I went up to check out our rooms — two doubles with connecting doors. They were clean, bright and overlooked a pretty street with white Edwardian terraced houses that led down to the sea. I couldn't help but wonder if Zoella lived in one of them.
It was late, and the girls were starving, so we examined the menu at the hotel's newly opened Stock Burger, a trendy gourmet burger and craft beer restaurant and bar. After seeing they could create their own burger (ala Five Guys) and order a Nutella milkshake and s'mores, the girls proclaimed they wanted to "eat there all weekend!" The restaurant reminded me a bit of the California craft breweries you get in places like Half Moon Bay and San Francisco, and yes there were bearded Shoreditch types there. It was nicely done and the milkshakes were amazing. Surely, the girls mused, this was the type of place where Zoella would hang out.
Burgers demolished, we moved back into the lounge to finish our drinks. The girls continued their footy match and used the free wifi to see if they could figure out exactly where in Brighton Zoella lived.
"Mum … where's South Downs?" My middle daughter showed me an online article that said Zoella recently bought a house there. I said we'd look it up on the map in the local travel guide when we got back to our room.
After waking up to the sound of seagulls ha-ha-haing and ke-kowing (I'm always amazed at how such harsh sounds can immediately put you in holiday mode) we went for a walk on the seafront before breakfast. The Holiday Inn is in front of the nearly finished British Airways i360 and the dramatic remains of the West Pier. This leads on to a kid's play area and newly renovated West Pier arches, a quaint promenade area with lots of boutique shops.
Breakfast was refreshing, the usual hot buffet with some nice extras, like a super food berry compote and fresh artisan breads. We helped ourselves to a free copy of The Independent and enjoyed fresh brewed coffee.
The hotel wasn't busy, and when I enquired about a late checkout (which many establishments are charging for these days) we were offered 2 pm!
That gave us enough time to drop a few things off in our room and explore Brighton! We turned left out of the hotel and a short 10-minute stroll on the seafront leads to Brighton Pier. The girls were keen to try the penny arcade games (which they knew about from Zoella's book Girl Online).
We headed to The Lanes to find Choccywoccydoodah! If you don't know what Choccywoccydoodah is it's an art and design focused chocolaterie. They make one-off chocolate sculptures/cakes that cost hundreds of pounds and there's a TV show where they make these cakes for celebrities. Inspiring stuff for tweens.
We went straight to the cafe and ordered one of their famous hot chocolates (you can order milk, dark or white chocolate). It was pretty amazing.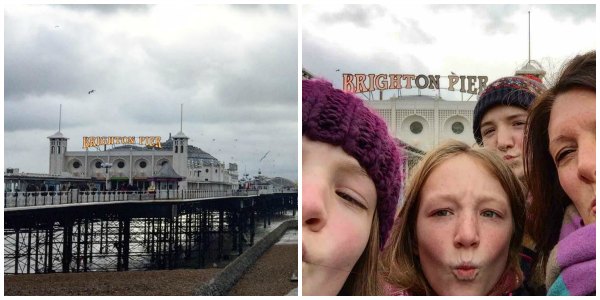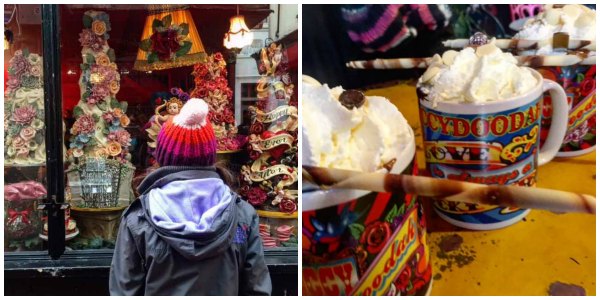 Then we slowly wandered back after a bit of shopping, discussing when we would come back to the Holiday Inn Brighton Seafront and all the things we would do! We'd hang out on the beach, visit Sea Life and the Royal Pavilion and walk South Downs Way – of course!
IF YOU GO:
Holiday Inn Brighton – Seafront Kings Road 137, City Centre, Brighton BN1 2JF
+44 01273 828250 ihg.com/holidayinn
Brighton Pier Madeira Drive Brighton East Sussex BN2 1TW +44 01273 609361 brightonpier.co.uk Victorian pier with fairground, penny arcades and great views.
The Lanes of Brighton A maze of twisting alleyways with lots of cute shops and boutiques.
Choccywoccydoodah 3 Meeting House Lane Brighton E Sussex BN1 1HB +44 (0)1273 329462 choccywoccydoodah.com
Other blogger experiences:
Kirstie/Family Adventure Project and her teens went to Holiday Inn Liverpool.
Gretta from Mums do Travel went to Holiday Inn Brighton Seafront and so did Cathy from MummyTravels.
Jen and her tween daughter and husband went to Holiday Inn Camden Lock.
I'm working with BritMums and Holiday Inn highlighting its warm family welcome. Holiday Inn is where you and your family can always be yourselves. Visit Holiday Inn for more information.