Not many hotels make it on to my favourites list. The ones that do have that special je ne sais quoi, I-want-to-stay-here-forever feeling. I know when I find one because I start planning a return nearly as soon as I get there.
Tregarthen's made it on to my list. Scilly is a magical place. This archipelago, 28 miles off the coast of Cornwall, is understandably one of Britain's most desirable tourist spots. The gulf stream ensures that it never frosts, and when the sun shines on the white sand beaches – turning the clear waters aquamarine blue – you might think you were in the Caribbean.
Part of Tregarthen's secret is location, right on St. Mary's Harbour and perched high enough to command some of the best views of Scilly. Life on the islands revolves around the many boat trips that launch from this harbour. It takes all of about 5 minutes from dropping off your room key at reception (old-fashioned and I love it) to stepping on your boat. This makes "Island Hopping" very easy and accessible.
Service and family friendliness are other reasons to love the hotel. Tregarthen's concierge service will recommend and arrange adventures based on your family requirements. Fancy a picnic on the beach in Tresco? Or a cycle around St Mary's looking for hidden treasures? Kids bored? Collect shells, paint them and add them to our shell wall!
But food quality is always a litmus test. When you come home each evening tired from a day of Famous Five exploring, you want to enjoy a high quality, leisurely meal. With just-caught seafood just steps away and lots of fresh local produce, the restaurant serves excellent dishes, which can be adapted to suit your children's tastes too.
Perhaps tired in places, in a retro Harold Wilson sort of way, the light airiness of the rooms and expansive views over sea and Hugh Town far out weigh a faded corner. When you finally make it to your room and make a cup of tea adding fresh local milk, you'll start planning your return. We did!
What's good for families
My girls are a bit older (10, 11 and 13) and unlike their parents, expansive sea views perhaps aren't all they need to keep interested. There's loads for kids and families, including
Interconnecting family rooms
Super fast wifi, which thankfully worked perfectly the entire trip
High tea for little ones, and a kids menu and kids activity packs
Activities such as "Tregarthen's Treasure Trails", well thought out trails around St Mary's to find hidden treasures and Shell Painiting, where kids can decorate shells they find and add them to a hotel wall, or keep them as a souviner.
A kid's "Chill Out Corner" with bean bags, books and lots of games and books for kids of all ages (mine spent hours on Lego and Articulate).
Stuff to borrow, lots of things for little ones (bottle warming, baby monitors, baby carriers, baby baths, play mats) and things for big kids too like games from the Chill Out Corner and nets for rock pooling at nearby Porthcressa Beach.
My 13-year-old's perspective

Tregarthen's was great for kids! There's a kids chill out area, which we went to between meal courses and there was a vast variety of toys, games and books. You could borrow the toys and take them back to your room. The food is very good too. There's a "Continental breakfast" (which included chocolate croissants) and a cooked breakfast. In the evenings I had an adult dinner which I really liked (especially the turkey!). The menu changed daily which was perfect for people like us who dined in the hotel each evening. The desserts were very good too!
My 10-year-old's perspective

Tregarthen's was really fun because we got to paint shells and add them to the hotel wall! First we borrowed buckets from the hotel and walked to Porthcressa beach (5 minutes) to collect shells. There were hundreds to choose from. Then the lady at the hotel gave us a box of really good paints and brushes to decorate the shells. It was really fun! My parents watched us from the window as they had a glass of wine.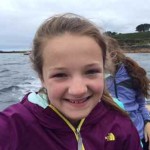 My 11-year-old's perspective
The hotel gave us "Treasure Trails" to do while on the St Mary's. We followed a map and found hidden pirate treasure! We rode around on bikes, but you could do it on a golf cart too. You follow a map and at every stop you find a treasure and cross off the pirate suspect who did it. It was a great way to get a tour of the island.
Getting there: Skybus & Scillonian II & III
The Skybus is the fastest way to the islands, and our chosen route. Our holiday started as soon as we boarded the 19 seater Twin Otter (the Islander seats 8 passengers!). You sit within arm's reach of the pilot, and have views straight ahead through the cock pit and on all sides. It's pretty spectacular. Flights depart from Lands End (15 – 20 minutes), Newquay (30 minutes) and in season from Exeter (60 minutes).
Make sure to check the luggage requirements, as they are different from other commercial airlines, especially when it comes to hand luggage.
You can catch the Scillonian ferry from Penzance Harbour (2 hours 45 minutes depending on tides and weather conditions).
IF YOU GO:
Tregarthen's Hotel, Garrison Hill, St. Mary's, Isles of Scilly TR21 0PP +44 01720 422540 tregarthens-hotel.co.uk
Isles of Scilly Travel islesofscilly-travel.co.uk @IOStravel
Check out my suggested itinerary for a 4 night family trip to Tregarthen's Hotel (coming soon…).
Here's a video the girls made about exploring the Islands … Enjoy!
Our accommodation and some meals were provided by Tregarthen's for the purpose of this review. The flights were donated by Scilly Travel. We paid for our activities. All opinions are my own and my family's.