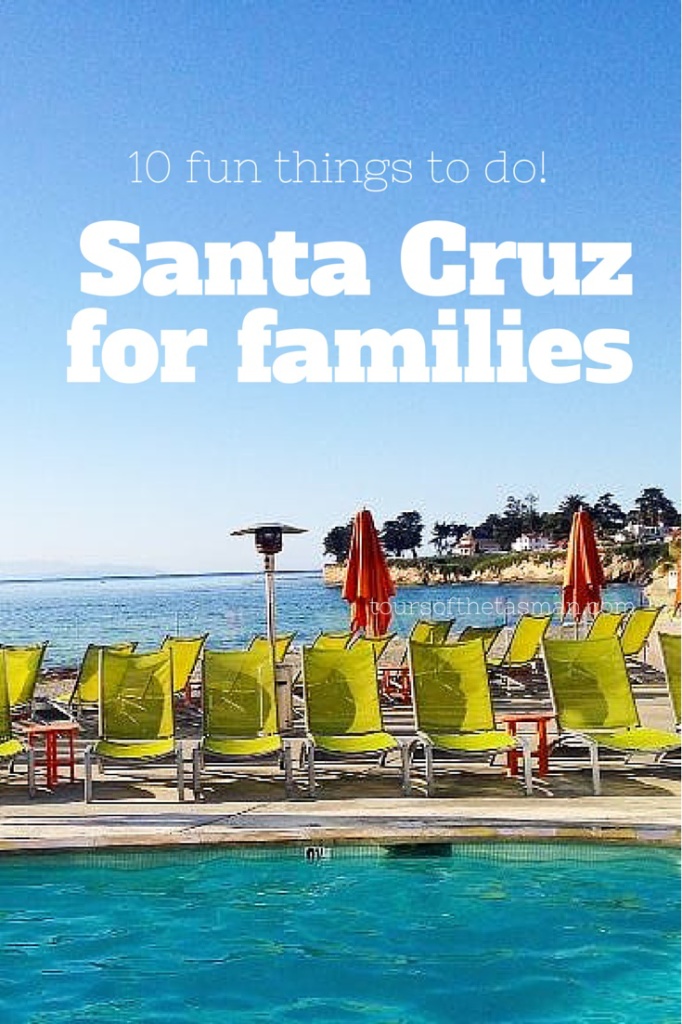 Mention that you are visiting California and many Brits will admit aspirations of travelling Highway 1, the iconic West Coast Highway that hugs the Pacific coast. The drive itself is gorgeous, albeit a bit curvy, with stunning views around every corner. But you can't drive all day and you'll want to pick a few places to stop.
Santa Cruz is a quintessential California beach town with everything from surfing to whale watching to historic landmarks to boutique wineries and organic eateries. Whether you fly into Los Angeles (341 miles) or San Francisco (70 miles) the drive will eventually weave you through this varied county. Having grown up nearby, it's one of my favourites. If you are staying in San Francisco, it's a must do to fit in the beach, and just a short scenic ride.
We go often and I've devised a perfect few days break for families with young children through preteens.
A Modern Mother's Perfect Weekend in Santa Cruz
1. Stay at Joie de Vivre's Santa Cruz Dream Inn – right on Cowell Beach! Book a poolside room, take a deep breath and relax.
2. Walk on over to the Santa Cruz Beach Boardwalk, a classic seaside amusement park. Ride the 1911 Looff Carousel and then grab a corn dog and fresh lemonade and eat it on the beach.
3. Then stroll the 100-year-old shop and restaurant-lined Santa Cruz Wharf. Go all the way to the end (it's one of the longest in the country) and watch a free sea-lion show.
4. Eat at Gildas or Stagnaros on the Wharf, two traditional fish restaurants. They really haven't changed since I was a kid. Try the fish tacos at Stagnaros and a good ole American breakfast at Gildas.
5. Chill out at the pool at the Dream Inn. Order your favourite drink and loaded nachos while the kids swim.
6. Hang out on a beach (there are 29 miles of them!) and body board or collect shells and build sand castles. Watch the surfers at Pleasure Point or kite boarders catching air at Waddell Beach.
7. Take surf or SUP lessons and walk up the hill to the Santa Cruz Surfing Museum.
8. Marvel at the towering Redwoods and ride on a vintage stream train at Roaring Camp Railroads.
9. Learn more about the Monterey Bay National Marine Sanctuary at the free Exploration Centre or maybe whale watch (Davenport is your best bet) or look out for other wild life one of the 14 State Parks.
10. Pick up breakfast or lunch at The Picnic Basket or the Ideal Bar and Grill.
12. Then get an ice-cream at Marianne's (70 different flavours) or Penny Ice Creamery (organic seasonal flavours).
Below are some pics from the trip. If you've ever been to the area – leave your tips too!
My 11-year-old's perspective

The Boardwalk was really fun because there were so many rides and they all varied. My favourite rides were the Carousel (which had rings that you could throw in the clown's mouth – the lights flashed and different music played.) I also liked the Big Swings and I have always wanted to go on the Big Dipper roller coaster – it looks so fun!
Where we stayed: Joie de Vivre's Santa Cruz Dream Inn
Our favourite place to stay, and in my opinion the best option for families, is Joie De Vivre's Santa Cruz Dream Inn. Each of its 165 room has an Ocean view, and it's adjacent to the wharf and Boardwalk, and right on Cowell's Beach. My favourite bit is there is a swimming pool that overlooks the Pacific Ocean. We usually get one of the poolside rooms, so we can access the pool easily, and grab some of the lounge chairs that overlook Cowell's Beach. Then we can read and sip cocktails, while still keeping an eye on the girls who rotate between the swimming pool, hot tub, and playing in the sand. They also love body boarding, and we'll go down to the beach and watch them ride the waves!
I keep promising them surf lessons from the Club Ed International Surf School. The school usually have a set up right on the beach near the hotel (look for the blue "Learn to Surf" trailer). They have all kinds of rentals to: Softboards, long boards, paddle boards, and wetsuits in all sizes.
Note: Sometimes after a heavy rain, the pollution level in the Ocean on Cowell's Beach can be high and you are advised not to go in the water. If this is the case, the hotel knows and it is sign posted on entrance to the beach.
My 10-year-old's perspective

The Dream Inn is a 4-star hotel right on the beach. The rooms were very big and nice. It has a heated pool and a jacuzzi. There are some steps that lead right onto the beach! It was really fun going to play on the beach whenever you want. The Boardwalk is also very close, so you can go on some fun rides.
IF YOU GO:
Santa Cruz County Conference & Visitors Council santacruzca.org Ask for the free travel guide
Dream Inn 175 W Cliff Dr Santa Cruz, CA 95060 +1 (831) 426-4330 The best beach experience in Santa Cruz! www.jdvhotels.com
Aquarius Restaurant Santa Cruz Dream Inn, 175 W Cliff Dr, Santa Cruz, CA 95060 +1 (831) 460-5012 jdvhotels.com Upscale food with matching view.
The Picnic Basket 125 Beach St, Santa Cruz, CA 95060 +1 (831) 427-9946 thepicnicbasketsc.com Counter-serve cafe near the Santa Cruz Boardwalk offers locally sourced American eats & a patio.
Gilda's 37 Municipal Wharf Santa Cruz, CA 95060 +1 (831) 423-2010 gildas-restaurant.com A combo seafood restaurant and diner. We don't miss it for breakfast, and are often there for our evening meal too.
Ideal Bar & Grill 106 Beach St, Santa Cruz, CA 95060 + 1 (831) 423-5271 idealbarandgrill.com Bustling room & bar with American entrees including steamed clams plus cocktails such as margaritas.
Stagnaro Bros. 59 Municipal Wharf, Santa Cruz, CA 95060 + 1 (831) 423-2180 stagnarobros.com Seaside eatery turning out seafood staples like chowder & fish 'n' chips with views of the Pacific.
Aldo's Harbor Restaurant 616 Atlantic Ave Santa Cruz, CA 95062 +1 (831) 426-3736 www.aldos-cruz.com Known for its Eggs Benedict, calamari, fresh salmon, and ocean and harbour views, this reasonable priced Italian seafood restaurant is one of our favourites.
The Penny Ice Creamery 913 Cedar St, Santa Cruz, CA 95060 + 1 (831) 204-2523 thepennyicecreamery.com Eclectic & seasonal flavors of organic, made-from-scratch ice cream served in a spare, rustic space
Marianne's Ice Cream 1020 Ocean St Santa Cruz, CA 95060 +1 (831) 458-1447 www.lovemariannes.com You have to stop here. A landmark for more than 50 years, the ice cream parlour serves 70 flavors of ice cream, from classics like "Old Fashioned Vanilla" to Marianne's signature flavour, "10-20" (caramel ice cream, fudge, Oreo cookies) "Horchata" and "Mexican Chocolate".
Cowell's Beach/ Main Beach 109 Beach St, Santa Cruz, CA 95060 Cowell's Beach is right in front of The Dream Inn, is a top spot for beginner surfers. It's neighbour, Main Beach's neighbor, is just on the left side of the wharf and is home to beach volleyball, Friday night concerts, and lots of tourists.
Club Ed International Surf School and Camps www.club-ed.com Often set up in front of the Dream Inn on Cowell's Beach.
Santa Cruz Beach Boardwalk 400 Beach St Santa Cruz, CA 95060 +1 (831) 423-5590 www.beachboardwalk.com Founded in 1907, the Boardwalk is California's oldest surviving amusement park. The 1924 Giant Dipper wooden roller coaster and Looff Carousel's unique ring toss are National Historic Landmarks. FREE to enter.
Santa Cruz Wharf 21 Municipal Wharf, Santa Cruz, CA 95060 +1 (831) 420-6025 cityofsantacruz.com The Santa Cruz Wharf is a wharf in Santa Cruz, California, USA, known for fishing, boat tours, viewing sea lions, dining, and gift shops.
Roaring Camp Railroads 5401 Graham Hill Rd, Felton, CA 95018 +1 (831) 335-4484 roaringcamp.com Family-friendly park offers train rides amid natural landscapes, seasonal routes & special events.
Santa Cruz Surfing Museum 701 W Cliff Dr, Santa Cruz, CA 95060 +1 (831) 420-6289 santacruzsurfingmuseum.org The Santa Cruz Surfing Museum is a museum which was established in May 1986 to document the history of surfing.