One of my favourite times to visit Yosemite is in the Spring, and one of the best ways to discover Yosemite Valley is with a guide.
Last April, we met naturalist Michael Ross for a 4-hour nature walk to catch some key Valley floor highlights, plus learn some of the not-so-known facts about this stunning national park.
Michael has lived in Yosemite for nearly 40 years and is with the Yosemite Conservancy, a non-profit organisation established to provide for Yosemite's future. He's come prepared (a motto throughout our walk) with sun cream slathered on his face, hiking boots and layers of clothing for temperamental mountain conditions.
We chat for a little while, and discover that Michael is also a prolific children's writer, with books like It's a Bugs Life and Baby Bear Isn't Hungry, which makes him a perfect guides for families.
We decide to take the Valley Loop Trail, which Michael tells us ALWAYS has fewer people than some of the other trails. Out of the 4 million people who visit Yosemite each year, most only make it to a small number of key locations on the valley floor, like Yosemite Falls. He wants to show us a bit more.
We start in a meadow and look up 7,000 feet to Glacier Point (a must see) and Michael explains that Yosemite Valley was created by a series of glaciers — moving frozen rivers — over millions of years. The last glacier disappeared in the 1970s.
We gaze at the Half Dome, which Michael points out is actually three-quarters of a dome. Most people ask him where the other half is. Its flat face was made from years and years of glacial force tearing away in the layers of granite. There is no other half!
Our guide is a natural storyteller, relating Yosemite's past. He tells us about the native Indian legend of Tis-sa-ack and how a row with her husband formed the iconic Half Dome. Scottish hubby is pleased to hear about Yosemite's connection with John Muir, the Scottish naturalist and explorer who loved Yosemite and spent many years here.
The girls are fascinated to hear that bears don't actually hibernate (which means a lower body temperature). They sleep November through April. They don't actually hibernate but they do become very VERY groggy.
As we climb, we learn about the soil by looking at it through a magnifying glass (Michael magically produces one for each of the girls). The glassy bits are quartz, the sparkly bits are mica and the milky bits are feldspar. The right combination of these makes granite. I think about the granite slabs we just put in our new kitchen.
On our walk we hear woodpeckers, blue jays and kingslets and see the holes which woodpeckers have made to store acorns in trees. It's April, so more birds are around and starting to come up from Mexico.
Michael notices the girls clamouring over the large rocks as we climb and picking up items. He's very good at weaving in conservation themes. When my 9-year-old picks up a small rock, he says that when he always looks under a rock he puts it back, just in case it was someone's home.
We come up to a large rock fall and Michael asks if we want to climb up. He gives us a little safety talk and off we go. We settle in a spot high above, looking over at Sentinel Rock. It seems the perfect place for a picnic and we take out our sandwiches and crisps and have a picnic lunch.
As we near Yosemite Falls, we hear the roar of water and join in a line of tourists making their way to the site. Cascading water suspends in air, exploding like fireworks. It's mesmorizing to watch. Yosemite Falls is 2,500 feet.
My 11-year-old's rock climbing tips:

Rock climbing is a very fun extreme sport, but can be dangerous is you don't know what to do.

Things to look out for: Big holes that your feet can get stuck in, falling rocks and slippery surfaces

Tips: Feel to see if the rock is wobbly before your put your whole weight on it; If you are in a group, climb diagonally, so if someone in front of you loosens a rock, it won't fall on top of you; Don't over think where you are putting your hands and feet, let them find their places naturally; Have fun!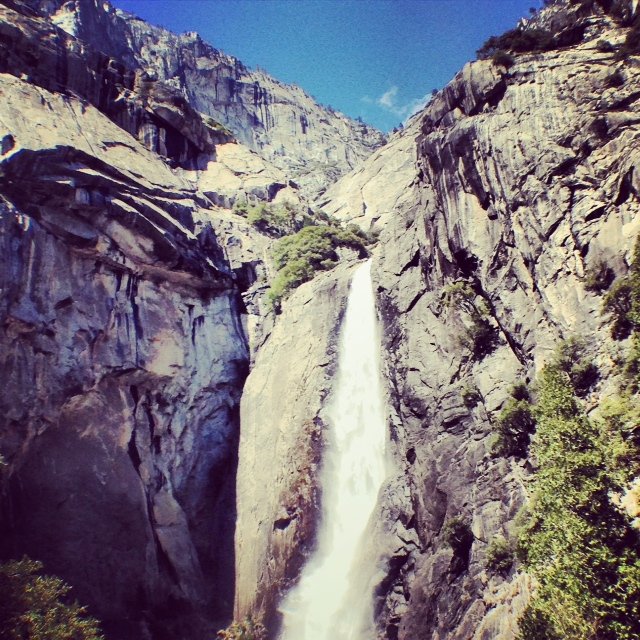 As we end the hike, Michael stops in the Valley and reads a quote from "A Parable of Sauntering" – a conversation between John Muir and Albert Palmer:
There are always some people in the mountains who are known as "hikers." They rush over the trail at high speed and take great delight in being the first to reach camp and in covering the greatest number of miles in the least possible time. They measure the trail in terms of speed and distance.

One day as I was resting in the shade Mr. Muir overtook me on the trail and began to chat in that friendly way in which he delights to talk with everyone he meets. I said to him: "Mr. Muir, someone told me you did not approve of the word 'hike.' Is that so?" His blue eyes flashed, and with his Scotch accent he replied: "I don't like either the word or the thing. People ought to saunter in the mountains – not hike!
We saunter back with Michael to his car, a faded Toyota Corolla with Save Mono Lake and Drop Food Not Bombs bumper stickers. And of course we buy one of his books. How could we not.
My 10-year-old's impression of Yosemite Falls:

Yosemite Falls in the spring is a magical place. Its outstanding beauty makes any tourist want to come here. In the summer there is only a trickle of water or nothing at all but in the spring the amount of water is perfect, but sometimes it is so much it can splash on you. You can walk on the rocks below the waterfall. The Lower Falls, the part you see up close, is 300 feet. The Upper Falls, the bit that you can see when you stand back, is 1,200 feet tall.
IF YOU GO:
Yosemite Mariposa County Tourism Bureau 5320 California 49 #4, Mariposa, CA 95338 +1 (209) 742-4567 www.yosemiteexperience.com A valuable resource when planning your Yosemite/Mariposa trip. Make sure you download their Vacation Planner, or request a FREE copy.
Yosemite's Four Seasons Vacation Rentals 7519 Hennessey Cir, Yosemite National Park, CA 95389 +1 (209) 372-9000 www.yosemitelodging.com/four.seasons Located inside Yosemite Gates and just a short drive from all major park attractions, the Yosemite West housing develop has family homes and condos to rent. It's one of the best ways to experience the park, giving you all home comforts in the most spectacular of settings.
Yosemite Ziplines and Adventure Ranch 4808 Highway 140 Mariposa, CA 95338 +1 209 742 4844 yosemiteziptours.com Just an hour from the Yosemite gates, this is the perfect place to try out zip-lining, the latest no sweat adrenaline sport craze. Our entire family zipped all 6 lines and had a blast!
The Ahwanhee Hotel 1 Ahwahnee Dr, Yosemite National Park, CA 95389 +1 (209) 372-1407 www.yosemitepark.com Named after the Ahwanhee Indians that once made Yosemite their home, the Ahwanhee Hotel is a four diamond property and the most luxurious in the area. Dinners require a jacket and tie, but during the day stop by in jeans for a hot chocolate on the lawn or try Sunday Grand Brunch. Steve Jobs loved this place so much he got married here.
Betts Gold Coin 5021 Highway 140 Mariposa, CA 95338 bettsgoldcoin.com Fabulous and reasonably priced food and free history lessons too. Proprietor Bob Borchard shares colourful stories of the Gold Rush and kids get a free gold coin if they answer a history question (just remember John C Freeman). Well worth a visit (or three).
Yosemite Store. From souvenirs to socks, you can get nearly anything here (including a wide range of groceries). There are only two grocery stores in Yosemite, so while only slightly pricey, it's rather convenient.
Yosemite Conservancy www.yosemiteconservancy.org Go on one of their nature walks or overnight backpacking treks, and proceeds go right back into programmes to protect Yosemite for future generations. It's a win-win situation.
Yosemite Bicycle Rentals, stands at Yosemite Lodge and Curry Village www.yosemitepark.com/bike-rentals Rent bikes and tour the valley floor at your own leisure. There's a circular, mainly flat, cycle path for all to enjoy. You can get small bikes, trailers for children and tandem bikes too.
Note: Our accommodation and activities were provided by Visit California for the purposes of this review. All opinions are my own and my families.