This summer Visit California suggested we stop in Santa Maria on our trip from San Francisco to Surf City USA. It is about half way, and a nice place to break up the 6 and 1/2 hour drive.
My ears perked up at the suggestion. My mother grew up in Santa Maria, and I know how lovely it is. A quaint agricultural area set in rolling golden hills, Santa Maria is on the Foxen Valley Wine Trail, and Pismo Beach and Avila Beach are a just short drive away. It's also home to Santa Maria-style bar-b-que, which is a distinct cooking style and has nothing to do with bar-b-que sauce! I thought we could make a leisurely start, stop off at the beach or swim at the hotel pool, and then have bar-b-que dinner.
But which one of the many establishments to try? Locals always have the best knowledge so I asked my mom's cousin Dan for some suggestions. Dan and my mother are really more like siblings, both being only children and descendants of the Swiss-Italian immigrants that settled most of the area. My mother always talks about the big family dinners, where she and her cousin would retreat to the kitchen to do the washing up, quietly listening to the adults speak in Italian in the neighbouring room.
"The Hitching Post in Casmalia, OF COURSE," Dan said, without hesitation. "It's the BEST one in Santa Maria." So we booked it, and of course Dan came with us. We didn't know it then, but it would be a memorable meal.
A few days later, the Hitching Post menu arrived in the post. Dan mailed it to us so we had time to study it. I think he was trying to tease us. Santa Maria style bar-b-que is mainly about how it is cooked – on an open fire made of red oak. It's usually steak (tri tip, seasoned with garlic salt), and side dishes include small local "piquninto" beans, salsa, green salad and macaroni and cheese (though my mother's version has macaroni salad). Growing up, these are the same dishes my mother would serve at our family get togethers.
The Hitching Post is more of an experience than a restaurant. For starters, it's waaaaay out in the country. It's not even in Santa Maria, but neighbouring Casmalia, an old cow town. The top of their web site says "Special Driving Instructions and If You Are Lost," which I can only guess happens to many people. On the way you pass through dusty towns and ranches, slowly going back in time, until you are finally greeted by the 100-year-old red wooden building. The sign outside boldly states "Worlds Best Bar-B-Que."
We arrived at 6.30 and the place was already packed. The walls inside were smothered with wild west memorabilia – there's a stuffed bull head with horns and glass eyes staring at you, rusted ranching equipment, and loads of awards the restaurant has earned over its 50+ years in business. Sitting at the bar were a few older couples, a group of men in cowboy hats and a smartly dressed wine rep for a local winery (who Dan immediately put his arm around, he seemed to know everyone there).
Our table was already set with a large plate of crudités – sliced celery, black olives, dill pickles and pale green pepperncini. Next to it was an even larger basket of Krispy saltine crackers, and a choice of plain or sesame bread sticks. I felt like I was back in the 1950s. Dan picked up a saltine cracker, unwrapped it and crowned it with a large dollop of salsa. We followed his lead. I could tell it was homemade (stewed skinless tomatoes, peppers and chili?). We stared at a huge bowl of sour cream with chopped spring onions, and the girls asked what it was. I told them it was for the baked potatoes, which of course we HAD to order.
I glanced at the menu, which I knew well from studying it the week before. Dan said we HAD to order the artichoke (steamed, then barbecued and seasoned with Hitching Post famous seasoning). Our waitress, who has known Dan not only from the umpteen years she has worked at the Hitching Post, but also when she waited tables at another local restaurant, tells us this is their most popular appetizer. Dan looks at me as if to say I told you so.
Our glasses of Merlot from the nearby San Louis Obispo Tolosa winery arrived. Dan had a Tom Collins. We relaxed. I felt like I was in some sort of time warp, with awesome food and equally awesome central valley wine (did I tell you the Hitching Post's sister restaurant in Buelton, was featured in the film Sideways?). Dan got into his stride. We HAVE to order the mushrooms (two skewers of button mushrooms, basted with butter and seasoned with their famous mixture, then finished on the bar-b-que.) The mushrooms came and they were silky and smokey and DIVINE. My daughters even liked them and they aren't exactly what I would call mushroom fans.
The children's meals were easy – a choice of chicken or steak with french fries or baked potato. They go for steak and baked potatoes. Realising I'm going to be eating a lot, I ordered the smallest steak available: A 5 oz filet mignon (the leanest and most tender). I ordered mine medium (very pink), Dan has medium rare (red centre) and my husband goes for medium well (barley pink).
The dinners are all prepared in their indoor oak wood barbecue pit (which we are sitting right in front of). They include a fresh vegetable tray, bay shrimp cocktail served in a silver dish, green salad, baked potatoes or home-made french fries, garlic bread, coffee/tea and ice cream or sherbet.
Tonight the bar-b-que was manned by Phil, and he was on fire. Not literally, but metaphorically, carefully placing steaks, chicken, bread on the grill, and then moving them around. It must be quite a job to keep on top of everything.
We asked our waitress why they don't serve beans (the indigenous piquanto beans are an important staple in Santa Maria bar-b-que). Her answer: Just never have! And we all looked at each other as if to say of course. Who need beans when you have … all this!
For dessert the girls get double chocolate fudge ice cream. Dan and I have the tangy orange sherbet. My husband has vanilla ice cream. We skip coffee because we are WAY TOO FULL.
As we left, I took one last longing look over my shoulder, knowing I wouldn't have another meal like that in a long, long time.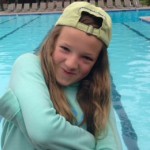 My 10-year-old's perspective
I really liked the Hitching Post because of everything! The food was really good. I especially liked the steak, artichokes and double fudge chocolate brownie ice cream. The decorations were really cool as well. There were old knives and other ranching things and the building was more than 100 years old! I really liked the garden because there was a pond and an old tree with the middle cut out. There was also a cat that was really friendly.
IF YOU GO:
The Hitching Post I. 3325 Point Sal Rd., Casmalia; hitchingpost1.com. The BEST Santa Maria bar-b-que. Ever. Terrific food and an experience you will remember.
Holiday Inn Santa Maria 2100 N Broadway, Santa Maria, CA 93454 +1 805-928-6000 hisantamariahotel.com. Conveniently located off Highway 101. VERY Large rooms (the 5 of us stayed in a 2 Queen room). Family-sized swimming pool for cooling off after a day at the beach or wine tasting. It's the perfect place to stay for the night to break up a road trip from San Francisco to Southern California.
Cambria Estate Winery 5475 Chardonnay Lane, Santa Maria, CA 93454 +1 805-938-7318 cambriawines.com Family-owned, sustainably-farmed, and passionately tended. Signature Pinot Noir, Chardonnay. The fog coming from the coast mixes with warm central California sunshine, making this area perfect for growing grapes.
Cottonwood Canyon 3940 Dominion Rd, Santa Maria, CA 93454 +1 (805) 937-8463 cottonwoodcanyon.com Small ultra-premium winery specialising in Chardonnay, Syrah and Pinot Noir.
Riverbench Vineywards 6020 Foxen Canyon Rd, Santa Maria, CA 93454 +1 (805) 937-8340 riverbench.com Pinot Noir and Chardonnay. Limited quantities, with many available exclusively through their tasting rooms.