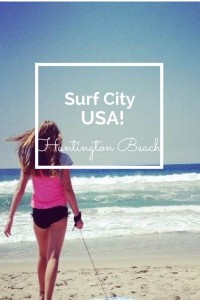 I first learned that Huntington Beach in California was the surfer paradise behind the Hollister brand by accident.
It was a cold Autumn day in Edinburgh, grey skies were threatening rain and  thankfully we had remembered to bring wooly scarves. Coincidentally it was my first trip to the gorgeous city, even though my Scottish husband had promised me a visit since we were married.
We somehow managed to find parking on George Street right before dinner time, and as I clicked the lock on our Volvo, a sparkling blue ocean plastered across more than 100 ft of shop front caught my eye. I crossed to road to discover it was a live feed of Huntington Beach, aka Surf City USA. I was instantly transported back to memories of warmer days.
Like most parents, I'm not a huge fan of going into the store, but my preteen daughters LOVE it. And when they learned we were going to visit the beach on the Hollister web cam, they were *beyond excited*. When I mentioned they'd also learn to surf, they were ecstatic.
Even before Jan and Dean dubbed it "Surf City," Huntington Beach has been a bustling surf centre. With 10 miles of sandy beaches (there are five to choose from) and "endless summer" average temperatures of 75F, it's a classic surf town perfect for catching a wave.
It's also a good base for families wanting to explore Southern California. Newport Beach is next door. Disneyland is just a half hour away and Venice Beach is 40 minutes. You can reach Universal Studios and the San Diego Zoo in a day trip.
We visited recently via Visit Huntington Beach and discovered quite a few activities families will enjoy.
Wave at the Hollister web cams!
Built in 1906, the Huntington Beach Pier is an iconic image on the Surf City horizon. Walk to the very end and have a date shake at Ruby's diner. Pre teens will want to find the Hollister web cam, which broadcasts Surf City USA to its clothing stores across the globe. Though the web cams aren't always live, you can live in hope of being recorded on their official feed. You can find the web cams on the North side of the pier, under the last tower.
Surfing: Learn to catch a wave
Every preteen wants to learn to surf and Surf City is the perfect place to start. Home to the Vans US Open of Surfing, Huntington Beach has the most consistent waves (due to its position in relation to Catalina Island to the west and Long Beach to the north) with water often in the 60s. There's a plethora of young surfer dude instructors too.
Surfing was AMAZING. We rented surfboards and wet suits from Toes on the Nose. Paul and Sam were our instructors; they were really helpful and strong (they pushed us to get started on a wave).  They put us in the small waves, which was perfect because we were beginners. It was so much fun! I caught a few waves and 2 or 3 I rode all the way down to the shore!
Get a workout Stand Up Paddle Boarding (SUP)
If surfing seems like a pipe dream, try Stand Up Paddle Boarding (SUP), a fast-growing new sport that originated in Hawaii by photographers wanting to get good pics. It's a combination of surfing and kayaking. You stand up on a specially made over-sized surf board and paddle to propel yourself. It's an overall body workout that specifically works your core muscles. It's easy to learn and quickly enjoy. Once you get the technique down, you are a pro! Try starting on McKinnon boards (locally made) that are oversized and perfect for beginners.
Cycle the Strand
The Huntington Beach Ocean Strand is 10 miles of paved boardwalk that runs the length of the city along the beach. Rent a classic beach cruiser and race the seagulls. There are lots concession stands along the way. You'll feel like a local with this unique perspective of the beach. If you don't want to cycle, try a motor-propelled Segway! Fun way to take in the sites and feel part of the surf culture.
My 12-year-old's perspective

Cycling is very fun – but usually we just cycle up and down our boring street. This cycling was special. We could cycle for miles on our easy to use beach cruisers, soaking in all the culture of Huntington Beach! We had a great view of the beach on one side. On the other side were restaurants, shops and places where you could rent things. Toes on the Nose had all the bikes fitted for us, and also helmets that were comfortable.
Hangout at the beach
Sometimes you just want to relax and soak in the sun and atmosphere, and Huntington Beach is the perfect place. You've got five beaches to choose from: Bolsa Chica, Huntington City Beach, Huntington State Beach, Sunset Beach and Dog Beach. Bring bucket, spade and a body board for full enjoyment. Pick up a casual game of volley ball (you might see a professional too).
Roast marshamallows over a fire pit on the beach and make S'Mores!
There's something special about warming yourself around an open fire at sunset while the cool air settles in from the ocean. Huntington Beach is one of the few places you can still build a bonfire, and it boasts more than 500 fire rings. At night the beach lights up with holiday-makers roasting hot dogs and S'Mores (graham crackers, roasted marshmallows and Hershey's chocolate). Fire pits are open to all on a first-come, first-served basis, but there are several butler services available to stoke the fire for you.
My 9-year-old's perspective

We roasted marshmallows right on Huntington Beach and they were yummy! Here's how to make S'Mores: 1. Roast marshmallow. 2. Get Hershey's chocolate and gram crackers. 3. Put the melted marshmallow and chocolate inside the graham cracker. 4. Eat!
Eat like a surfer
Go to the Sugar Shack for the best California-style breakfast around. There's a queue from opening till it closes after lunch, and you can often see surfers arrive in wet suits, order, then quickly change in the back while their food cooks. Have a fish taco for lunch at Sandy's Beach Grill. Fish tacos are a Southern California specialty, originating from Mexico. Grilled fish is wrapped in a warmed corn tortilla and served with crisp sliced cabbage and tangy salsa. Couple this with local artisan beer, and you have a winning combination. For dinner, check out Duke's for Hawaiian beach ambience and the best sunset overlooking Huntington Pier.
Where we stayed: The Hyatt Regency Resort and Spa, Huntington Beach
Just steps from the beach, the Hyatt Regency Resort and Spa is the perfect place for families to base themselves and enjoy all Surf City USA has to offer. This is a proper resort – with your choice of swimming pools, restaurants (don't miss Watertable, their signature eating establishment), spa, shops and surf lessons. Want to just lounge on the beach? Your resort fee includes beach chairs, towels and umbrellas, so you can sit in the cool Ocean breeze and breathe in the whole surf scene. On your way back, grab a glass of their complimentary cucumber or citrus water at reception, a perfect thirst quencher for a tough day at the beach! Kids will especially love Slyders Water Playground, with water slides, wading pools, cabana rentals, and daily activities like hula hoop contests and fish feeding. There's nightly s'mores too. Awesome.
Watch this video the girls made about their trip!
IF YOU GO:
Hyatt Regency Huntington Beach Resort & Spa 21500 Pacific Coast Highway, +1 714-698-1234 huntingtonbeach.hyatt.com A proper resort, with your choice of pools, spas, shopping and of course shopping. A perfect base to explore Surf City USA and surrounding area.
Toes on the Nose Within the Hyatt Regency Resort and Spa in the Retail Courtyard, +1 714-845-4638 toesonthenose.com Located at the resort, this activity and adventure store offers surf lessons, cycle rentals, body boards, wet suits, sand toys and adventure packages.
Watertable Located within the Hyatt Regency watertablehb.com Watertable is the signature restaurant at Hyatt Regency Huntington Beach Resort & Spa and combines rustic and refined and old and new. The menu features seasonal, regional grill centric American fare, paired with a selection of world-class wines, craft brews, artisanal cocktails, craft and naturally infused waters, in a unique nod to its name.
Sandy's Beach Grill 315 Pacific Coast Highway +1 714-374-7273 sandysbeachgrill.com This casual restaurant and bar provides a Southern California coastal dining experience complete with dramatic beach & ocean views and cuisine inspired by the region.  Fish tacos are a Southern California specialty, originating from Mexico. Grilled fish is wrapped in a warmed corn tortilla and served with crisp sliced cabbage and tangy salsa. Couple this with local artisan beer, and you have a winning combination.
McKinnon Stand Up Paddling Instruction +1 714-377-6101 mckinnonsurfboards.com Rocky McKinnon is a local professional surfer, paddle boarder and board shaper taught by some of the most elite watermen in the world. Stand-Up Paddle Boarding is a water sport developed and originated in Hawaii and has been described as a combination of paddling a canoe and surfing. It involves paddling a large surfboard with an extended paddle to propel forward movement.
Duke's Huntington Beach 317 Pacific Coast Highway, at the base of the pier +1 714-374-6446 dukeshuntington.com Duke's offers memorable dining in a Hawaiian beach house ambiance, endless ocean views and a reminder of simpler times. The restaurant pays homage to Duke Kahanamoku, the father of international surfing, by honoring his reputation for warm hospitality and the true spirit of Aloha. Don't miss calamari, crab and macnut wontons and the gigantic Hula Pie (macadamia nut ice cream piled on a chocolate cookie crust and topped with chocolate fudge, whipped cream, and more macadamia nuts). Perfect for sharing!
Waterfront Adventures 21100 Pacific Coast Highway Huntington Beach, CA 92648 wheelfunrentals.com Watch the sun go down over the Pacific Ocean while enjoying a warm bonfire and delicious s'mores, an "All American" treat that is a combination of toasted marshmallows, chocolate and graham crackers. You can rent everything you need here to enjoy at day at the beach!
The Sugar Shack Café 213 1/2 Main St. +1 714-536-0355 hbsugarshack.com Since 1967, the Sugar Shack has been feeding locals the best California-style breakfast around. Make sure you try Keplers, which is sort of like Eggs Benedict, scrambled eggs on an english muffin topped w/ sliced avocado, tomato, bacon& hollandaise sauce or a breakfast burrito with eggs, cheese, sausage and salsa. There's a queue from opening till it closes after lunch, and you can often see surfers arrive in their wet suits, order then quickly change in the back while their food cooks. Hole in the wall. Huntington beach institution.
Hollister web cams, under the Huntington Beach Pier, north side at last tower (about halfway down).
Our accommodation and activities were organised and provided by Visit Huntington Beach and their partners. All opinions are my own and my family's.