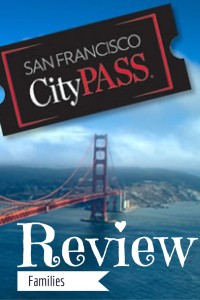 Visiting San Francisco? Lucky you! I've travelled around the world and the "city by the bay" is one of my favourites. It's small enough to be manageable, but cutting edge too – with that unstoppable Northern California energy.
San Francisco offers some of the best museums and activities in the world, especially when it comes to kids. But of course they come at a price.
City Pass is a great way to see the best of what San Francisco has to offer, saving up to 46% on entries. The pass offers many of the top-rated activities I would choose to visit (I grew up in the area). It's valid for 9 days and you get to choose 4 attractions. Plus it includes a 7-day muni pass which allows unlimited rides on the cable cars (a single trip on a cable car is $6).
San Francisco Travel kindly gave us a few passes to see how we got on. I thought they were such a bargain, I bought more for the rest of the family!
Here's what we chose and did.
Option 1: California Academy of Sciences
Golden Gate Park, 55 Music Concourse Dr. San Francisco, CA 94118 +1 (415) 379-8000 calacademy.org
This aquarium-planetarium-rainforest-living museum is one big science lesson – and the kids have so much fun they don't realise they are learning! The usual price is $34.95 for adults and 24.95 and for kids, 29.95 for youth (12 and up). We always visit the four-story Rainforest (having a butterfly land on your arm is THE COOLEST), the Earthquake exhibit, the Foucault Pendulum and the 2 and 1/2 acre living roof with native wild flowers. The Aquarium is awesome too, but if you are planning to visit the Monterey Bay Aquarium (one of your options on the pass), you could skim through this and spend more time in other areas, like catching a Planetarium show. Here's my review of the California Academy of Science.
Tips: The museum is free on selected Sundays – so check the website and AVOID AT ALL COSTS!  Weekends are busier than weekdays. Go early, it can fill up. When you first get there go to the Planetarium entrance to get a show ticket. The City Pass booklet has a 15% off coupon for the gift shop.
Option 2: Blue & Gold Fleet Bay Cruise
PIER 39 San Francisco, CA 94133 +1 (415) 773-1188 blueandgoldfleet.com
You get a truly different view of the city on a boat. City Pass offers a one-hour Bay Cruise Adventure or a 1/2-hour trip on a Rocket Boat, going under the Golden Gate Bridge, around Alcatraz Island, and past Angel Island – with commentary. You can upgrade for $5 for an Alcatraz trip.
Tips: They don't take reservations, you need to show up at the PIER 39 box office ticket window and get a boarding pass. Show up 1/2 hour early to get a good seat (though we did this, and a family ended up standing in front of us.) The girls ended up standing the whole time. Bring a jacket/jumper because it can be cold and windy on the bay. Mornings and evenings are less crowed.
Option 3: Monterey Bay Aquarium or Aquarium of the Bay
Monterey Bay Aquarium, 886 Cannery Row Monterey, CA, 93940 +1 (831) 648-4800 montereybayaquarium.org
If you can get down to Monterey (about 2 hours by car) you MUST see the Monterey Bay Aquarium. I've visited several times in my lifetime, and am blown away each time. Admission is $39.95 for adults ($24.95 for a child) so it's a great deal on the pass. This world-famous aquarium has kelp forests, granite reefs and the open sea filled with sharks, sea otters, penguins, octopuses, jellies and countless other creatures. 200+ exhibits. Don't miss the Jelly Experience! Read my full review of the Monterey Bay Aquarium.
Tips: Less crowded times are afternoons (after 2). We always catch one of the shows. My mother said they were "corny" but I thought they were cute and educational – with catchy tunes. There's a iPhone app you can use – and free wifi. Note: I brought my mother and we borrowed a wheel chair for her. Kudos to the staff who were very friendly and helpful.
Aquarium of the Bay, PIER 39 The Embarcadero and Beach Street San Francisco, CA, 94133 +1 (415) 623-5300 aquariumofthebay.org
I've never been here, but my brother has. It is much smaller than the Monterey Bay Aquarium, but if you have no plans to go South, it's on Pier 39 so you could walk on over there after the Blue & Gold Fleet cruise and discover the San Francisco Bay through hands-on science. There are sharks and jellies and you can explore giant tunnels, surrounded by 20,000 marine animals. .
Tips: Mornings are best time to visit to skip the crowds, the sea lions on PIER 39's K-Dock are just footsteps away.

Option 4: Exploratorium or de Young Museum/Legion of Honor
Exploratorium, Pier 15 San Francisco, CA 94111 +1(415) 528-4444 exploratorium.edu
If you have kids, the Exploratorium is a MUST. It's more of an experience than a museum and is dedicated to the excitement of experimentation, the pleasure of discovery, and the power of play. Explore more than 600 hands-on exhibits and enjoy stunning views of the city and the bay. Read my full review of the San Francisco Exploratorium.
Tips: Lines tend to be shorter on weekday afternoons and Wednesday evenings
de Young Museum, Golden Gate Park 50 Hagiwara Tea Garden Drive San Francisco, CA 94118  +1 (415) 750-3600 deyoung.famsf.org; Legion of Honor Lincoln Park Golf Course 100 34th Avenue San Francisco, CA 94121 +1 (415) 750-3600 legionofhonor.famsf.org
This option is more for adults, thought my 17-year-old niece said she was interested in the European art collection. It's been ages since I have been to either of these two world-class museums. The de Young is right across from the Science Academy, so you could double up. Admission includes de Young + Legion of Honor Fine Arts Museums, and if visited on the same day, access to de Young's Hamon Tower Observatory. Legion of Honor boasts 4,000 years of ancient and European art including an original Rodin The Thinker.
Option 5: Muni & Cable Car 7-Day Passport
Market & Powell, Beach & Hyde, Bay & Taylor
Ride muni trolleys, buses and historic cable cars for seven consecutive days, beginning day of first CityPASS use. Without CityPASS, a single, one-way cable car ride costs $6.  This is a great bargain – if you can actually get on a cable car! You can catch them at the turning points (listed above). We walked over to Beach and Hyde from PIER 39, and waited in the line for 1 hours and 20 minutes. I almost went crazy, but my 17-year-old niece from Michigan thought it was worth the wait.
Tips:  If you want to skip the queues, get a map and walk part way (a long way) up the cable route and try to catch one at an official cable car stop.
IF YOU GO:
San Francisco City Pass City Pass  Adult ages 12+, $86 (value: $160.90), Child ages 5–11 $64 (value: $115.90). You can purchase online, or buy at any of the attractions. Includes: California Academy of Sciences, Blue & Gold Fleet Bay Cruise, Monterey Bay Aquarium or Aquarium of the Bay, Exploratorium or de Young Museum/Legion of Honor, Muni & Cable Car 7-Day Passport.
Disclosure: We were given 4 passes for review. I purchased a further 3 because I thought they were such a good deal. All opinions are mine and my family's.