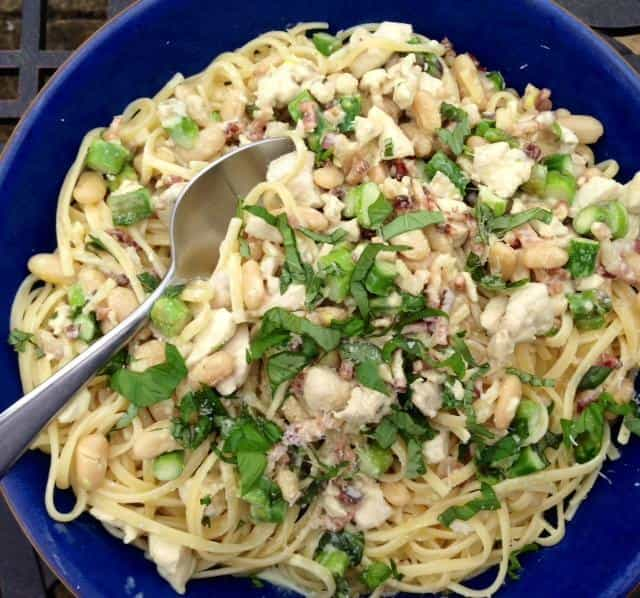 Ah, Spring. With the arrival of nicer weather comes a plethora of fresh veggies. This dish was inspired by Alice Waters of Chez Panise, but I've added by own touches, and can you believe I gathered ingredients for this dish for just £1.42 per serving!
Try it, you'll like it. The girls loved it too.
Linguine, asparagus, borlotti beans, pancetta & chicken
Ingredients
2 chicken breasts, cut in small pieces
1 small pack of pancetta
3 gloves garlic, chopped
glug of olive oil
1 small tin borlotti beans, drained
6 tablespoons double cream
1 Knorr chicken stock cube
A bunch of asparagus, cut in small pieces
salt and pepper to taste
fresh basil leaves, chopped
Freshly grated parmesan cheese
Linguine for 6
Method
Put on a pan of water to boil and cook the linguine according to directions. Separately, pan fry chicken and pancetta in olive oil until browned (about 5 minutes). Add in garlic and fry a few more minutes. Add in Knorr chicken stock cube and cream.  Add in half a cupful of the starchy pasta water. Toss in drained beans and asparagus and cook a few more minutes. Season to taste. Add in basil and parmesan cheese and serve!