Like skiing? Then you'd love whitewater rafting. We tried it for the first time on our California travels this summer.
Whitewater rafting is an extreme sport; it ranks right up there with snowboarding, surfing, and paragliding.  You essentially "surf" the whitewater rapids – and it can give you a major adrenaline rush. Rapids are classed by difficulty (1 = easy; 6 = not passable). The American River, near Sacramento, has nearly 200,000 visitors raft its rapids each season. It's a short trip from San Francisco (2 and 1/4 hours) and on the way to Lake Tahoe, making it a perfect side trip or destination on it's own.
We went on the half-day Gorge Express on the South Fork of the American River with Tributary Whitewater Tours. It's level 2 and 3 rapids, which was advertised for "beginners but to have just enough excitement to keep everyone thrills". It turned out to be the perfect run for our family of girls ages 8, 9, 11 and mum and dad.
I had no idea what to bring or wear, so checked out the Q&A on their web site. I opted for biker shorts and a sports shirt, and the girls wore shorts and swim suits. We all had trainers, hats, and about 10 layers of sun cream (temps can be in the 100s F).
We arrived at the campsite, and our 28-year-old guide, Ryan gives us a safety briefing. He has a degree in economics, but has opted to guide whitewater rafts in the summer and teach snowboarding in Tahoe in the winter.  He has 80s rock star long hair, a goatee, blue metallic sunglasses and is wearing flip flops. The girls instantly think he's cool.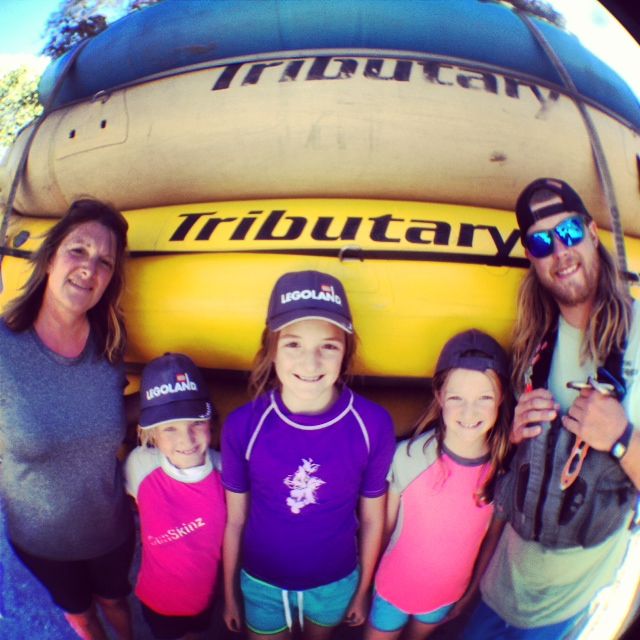 Hold on to the end of your paddle at all times, Ryan tells us (he's seen a 10-year-old girl knock out her mother's two front teeth). I'm not sure if this is true, or if he is saying it to make a point. We all get life jackets, but not helmets (the guides make a judgment based on water flow, clients, etc). We must look like a promising crew. If we fall out, we are told to quickly get in "swim position" (horizontal, on your back, with knees bent – so that if you hit a rock you can push yourself away).
I ask Ryan if he thinks we'll fall in the water. Only if you jinx it, and he laughs. My 8 year-old immediately asks me what jinx means.
We get in our blue raft, sit on the side, and lock our feet in spaces in between the seats in front and behind us (just in case we get thrown in a rapid, it will help keep us in). We've only brought bottled water and sun scream on board with us – we've left everything else in the car so it doesn't get wet or lost if we fall in! Hubby and I are on opposite sides, as we are Ryan's main helpers. The girls have all opted to sit in the front, where Ryan tells us you will get the most wet. Our 8-year-old is in the middle "Princess Bow" seat (with a strap to hold on to), and our other two have paddles, ready to earn their keep! To me, the raft looks like a dingy, but Ryan tells us it's a state of the art rubber raft with several separate inflatable chambers and it self bails, which is handy for getting rid of all the water that gets in the raft.
Our first two hours were fairly easy – mostly cruising and level 2 rapids. This gives us a chance to practice our strokes and follow Ryan's commands (Forward! Backward! Stop!) He teaches us to lean into each stroke and use our core muscles. As we prepare for the level 3's to come, we take in the breathtaking scenery. This part of the American River is where gold was discovered in 1848, which led to the quick population of California.
As we near a large calm clearing, we spot several rafts stopped, and Ryan asks if the girls want to get in and swim. My oldest jumps in and quickly comes to the surface and tells me it's FREEZING. I am tempted, as I've been baking in the sun, but don't really want to face the demoralisation of being hauled back on to the boat!
So off we went again, we splatted "Splat Rock" (which involved everyone moving to the back of the raft and hitting it in the front) and we bounced of Bouncing Rock (I swear our our 8-year-old was suspended in mid air). Then we did 360s, half of the raft rowed forward, the other side backwards, and we spun in circles. Ryan is in complete control shouting out commands, using us for power. He positions us in the right spot to surf each rapid, and tells us about each one as we go approach. It's a huge adrenaline rush – the girls are loving it.
I could do this everyday mummy. Can we come back again each year? 
Later Ryan tells us his nickname is Cupcake (long story, but basically because he shaved off his beard for a wedding). You get to know your guide really well on these trips. At times you can just be cruising along, taking in the Ponderosa Pines, the wall of granite of the gorge, and sparkling ice cold river water. We share a few jokes (What did one pencil say to the other? You're looking sharp!) and then we prepare for the level 3s ahead.
The funnest was "Hospital Bar". Ryan, erm Cupcake, positioned us and we got through with a big splash and gush of rapids over us.  One of the other guides was not so lucky, his crew did not row hard enough, and they got stuck in the "catcher's mitt", on the side of the rapid by a rock. He had to jump in and push them out.  Cupcake laughed and said that's 12-pack of beer for the other guides, because he got in water. There are other unwritten tolls too: a 6 –pack if a guide for looses a paddle, and a 24-pack if all your customers get dumped in the water.
There's camaraderie amongst the guides on the river. Some splash each other, others gently flirt and bump into other rafts. Often we stop and make sure the rest of our group gets through safely.
Here's the Hospital Bar series I bought from Whitewater Photos (they sit on the rocks in key locations and take photos for you).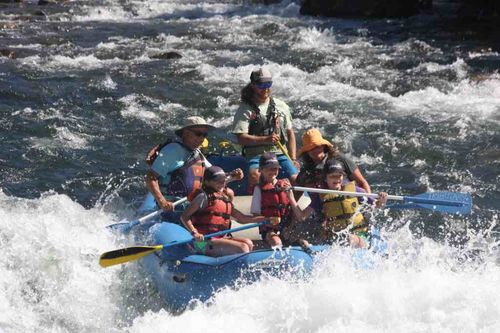 Here we are making our initial decent in Hospital Bar (level 3+). Cupcake is shouting FORWARD.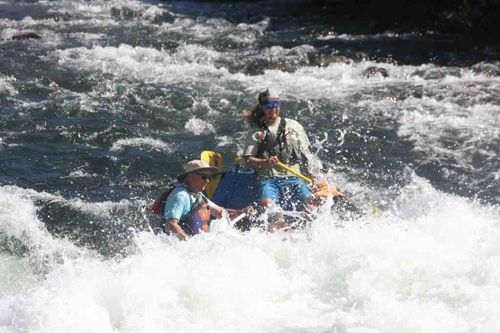 We are going down the rapid quickly.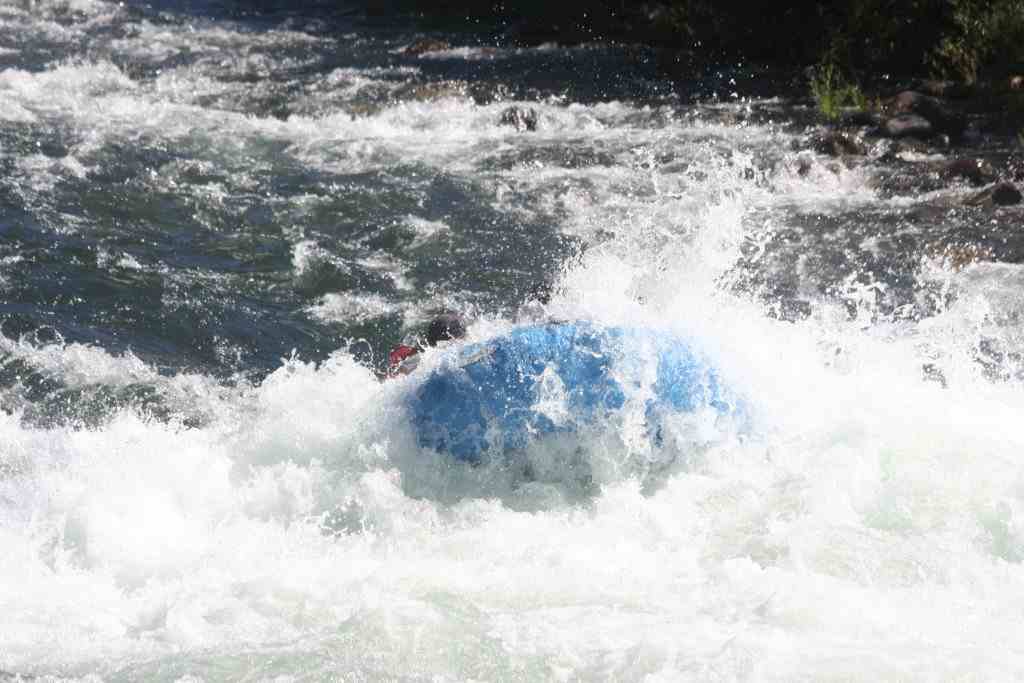 Ooops, we are under water!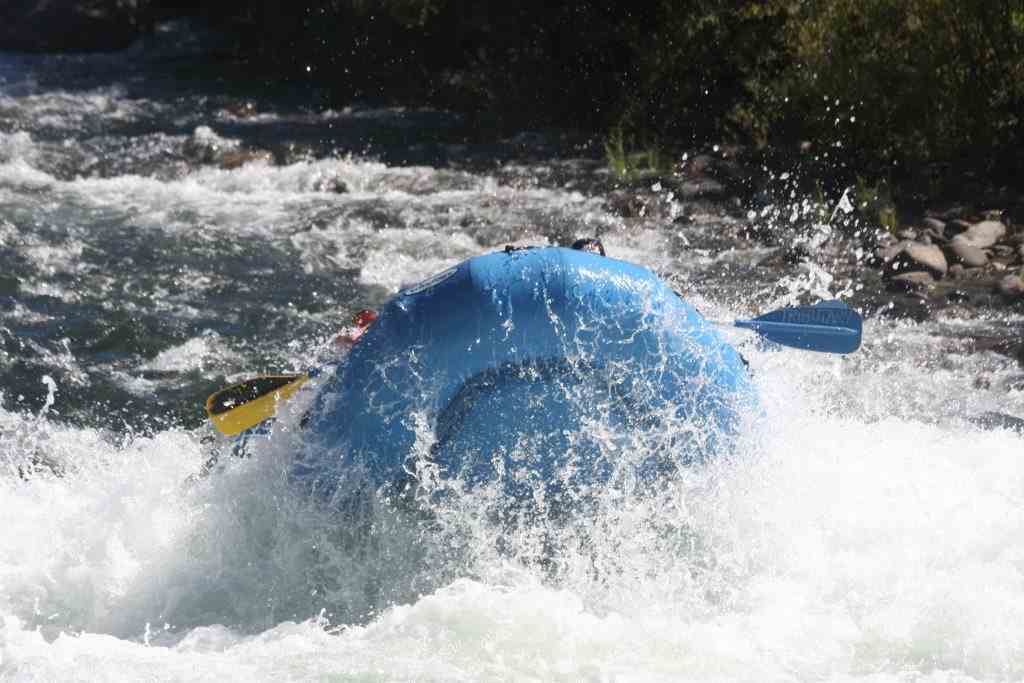 Here we are coming back up.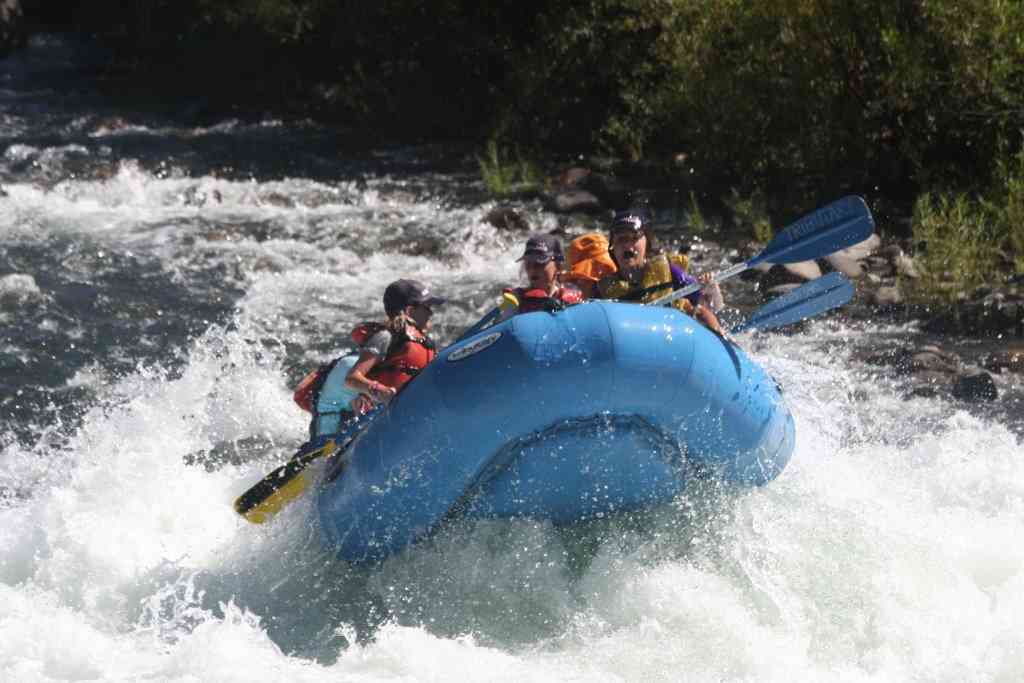 OMG. That's my 11-year-old screaming. You go girl!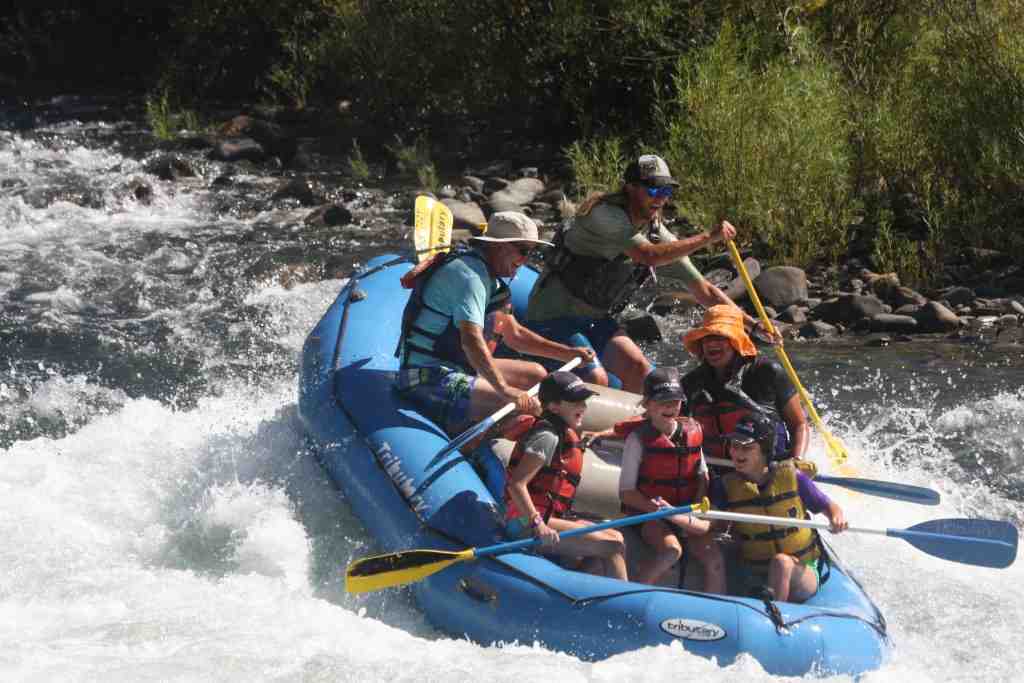 That. Was. Fun. Can we do it again mummy?
If you go:
Tributary Whitewater Tours  6400 California 49  Lotus, CA 95651 +1 (530) 346-6812 www.whitewatertours.com Tours start at $78 per person, with discounts for children and on Fridays.
Whitewater Photos 7170 Hwy 49 Lotus, CA 95651 +1 (530) 626-8932 www.whitewaterphotosonline.com If you don't want to risk getting your iPhone wet (because, you WILL GET DRENCHED) let the professionals snap your Kodak moments for you. We got all rights to 21 snaps of our Hospital Bar series for around $50.
Marshall Gold Discovery State Historic Park 310 Back St  Coloma, CA 95613 +1 (530) 622-3470www.parks.ca.gov The site where James Marshall accidentally discovered gold in 1848. You can still pan for gold and be rewarded with shiny flecks and nuggets.
Sutter's Fort State Historic Park 2701 L St  Sacramento, CA 95816 +1 (916) 445-4422 www.parks.ca.gov Site of first Sacramento settlement, and the only place nearby for a shot of brandy in the 1800s. Look out for the "working history" days each month, where knowledgeable volunteers dress in period clothing and show you what life was like during the gold rush years.
California State Railway Museum 125 I St  Sacramento, CA 95814 +1 (916) 445-7387 www.csrmf.org Beautifully restored railroad cars and locomotives illustrate railroad history in California and the West.
Doubletree Sacramento 2001 Point W Way  Sacramento, CA 95815 +1 (916) 929-8855 www.doubletreesacramento.com/ Family rooms at reasonable prices, hot chocolate chip cookies at check in, a fabulous pool and free wifi – what more could you ask for?
Fat's City Bar and Café 1001 Front St  Sacramento, CA 95814 +1 (916) 446-6768 www.fatsrestaurants.com American cuisine, including burgers, chow mein, salads and Osso Bucco the size of a
The Firehouse Restaurant 1112 2nd St  Sacramento, CA 95814 +1 (916) 442-4772 www.firehouseoldsac.com Romantic restaurant with a picturesque courtyard, using Sacramento Farm to Fork ideals.
A word about Sacramento freeways. They will drive you crazy. GET SAT NAV.