When our youngest heard we were going panning for gold in California's Gold Country north of Sacramento, she started planning how she would spend the fortune she would amass. After she bought herself a jacuzzi and art supply store, she told me she'd get me a new dress.
There's something about gold that makes people dream. When it was discovered at Sutter's Mill in 1848 in Coloma, it changed California forever. At the time, California was part of Mexico, with only a couple thousand inhabitants. When word of gold got out, more than 300,000 people rushed to the foothills to find it. Many of them stayed.

We arrived at Marshall Gold Discovery State Histroic Park when they opened at 10 am. The park is about 45 minutes north of Sacramento (and only 6 miles from our scheduled afternoon whitewater rafting trip meet-up point). We met the lovely Jamie, a park ranger who is very knowledgeable about the Gold Rush. The park is on the exact site where James Marshall found a gold nugget in the run off water from Sutter's Mill. Excited, he showed the others on the camp. They all vowed to keep it a secret!
There's a small museum with a film and then you can walk around the site where at it's peak nearly 50,000 crowded together in hopes of amassing their fortunes. You can only imagine what it was like: alcohol was considered medicine, there weren't laws about claims (just guidelines), living expenses were extortionate (an egg was $1) and many didn't find there fortune. On top of this, panning for gold was back breaking work. The "49ers" stood bent over  in their claims on the American river and panned all day.
My youngest kept tugging on my arm. When are WE going to pan for gold?
Though you can still pan on your own in certain areas on the river, the organised panning takes place behind Bekearts Shop on raised wooden tubs (which is much easier on your backs). For $7, you get a pan, some instruction, and an opportunity to find gold!
Here's a picture of a small nugget we found. Can you see it at the top of the pan?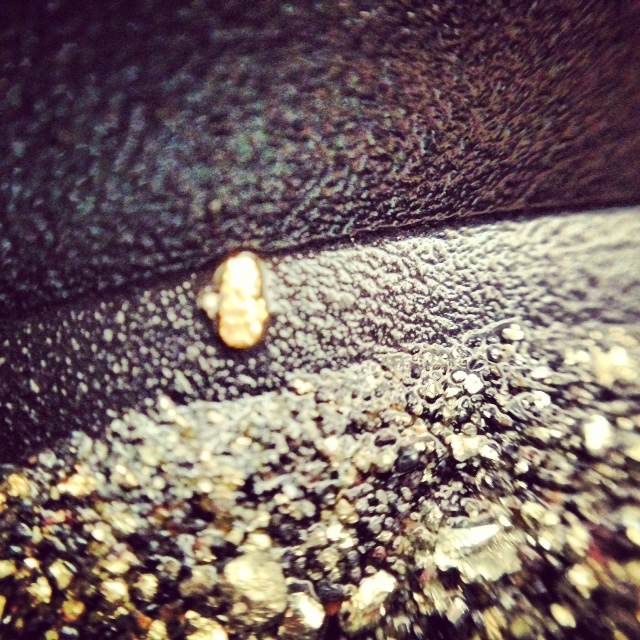 How to pan for gold:
Fill a pie tin (preferably one with ridges) with dirt and
sediment from the river.
Dip it in river water and swirl around (so the heavier items
sink to the bottom).
Take out the larger rocks.
Then dip the pan forward in the water twice, being careful
to keep it submerged. The ridges keep any gold you have from escaping your pan.
Then shake left to right.
Continue "dip, dip, shake" until there is just a bit left
on the bottom.
Now examine what you have! Make sure there is water in the
pan. Swirl it around. Pyrite (aka "fools gold") is shiny in sun but not in the
shade! So get in the shade. Gold is also heavy and won't move when you swirl
it.
Here's our video of finding gold in them there hills:
If you go:
Marshall Gold Discovery State Historic Park 310 Back St  Coloma, CA 95613 +1 (530) 622-3470 www.parks.ca.gov The site where James Marshall accidentally discovered gold in 1848. You can still pan for gold and be rewarded with shiny flecks and nuggets. $8 parking fee, $7 per person for panning.
Tributary Whitewater Tours  6400 California 49  Lotus, CA 95651 +1 (530) 346-6812 www.whitewatertours.com. We combined panning for gold with whitewater rafting! Just six miles down the road, and a thrilling experience. Ask for Cupcake for a tour guide.
Sutter's Fort State Historic Park 2701 L St  Sacramento, CA 95816 +1 (916) 445-4422 www.parks.ca.gov Site of first Sacramento settlement, and the only place nearby for a shot of brandy in the 1800s. Look out for the "working history" days each month, where knowledgeable volunteers dress in period clothing and show you what life was like during the gold rush years. Aduts $5; Youth $3, 5 and under free.
California State Railway Museum 125 I St  Sacramento, CA 95814 +1 (916) 445-7387 www.csrmf.org Beautifully restored railroad cars and locomotives illustrate railroad history in California and the West.
Doubletree Sacramento 2001 Point W Way  Sacramento, CA 95815 +1 (916) 929-8855 www.doubletreesacramento.com/ Family rooms at reasonable prices, hot chocolate chip cookies at check in, a fabulous pool and free wifi – what more could you ask for?
Fat's City Bar and Café 1001 Front St  Sacramento, CA 95814 +1 (916) 446-6768 www.fatsrestaurants.com In picturesuqe Old Sacramento. American cuisine, including burgers, chow mein, salads and Osso Bucco the size of a small house. You won't walk away hungry.
The Firehouse Restaurant 1112 2nd St  Sacramento, CA 95814 +1 (916) 442-4772 www.firehouseoldsac.com Romantic restaurant with a picturesque courtyard, using Sacramento Farm to Fork ideals.