Wow. The Tech Museum of Innovation is a real Silicon Valley gem. I don't usually rave about technology museums. They can be, erm, boring, conjuring up images of dusty mainframes, the first PC and maybe even an Apple II. Certainly kids would ask to leave as soon as you got there.
But we're in Silicon Valley, the home of really cool geeky stuff, and The Tech is full of interactive hands-on exhibits utilising Silicon Valley's most innovative technologies.
**Read my post Silicon Valley Tech Tour: Top 13 sites to visit **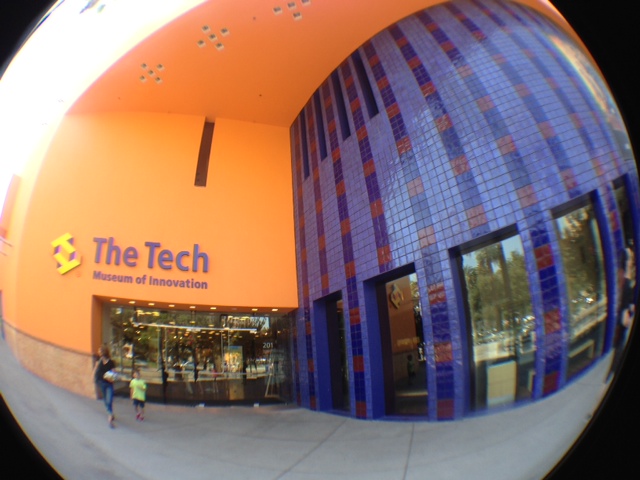 When we arrived at the purple and orange building in downtown San Jose, I asked the young woman at the front desk which part of the museum was best for kids. She hesitated, then looked down through her black plastic frames and said: "It's ALL good for kids."
She explained about the Tech Tag – where you scan your ticket at exhibits to personalise your experience and then when you are home you can log in and retrieve mementos and reminder of your visit.
So off we went to explore the museum that personifies the spirit of Silicon Valley. We went straight to the main floor at the Innovation Gallery and were immediately drawn into Social Circles, which highlight the social side of technology. My girls (age 8, 9 and 11) and my 82-year-old uncle made their way around this dance-floor sized display, encased in chartreuse, tangerine and rose coloured bubbles. When they bumped into each other the circles got bigger and changed colours.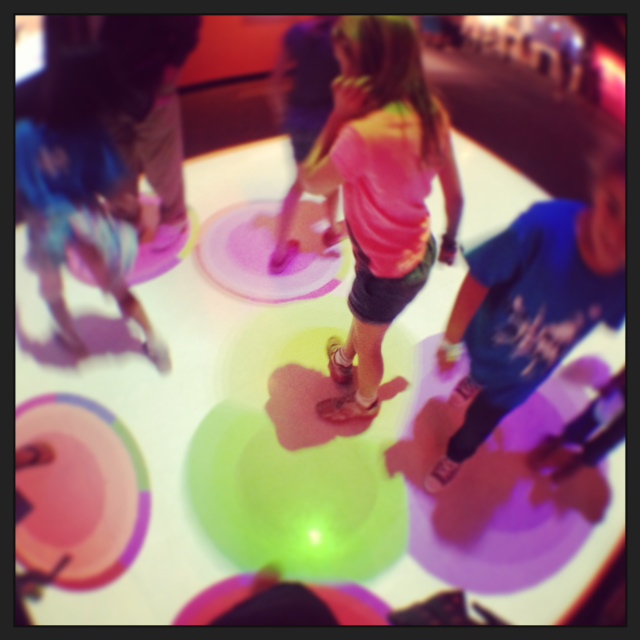 Right next to that was Reface, which uses state-of-the-art face-tracking software to mash pics of museum visitors and project them, large-than-life, on to the wall. The girls had loads of fun with this (so did my uncle). So far we weren't bored.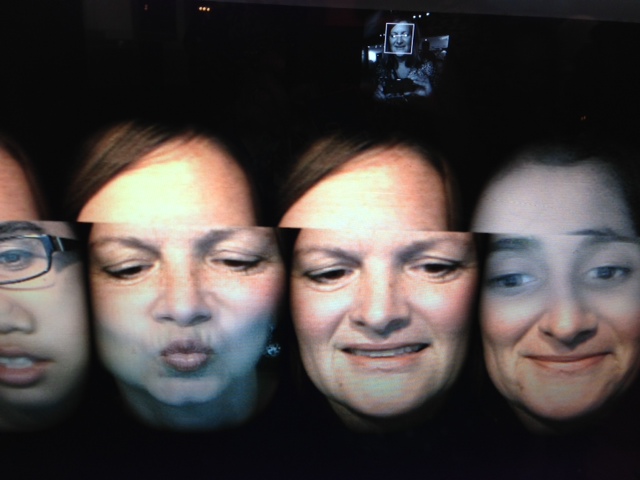 In Microchips we leaned that the price of a modern microchip is about 1 millionth the price of a transistor in 1968. If car prices had fallen at the same rate, they would cost a penny. My 8-year-old beamed with pride when she learned computer language (binary code) and spelled her name in 1s and 0s.
In Secret Codes we learned how computer can recognize patterns, being rewarded with patterns of bubbles.
In Robot Design Basics, a SCARM (Selective Compliance Assembly Robot Arm) sifted through wooden alphabet blocks and spelled the girls' names – putting each letter block back at the same spot hundreds of times each day. You can request it to spell anything. 😀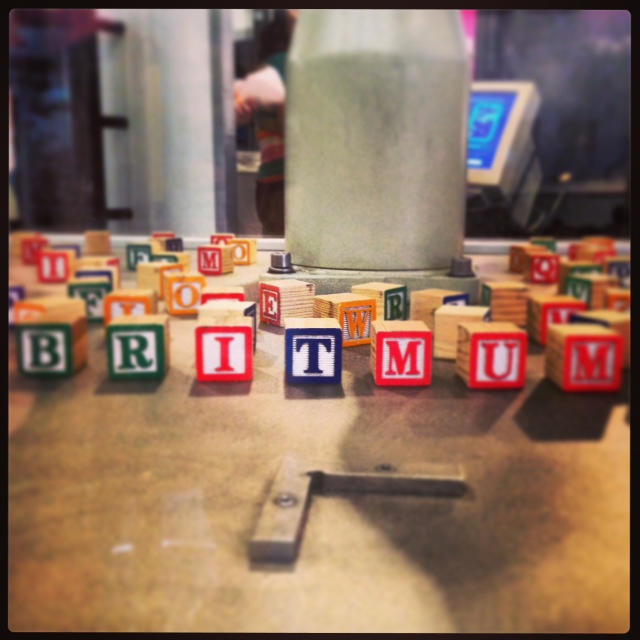 We saw an early electric car (from the 1900s!) Sadly, as we know, gasoline/petrol became standard power. There was an excellent display of adaptive eyecare: 1 billion people need eyeglasses – but can't afford them. These glasses use water – and the wearer simply adds more or less liquid to adapt lens power. Also very powerful were
globes that visually display the regions with the most energy consumption, mobile
phone usage, drinking water availability and literacy rates.
In the Genetics Wet Lab (partnered with Stanford School of Genetics), my 11-year-old put on goggles and gloves and grew her own jellyfish DNA.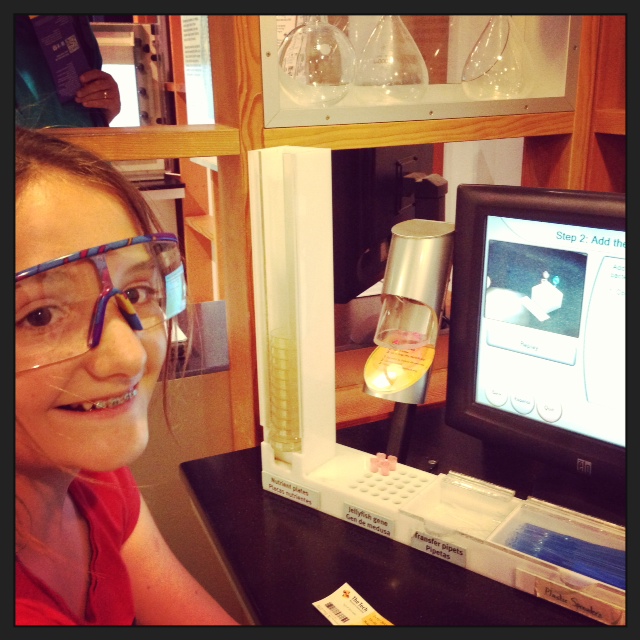 One of the highlights for my 9-year-old was in the Tech Test Area, where you can design and ride your own roller coaster! We used CAD roller coaster software to pick how many builds, loops and drops, then tested to see how safe or boring our ride they designed was. It took us five go's to get it right. Then we all went in the simulator and rode our design!
Next the girls tried a sport wheel chair, and raced each other Paralympic style. Meanwhile, mum and dad got our pics taken infrared style.
Still not bored. In fact, it is nearing closing time and we still had two more floors to check out! We rushed downstairs to see that was there. It turned out to be ANOTHER whole floor of interactive exhibits.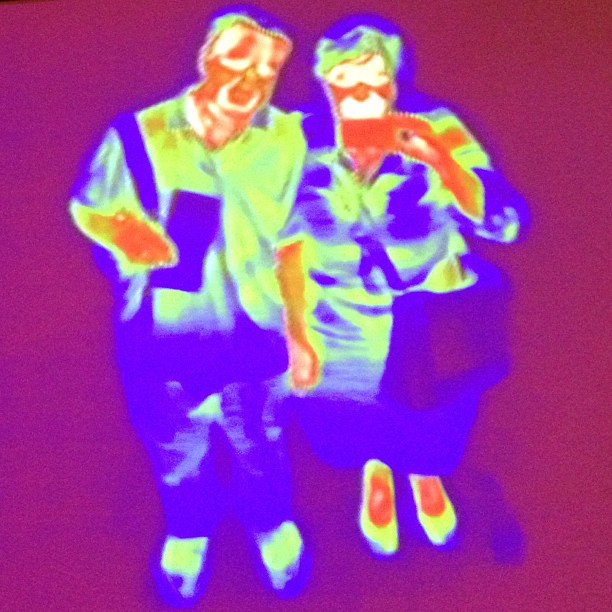 The girls picked The Tech Studio to make Cranky Characters – a hand-cranked mechanism known as "auto mata". They were instructed by a volunteer and shown how to make the cranks that spin and twirl their handmade characters.
In Bright Ideas we saw how good design can save energy.
We totally missed the café, but we did have a quick stop in the museum shop to see what Silicon Valley must haves and unique items. I loved this O Mg T-shirt (Oxygen and Magnesium from the periodic tables).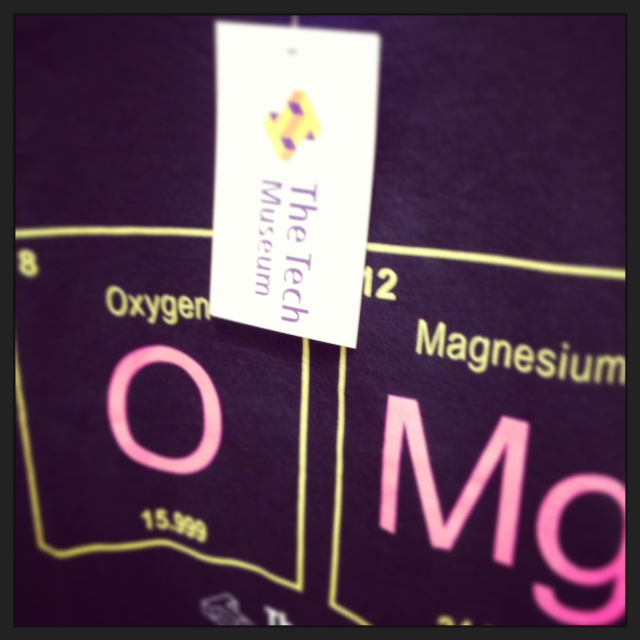 The Tech Museum of Innovation is one of the best museums I've visited (that includes all the London ones). It is reasonably priced ($15 for adults, $10 for kids and seniors) and a MUST SEE if you are in the area.
If you go:
The Tech Museum of Innovation 201 S Market St San Jose, CA 95113 +1 (408) 294-8324 www.thetech.org $15 adults, $10 kids and seniors. Park at Convention Center Garage at Second and San Carlos Street for discounted validated parking. The other parking options are much more expensive. Even better, take VTA Light Rail and get off at the San Jose McEnery Convention Center stop and walk east to Market Street and north 1 block on Market Street to Park Avenue.