When we visit my parents in the Bay Area, we are always on the look out for new things to do to give our girls a unique view of America. So when we spotted the Ride the Ducks former WWII DUKW vehicle driving around the street of San Francisco, we had to try it.
Our tour began at Taylor and Jefferson in the heart of Fisherman's Wharf. We got there a little early to check out the rows of tourist shops and pick up some postcards to send back to our friends in the UK.
Is that it mummy? My 8-year-old daughter pointed at the large white metal boat/bus vehicle, with safari–like open windows and a big yellow duck printed on the side.

It must be. It is a strange-looking vehicle, and was already getting stares from passer bys.  I had read about the DUKWs before the tour, they were originally used in WWII to deliver ammunition from ship to shore. At their height, there were 2,000 active DUKWs in France. Now they have been refitted and are all over the world carrying tourists from land to shore.
As we boarded, we were handed duck bill-shaped kazoos and the girls immediately blew into them. So did all the other kids on the tour. I could tell this was not going to be an ordinary tour.
Then Captain Jeff boarded and started reading off a script.  Hi My name is FILL IN THE BLANK. Welcome to the CITY NAME Ride the Ducks tour. Then he grinned and said Nah, just kidding. He reminded me of the class clown in 6th grade.
He told us all about the duck bills we had around our necks. Precision musical instruments! You need to make sure you shake out all of the water, he said, shaking his. The last tour was really active! But don't worry, I sanitized them! Another grin. My 9-year-old laughed.
We drove through Fisherman's Wharf, and Capt Jeff pointed out all kinds of things and gave us loads of tips (we must try the Carmel Valley food truck and stop by the Spy shop where you can get teddy bears with cameras). He also pointed out the most popular restaurant in the world – Subway! Again, my daughters laughed.
I was wondering how Scottish hubby was taking all this. He doesn't see the point in American humour. But I'm sure I saw him grinning along with my daughters.
The tour continued and we made our way past Pier 39 (Capt. Jeff's favourite restaurant is Bubba Gump, because they always show the film). Then we drove along the Embarcadero, the area of the city which is a mixture of industrial Piers, restaurants, and even offices (you pass the Hummer Winblad VC office).  We passed the America's Cup area, and the Ferry Building. On the right was a gorgeous view of San Francisco's financial district, including the Transamerica building, the city's tallest structure which famously has a point.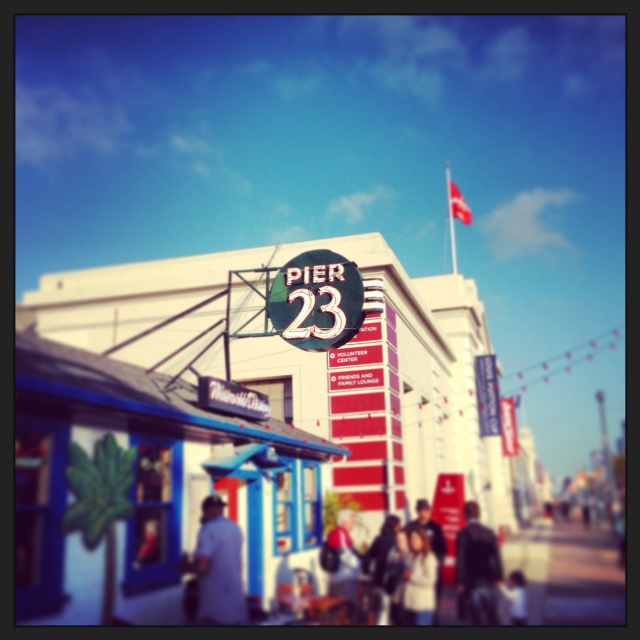 Capt. Jeff told us when it was built, that it was controversial. But you know, without it many say the city would be pointless. I'm used to this type of humour; my dad always told me that the person who has the office on the top floor of the Transamerica Building had a pointed head.
More gorgeous views of the Bay and all the Piers on left as we went under the Bay Bridge, then passed the boats at South Beach Harbour and the news(ish) AT&T Ball Park (where the Giants play).
We passed a few car parks, and saw police motorcycle training and then after a safety briefing, we all put our hands up, blew into the kazoos, and splashed into the water.
Capt Jeff explained that the wheels don't retract, they were still turning beneath us. They were just wet. Since we were offshore, Capt. Jeff offered to marry anyone for $40.  When he didn't get any takers, he offered divorces.
Then we all got a chance to drive the Duck!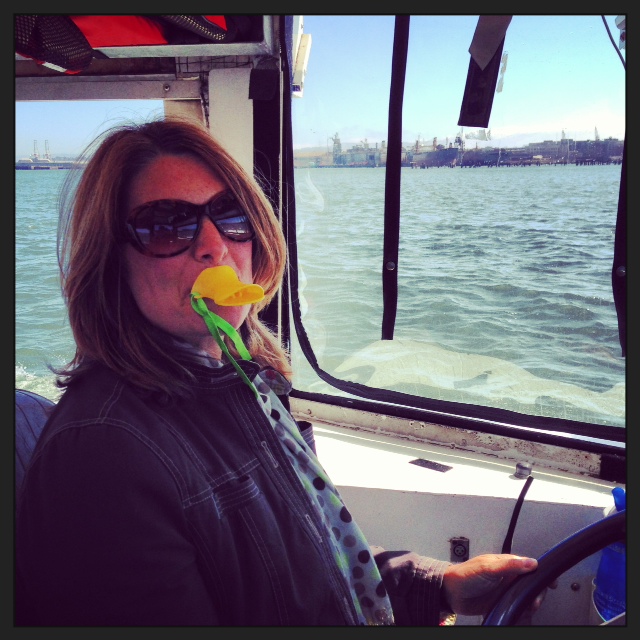 After about a ½ hour, we were back on land, and soon on our way downtown, passing through the financial district, passed the convention center and Yerba Buena Gardens. As we crossed Mission Street, we all looked left towards the mission district, and made a tribute to Carlos Santana, with one of his 70s hits blaring from the Duck. People on the street started dancing. We kazooed back at them.
Through Union Square, Chinatown (Kung Fu Fighting), North Beach (right past Molinari's, which is a fabulous Italian deli), past Lombard Street (2nd crookedest street – the 1st is Wall Street, hahhaha). Hubby groaned and my 8-year-old just looked at me.
After 90-minutes, we were back at the heart of Fisherman's Wharf.
As we got off, I discreetly gave the tour guide $10, though I would have handed him a $5 bill if I had one on me. British people don't really understand tipping. My husband always says we've already paid, why should we tip? Having worked in the service trade while going through University, I always tip.
The girls were still buzzing. And they tooted on their kazoos as we walked along the Embarcadero to check out the Americas Cup US store and stop at local hot spot Pier 23 for a bite to eat (so much better than eating on Pier 39).
If you go:
San Francisco Ride the Ducks 2766 Taylor St  San Francisco, CA 94133 +1 (877) 887-8225 sanfrancisco.ridetheducks.com Follow the Mythic Mysteries story www.mythicmysteries.com
Pier 23 Café Pier 23  San Francisco, CA 94111 +1 (415) 362-5125 www.pier23cafe.com. It's a self-proclaimed local hot spot. I used to come here in the 90s when I lived in SF as a young upwardly mobile dot com professional. It hasn't changed much, attracting an after work crowd. Burgers, fish tacos, calamari and clam chowder, all at reasonable prices and if you sit on the deck, a fabulous bay view. Good kids menu.
Boudin at Fisherman's Wharf 160 Jefferson St San Francisco, California +1 (415) 928-1849 http://www.boudinbakery.com/ Come here to watch bakers at work through a floor-to-celling glass window. Also has a restaurant, museum and deli/bakery. I always come here to pick up a 1 lb long sour dough loaf for my dad, it's his favourite.