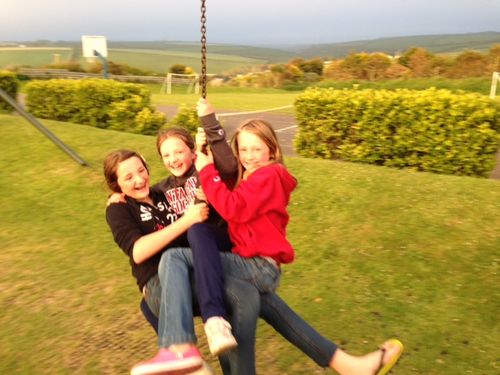 Think Cornwall and you think wet suits and walking boots. Surfing. Coastal walks. Cornish pasties and cream teas. But how do you make the most of it with kids?
It helps to base yourself somewhere that caters to children! As guests of the Sands Resort
Hotel and Spa in North Cornwall, our mission was to find out!
Cornwall is a good four hour journey from where we live the Thames Valley. It's just that wee bit further away for us, and we've only been once before.
Our plan was to leave early (6 am) which meant little traffic and we made it there in 3 and ½ hours!
We made a beeline for The Sands Resort Hotel and Spa in Porth (between Newquay and Padstow). The hotel was awarded Travellers Choice Best Family Hotel in Europe 2012, and it's mustard yellow and terracotta hues have a California/Mediterranean feel about it.
As I checked in, the girls went straight to the massive play area and explored the free sports facilities. They tried out the the zip-wire and bouncy castles (there are two).
There is also netball, football, tennis courts, croquet and mini golf (as in an actual smaller version of a 9-hole gold course). Scottish daddy was particularly interested in introducing the girls to golf. There's maze (with a low hedge, so you can see little ones if they get lost).
And if it is raining, there is an indoor play area has games, table tennis,and air hockey. Oh, did I mention the Indoor AND outdoor pools?
After looking around the grounds, we went to our room, a "Contemporary Suite" with a king-sized bed in a separate room overlooking the sea and a connecting children's room that slept 3, plus a cot. The rooms are kited out for kids: there are safety plugs and a listening service, and for older ones there's a DVD and play stations – but there's so much to do you won't need them!
The piest'de'resistance is the Surf
Shack, where you can borrow wet suits, body boards, buckets, spades and
wind breaks (that got giggles from our youngest). My two oldest had the time of their lives body boarding at Porth Beach, which is just a short walk from the hotel. Porth beach has lifeguards in the summer and main holidays (yay) and when we went there were yellow flags to indicate the safer swimming area. Our 7-year-old decided going in the water wasn't her thing, so she built sandcastles and went rock pooling instead.
Another great feature of the hotel is all the dining options. You can eat together OR the kids can have an early tea, then go to an activity club while mum and dad have a quiet meal. Hmmm, tough decision. The food is top standard, with attention to quality and provenance. I had salmon with fennel, and then local slow cooked veal on a bed of spinach and sweet potato mash. The menu comes with excellent wine pairing suggestions. The girls picked chicken dippers to start, then homemade macaroni and cheese, and mini strawberry cheesecakes for dessert.
What makes the Sands stand out are all the little touches for kids that mums of younger kids will love, including baby food, cots in the room, buggies to borrow, safety plugs, a
listening service and lots of free activities.
For a nominal fee you can sign up for kids clubs. There are Nippers (babies), Pirates (toddlers), Adventure Club (preschool) and Ozone (8- 12 year olds). After finishing dinner, we went to collect the girls early one evening and we were promptly sent away and told to come back when it finished – BY OUR CHILDREN. They obviously had a good time.
While the girls tried out the Hobby Club, we sat by the outdoor pool and read. After an hour, they came back with all kinds of crafts projects.
Sands Resort Hotel and Spa Watergate Rd Newquay, Cornwall TR7 3LX 01637 872864 Child friendly family hotel in North Cornwall. Starting price is £51 per adult, per night including breakfast. Children discounts apply and they offer Early Bird Discounts as well as free child places for up to 2 children, 7 years and under (excluding Summer Holidays).
Porth Beach. Located near a five-minute walk from the Hotel. Large sandy beach with parking on the sand! Lifeguards in summer. Popular body boarding and surf spot.
Carnewas & Bedruthan Steps
Bedruthan St Eval, Wadebridge, Cornwall
PL27 7UW 01637 860563. The National Trust looks after this stretch of coastline which is between Padstow and Newquay. Stunning views over dramatic rock formations. You can take the steps down to the beach – but watch the tide schedule, as there is risk of being cut off.
There's a cafe that serves light lunches and Sunday lunch (must book) and a to-die-for Cornish cream tea. The National Trust shop carries the usual high quality items, plus some local ones like Cornish honey, sea salt and preserves.
Trerice. Kestle Mill, near Newquay, TR8
4PG. Telephone: 01637 875404; Email: trerice@nationaltrust.org.uk; OS Grid Ref: 200:SW841585 Elizabethan manor house with gardens. Fun house and garden trail for kids – if they don't finish they get put in the stocks!
Watergate Bay, Porth. Located
between Newquay and Padstow, North Cornish Coast, Cornwall. A two-mile sandy beach that boasts Jamie Oliver's restaurant, Fifteen, The Extreme Academy, which offers lessons in surfing, kite surfing and kite buggying (I had to look that up too).
Jamie Oliver's Fifteen Cornwall. On the Beach, Watergate Bay, Cornwall, TR8 4AA UK 01637 861000 We didn't eat there, but I wish we did! Booking necessary.
If you can't get a reservation, sit in the bar and have Italian tapas and a glass of Pinot Grigio.
Note: Our accommodation was provided by The Sands Resort Hotel and Spa for the purposes of this review. All opinions are mine and my family's.