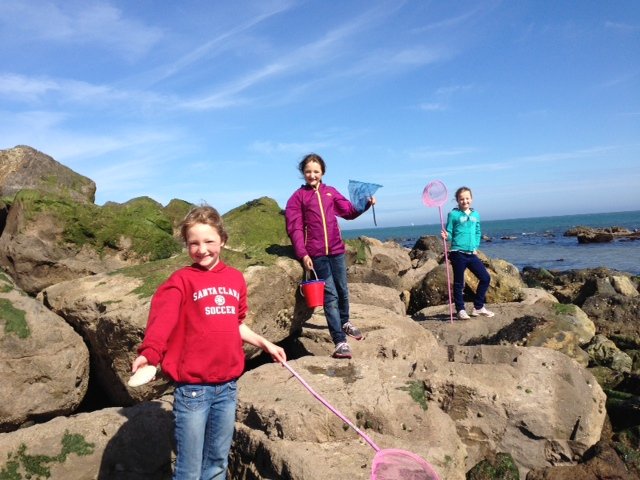 The Modern Family was kindly invited to check out the West Bay Club luxury self catering accommodation on the Isle of Wight. Not having been to the IOW in a few years, we were curious what kind of memories an active family with a 8, 9 and 11-year-old could create!
It's always a bit stressful packing up a car with three kids. Did we have snacks? (we were leaving right after school, and the girls would be starving). Did we pack everything? I put my sun glasses in my bag, just in case. We decided no screens, even for the car journey. This was met with a moan.
There wasn't much to see until we got to the New Forest, where we spotted loads of cute ponies on the side of the road. This started quite

a conversation: What are baby ponies called? What's a mare? And what is the difference between and colt and a foal?
The holiday really started on the ferry. We arrived at Lymington an hour early and were whisked on the next boat. We found comfortable, sunny seats next to a floor to ceiling window. As we left shore, we watched the bobbing harbour boats get smaller and smaller and we slowly shed mainland stress and got into proper holiday mode.
The West Bay Club is just a few minutes drive from the ferry landing

in Yarmouth. They are second home 'New England' style cottages set in 29 acres of landscaped grounds. There's a Country Club complete
with Spa, tennis, squash and badminton courts, a gorgeous heated indoor O-zone (low chlorine) swimming pool, and every type of fitness class you could ever want to take (think Zumba, Junior Tae Kwon Do, Water Polo, Racquetball and wet n' wild in the pool with inflatables.)
We stayed in a 3-bedroom Whitfield cottage, which has two large double rooms and third with a single bed. The cottage is compact, but beautifully decorated with a fully equipped kitchen (and wifi!). Vehicles are limited to the car park, and there are wide open lawns
with winding paths. This allowed us to give the girls a tremendous amount of independence in a safe, controlled environment.
As we unpacked I opened the fridge to find a pre-ordered home cooked cottage pie waiting to be popped into the oven and some essentials like IOW milk and butter and fresh local bread, jam and tea. We opened the sliding glass door on to the deck overlooking the green and the girls scootered around the grounds and kicked a football while dinner cooked.

Meanwhile hubby and I enjoyed a glass of wine. What a nice start to the weekend!
The West Bay Club is a great place to stay and enjoy all the outdoor activities the Isle of Wight famously has to offer. On site you can take advantage of the leisure facilities and classes or a range of activities such as tennis lessons with a Pro, guided cycling or walking tours or just relax in the Country Club (there are nice loungers by the pool).
The staff are very friendly and full of local knowledge. Our most memorable activities of the weekend were suggestions from staff. Hayley shared her favourite crabbing spot. Louise gave us tips for the best place for a fresh crab dinner. And Stan showed us his secret spot for rock pooling. Locals always know best and this really made our trip special.
Highlights Include:
1. Drive down Military Road to Steephill Cove. We took the picturesque coastal Military Road (A3055) from Freshwater to Ventnor, parked in the Botanic Garden car park and walked down to Steephill Cove. What a find! The Telegraph called it the Island's timeless hideaway. The cove oozes character; there were stripy beach chairs for hire, a crab shack where you can eat shellfish caught that day by the fisherman who lives in the Cove, and a coffee shop and cafe. Hubby and I had a coffee and carrot cake while the girls explored in the rock pools.
2. Cycling from West Bay Club to Yarmouth to Freshwater Bay. To sight see and get some exercise, we went on a three-hour (!) guided bike tour through Yarmouth and the estuaries to Freshwater Bay. The ride was gorgeous, giving us up close views of water and bird life and we really felt like we explored some of the Island's backwaters. Hats off to tri-Athlete Stan, whose job was to guide our family of varying cycling abilities. He encouraged our 8-year-old to make it through to the end. That's Stan with our youngest doing a "Victory" pose! Six miles is a long way for little legs.
3. Crabbing at Newton Saltmarsh. We picked up a few crabbing kits from the West Bay Shop and headed over to the bridge at Newton Saltmarsh. We had no idea what we were doing, but a few local kayakers pointed us in the right direction and showed us how to use the kits (though, they informed us, you really only need a long string, bacon, a weight and net). After baiting up, we perched on the bridge and threw in our lines and quickly had four crabs (!) After watching them swim around in our bucket of seawater, we let them race down the slipway. What fun!
4. Picnic at Freshwater Bay. The West Bay Club Coffee House made us fresh sandwiches and we set out our picnic blanket on the rocks at Freshwater Bay. The fog was just starting to lift and we were the only ones on the beach. After lunch the girls took their pocket money to the shop and bought Isle of Wight rock and friendship bracelets for their friends.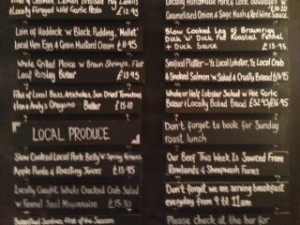 5. Dinner at the New Inn in Shafleet. Think oldly worldly pub with fresh local crab, lobster and New Zealand Chardonnay. Awarded IOW Dining pub of the year 2012. I ordered the seafood platter, with 1/2 lobster, 1/2 crab, prawns, smoked salmon, salad and crusty bread from a local bakery. Hubby had a cracked crab salad and the girls ordered from the children's menu which included gnocchi, sausage and chips and ham and fried egg (local of course). Did I mention the New Zealand Chardonnay?
6. A treatment at the West Bay Spa. One of the best spas on the island, The West Bay Spa is open to anyone who wants to relax! I had a Holistic Back, Face and Scalp Treatment while the girls each had mini pedicures. First we tested essential oils to make sure I had a positive emotional reaction. I picked the energising blend of rosemary, eucalyptus and peppermint. My treatment included a back exfoliation, lots of warms towels, back massage and ended with a watercress scalp massage. The girls popped in to show me their toes – blue, glittery gold and lipstick pink. Hubby
picked them up and took them to the shop, and I stayed and enjoyed the sauna, steam and relaxation rooms.

Good holidays make great memories and this IOW trip is right up at the top of our list. Before the end of the holiday, my youngest declared she wanted to live at the West Bay Club. "Right here, in this house mummy!"
IF YOU GO:
The West Bay Club Halletts Shute, Yarmouth, Isle of Wight PO41 0RJ 01983 760355 www.westbayclub.co.uk A three-night break starts from £261, based on a one bedroom cottage. Includes ferry crossing.
The West Bay Club Spa Halletts Shute, Yarmouth, Isle of Wight PO41 0RJ 01983 760355 Full service Spa with sauna, steam and relaxation rooms. Aromatherapy massages are very reasonably priced: 55 minutes for £48 and 25 minutes for £32. Sure beats London prices.
The West Bay Coffee House Halletts Shute, Yarmouth, Isle of Wight PO41 0RJ 01983 760355 Drinks and light snacks 8.30 – 10 pm. Relaxing sitting area with comfortable sofas that look onto the pool. We were there every evening after dinner – the girls swam and we had a glass of wine and caught up with the papers.
The West Bay Deli/Shop Halletts Shute, Yarmouth, Isle of Wight PO41 0RJ 01983 760355 It's open limited hours, but what a find! Free range eggs from a local farm, £1.40, Freshly baked bread from bakery, £1.70, Rock pooling Net, £1.50. Frisbee, 90p. Sparkly bracelet, 40p. I bought breakfast essentials and the girls had a blast perusing the trinkets and spending their pocket money.
Ventnor Botanic Garden Undercliff Dr Ventnor PO38 1UL 01983 855397 www.botanic.co.uk Nice gift shop and tea rooms. Plus 21 acres of gardens.
Steephill Cove www.steephillcove-isleofwight.co.uk One of the most secluded and picturesque coastal areas of the Isle of Wight. Park at the Ventnor Botanic Garden Car Park in Ventnor. Follow the path which runs past Ventnor Cricket Academy and take the steps down into the cove. Try lobster/crab fresh off the boat at The Crab Shed or have a coffee or light lunch at The Beach Shack.
Newton National Nature Reserve. The only National Trust nature reserve on the island. Go crabbing on the bridge at the saltmarsh, no one is there except kayakers and crabs. How to get there.
Colwell Bay. Good for crabbing and rocking pooling. Watch the tide schedule and go when it's out. Bring a net and wear trainers!
Freshwater Bay. www.freshwater.shalfleet.net Small cove on the west of the Island which is overlooked by steep chalk cliffs. There's a small gift shop, car park and toilets.
The New Inn Mill Rd Newport, Shalfleet, Newport, Isle of Wight PO30 4NS 01983 531314 thenew-inn.co.uk FANTASTIC food. It's a pub, with loads of fresh fish, crab and lobster. Perfect with a glass of chardonnay.
Salty's Restuarant and Bar. Quay Street, Yarmouth PO41 0PB, Isle of Wight England 01983-761550. saltysrestaurant.co.uk What could beat lobster and chips?
The Garlic Farm Mersley Ln Sandown, Isle of Wight PO36 0NR 01983 865378 www.thegarlicfarm.co.uk Everything garlic. I didn't go, but my colleague Jen raves about this place.
Notes: Our accommodation and some activity costs were provided by West Bay Club for the purposes of this review. All opinions are mine and my family's.