The Modern Family just returned from fabulous weekend at the Wave Hotel and Apartments at Butlins Bognor Regis, as guest of the resort. The £25 million hotel opened in July and is a high tech haven aimed at tweens. My girls are 7, 9 and 10 – perfect ages to test out what it had to offer!
The Butlins story is fascinating with Billy Butlin famously transforming the way Britons holiday. His premise was that the working man should get one week's holiday for one week's wages. Last year Butlins celebrated 75 years of holiday history, and was the subject of a Channel Four documentary. Bourne Leisure bought the resorts in 2000, and has been quietly making them over. Bognor Regis, the smallest of the three resorts, has had the biggest change with three new hotels and six restaurants in the past ten years.
The Wave

We stayed in a three-bedroom Reef apartment at The Wave Hotel and Apartments. It's a technology haven – with free wifi (yay! I hate when hotels charge extra for wifi), a Games Port with Wii's/Playstations, DS's, and the option to borrow a Kindle or iPod during your stay!
Our apartment was cheerily decorated in canary yellow and blue, with wall-sized Ocean scenes and Starfish cushions. Our two younger girls stayed in a room with "submarine" bunk beds, and our oldest got a room all to herself! ("I have TWO beds mum".)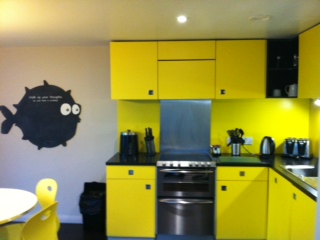 All rooms had a television, with the bunk beds having a little screen at the end of each bed. The girls thought they had made it, and alternated between watching simultaneous shows with snuggling up together in the same bunk.
What really struck me was the space – it's bigger (and nicer) than some apartments I lived in! There's a complete kitchen – I could have made a meal! But instead I used it mainly to make teas and hot chocolates.
The master bedroom was just as cheery, and I love all the little details (housekeeping staff had left two swans made of bath towels).
We were on the fourth floor (there are 6) and had panoramic views of the resort and Sea. There's nothing like waking up near the sea to the sound of gull's gawk, gawking in the morning fog.
Top tips: The air conditioning is loud, but you can opt to turn it off (and open your window) if needed. Also bring your own conditioner, the hotel provides shampoo/conditioner but the "condition" part really wasn't effective, especially with girls with long hair. :D)
Games Port: This was a HUGE hit with the girls. Just listen to what they have: 18 Nintendo 3DSs, 7 Wiis (one hooked up to a close range projector), 3 Playstations, 4 iMacs with 20-inch screens, and 2 Batak games. I'd never heard of Batak either, but it's totally cool. It's a reaction game you can play with others, and you can even do your times tables on it.
I chatted a bit with Kris, the resident geek (his actual title was Team Leader) whose job was to make sure the kids were having a great time and knew how to operate the equipment. He urged me to have a go on the Batak game and suggested the girls play London 2012. They did and loved pretending they were Olympic grade gymnasts. They were so sweaty when we went back to our apartment that the next time we went to the Games Port they wore short-sleeved t-shirts!
Top tip: Bring a short sleeved T-shirt for the kids to wear to the Games Port!
Brain Wave: You can borrow a Kindle or iPod from the front desk. You need to leave a £100 deposit, but then it's yours for the duration of your stay. They are all loaded with different books/music, and it's a great option.
Soho Coffee Shop: Located on the ground floor, the Soho Coffee Shop also serves cocktails! We didn't try any, but they looked good. We picked up a quick lunch of grilled ham/cheddar sandwiches and fruit – and took it up to our room to eat.
The Deck – Premium Dining Option
Dinner: A buffet style restaurant with a variety of food for everyone. The girls had Annabel Karmel's meatballs, hot dogs, stuffed peppers and pasta. Hubby opted for the roast option (gammon) with new potatoes and sweet corn. All the food looked really good, from the fish and chips to the lasagna (made with fresh tomatoes) to the Wok options.
I became a huge fan of the station that offered freshly put together entrees. The lovely Issac made me a grilled veggie kebab over fruity couscous, garnished with rocket. I liked that so much, I went back to try his Tuscan Chicken – Flamed grilled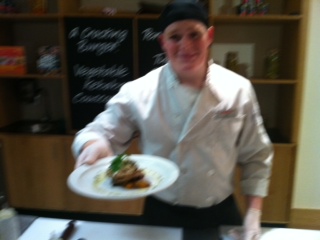 chicken over a bed of grilled veggies and pesto. Yum.
Desserts included strawberry cheesecake, chocolate fudge cake, jelly, fruit, cheese and biscuits. There is also a make your own ice cream sundae station
Breakfast: Of course there is a full English breakfast available: sausages, bacon, grilled tomatoes, hash browns, toast, kippers, fried eggs and black pudding. But you can also have crepes (with lemon or chocolates) and omelets. My friend Issac was back again at his station, this time making breakfast sandwiches. I wasn't that hungry, so he grilled me a bagel and I grabbed a cappuccino and a fresh grapefruit.
Top tip: Try the station on the far left, where they will assemble a gorgeous entree just for you.
Turners Restaurant
I was dying to try Michelin star chef Brian Turner's new restaurant. It offers traditional family friendly food such as Shepherds Pie with Wensleydale Topping and Marmalade Bread and Butter Pudding. It boasts the best Sunday Roast on the resort. Who can resist that? It's simple — Roast Beef with just enough pink, Yorkshire pudding, roast potatoes and sugar snap peas – but delicious. Turner gets his inspiration from memories of eating around his mum's kitchen table and eating at mate's restaurants. It's a fun, buzzy atmosphere. Mains start at £9.50/£5 child. Sunday brunch £13.95 adults/£7.95 child.
Top tip: Don't pass on the complimentary bread and butter with the meal, it's proper homemade bread with a crusty, chewy outside and warm, soft inside. Yum!
Activities

My girls love sports so we checked out the sports options. My 10-year-old tried the High Ropes and LOVED IT. They cost £10 and you need to book in the activity centre. The younger two weren't feeling adventurous, and were more interested in an Arts and Crafts session they saw listed in the guide, so we headed over to a free session where they decorated a drum with glue, tissue paper and glitter! They liked that so much they went back for the afternoon art activity, which was making a Halloween Witch's hat. We spent the afternoon at the fun faire. Each evening we went through the Pavilion and stopped briefly to catch some of the shows. The girls felt they were a bit old and we spotted a show in the guide they might like, but they opted to go back and to the Games Port!
Top tip: You can get an activity pass for £19 which covers unlimited use of the high ropes and climbing wall. My daughters liked this so much, I wish we can gone for it.
The Ocean Spa
I snuck away and had a ½-hour mini massage (£28). I also tried the "Spa Experience", which is a two-hour use of the facilities, which include and indoor and outdoor jacuzzi, sauna, steam room, foot spa (heavenly),tropical shower and snow room. The snow room is kept at -18C, and it's full of snow and cold! I had never experienced anything like it, and running into the adjacent steam room was just the right thing to warm me up again. The changing rooms carry Find products, and there are big bottles of scalp mud conditioner, mineralising shampoo and heavenly hydration shower gel to use. The products smell heavenly and the scent stays with you as a reminder throughout the day.
Top tip: Book your spa early, as it is popular.
A word on the Redcoats
I just love the idea of the Redcoats: outgoing young adults with positive attitudes that have a knack for saying hello at just the right time. I spoke with quite a few while we were there, and chatted with them about their job, the
audition process, what it is like to be a Redcoat. They remind me a lot of camp counsellors in US summer camps. Keep the Redcoats going Butlins, we love them!
Thank you again Butlins for a wonderful weekend away. The Wave officially gets a thumbs up from my tweens.
Prices for Wave Hotel & Apartments from £400 for a family of four sharing an Octopus room, on room only basis, for a three night break starting 2nd November. To book a break at Wave visit www.butlins.com/wave
Disclosure: Our accommodation/breakfast/dinner were covered by the resort. We paid for everything else.