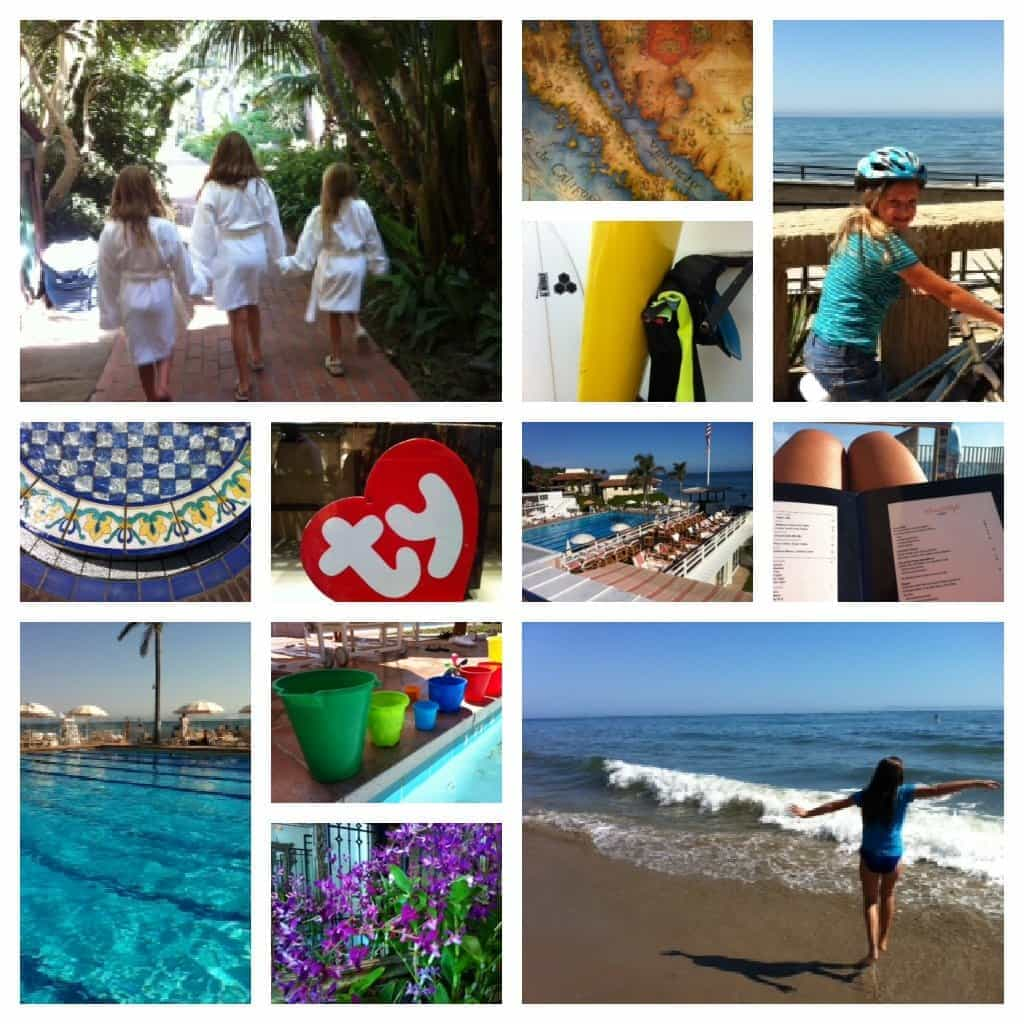 One of my favourite places in the world is Santa Barbara. The city is sun-drenched jewel nestled on the central California coast, surrounded by the Santa Ynez mountains and wine country. It was a perfect stop on our California Coast trip this summer.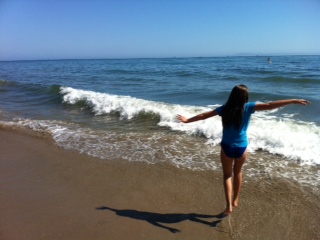 This August, we were lucky enough to spend a fabulous couple of days at the Four Seasons Resort The Biltmore in Santa Barbara (disclosure: our room and board were covered for one night).
The historic Spanish colonial resort was built in 1927 and recently benefitted from a $300 million renovation. With only 207 rooms, that's an unprecedented $1 million+ per room! Guests have access to the exclusive art deco Coral Casino Beach and Cabana Club, and the resort goes the extra mile to ensure that kids are looked after too.
The Four Seasons understands the challenges of keeping kids active and happy. After all, happy kids not only make the experience more enjoyable for parents, but also for other resort guests! Personal touches and attention to little details, like our waiter offering suggestions for kids meals, do make a difference.
A Four Seasons Welcome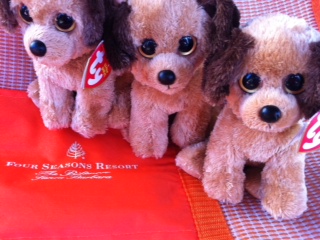 Our stay started with the famous Four Seasons greeting. A sandy-haired valet took our car (not needed in the resort) and asked what we were interested in doing. The girls unanimously shouted "boogey boarding!" and he told us to make sure we didn't miss the Coral Casino Club. It was a good tip as we spent most of our time there.
The resort is owned by Beanie Baby entrenpeneur Ty Warner, who shares the soft toy love with all young Four Seasons guests. When we checked in, the girls each got "Houston", a cuddly puppy with chocolate brown ears and big eyes. The soft toys were perfect nighttime companions.
While we got "boring old fruit" (local peaches, plumbs and strawberries) the girls nearly shrieked when we got to our room and they saw three red velvet cupcakes, a line of backpacks stuffed with snacks and their own girly toiletries. There were also three plush robes (why should adults have all the fun?) and they were just as soft as their full-sized counter parts. My girls (and looked) felt very grown up wearing them.
The Coral Casino Beach and Cabana Club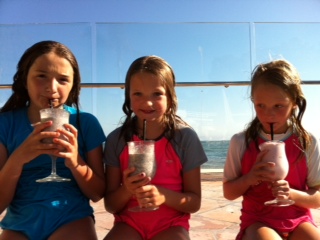 A highlight was going to the exclusive Coral Casino Beach and Cabana Club, which is located just across the road from the resort. There are cabana boys who will get you fruity drinks, move your umbrella or discuss the best place to boogie board (really).
The Coral Casino Beach and Cabana Club (the term "casino" is a hold over from the old days, when it meant more of a club) was designed in Art Deco style in the 40s. It has the feel of being on a cruise ship. I half expected to see Hercule Poirot to pop around the corner.
The only way to have access to the club is to either be a member (at a $250,000 initiation fee) or stay at the Four Seasons.
We spent most of our time here. The facility has an Olympic-sized swimming pool, with a diving board! (a lifeguard stationed by the board, and keeps a close eye on it.) There's a kiddie pool and large Jacuzzi and all kinds of sun lounger options (sun, no sun, partial sun?) We stationed ourselves on comfy lounge chairs facing the ocean, where we could watch the girls boogie board through non glare glass.
On our second day my girls were spotted sipping an Oreo cookie milk shake while chatting to fellow holidaymakers (the ultimate "we've made it for tweens). I tried to eavesdrop on their conversations (what do 8-year-olds talk about to other 8-year-olds?), but was too engrossed in my own summer novel.
Dinner at Bella Vista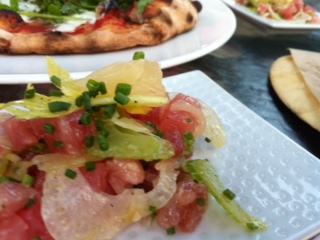 The main restaurant in the hotel is the Italian-inspired California coastal, run by Chef Alessandro Cartumimi. We went on a Sunday evening, and ordered the Sunday Super, a family style three-course dinner.
We started with a Zinfandel from nearby Paso Robles, and sipped this while munching on onion focaccia and the most delicious lavache crackers I have ever had! I liked these thin, crispy crackers so much I asked how they were made – just flour and Parmesan cheese.
While waiting for our meal, the chef sent over a few things for us to try: Ahi tuna tartare with fennel, picked shallots, and celery and the spicy baby broccoli pizza with roasted mushrooms and fresh ricotta. Yum. We were pleased with the Sunday Super. It started with Antipasti (cheese, salami, picked vegetables, smoked duck breast terrine and port fig bread) and the main was a delicious pasta dish with lamb cutlets, mezze maniche pasta, sauté fava leaves and oyster mushrooms. For dessert: Fig, almond and cherry tarte al la mode.
The kids had good choices too: grilled cheese sandwich, chicken nuggets, mini burgers, mac and cheese, quesadillas, and Caesar salad. They got an activity pack, which included Wiki Sticks – colorful bendy "sticks" kids can mold into practically anything. They used them to create a wiki stick family, and then discovered they could quietly slip away and play tag in the lawn adjacent to the restaurant. This allowed hubby and I to finish our last glass of wine. We beamed when the older couple in the table next to us came by and complimented us on our well-behaved girls!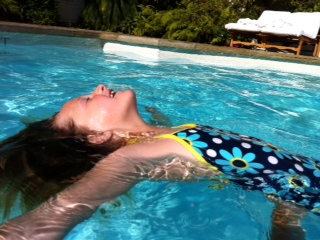 The Spa Pool – and the underwater stereo!
 If you don't want to technically leave the resort, the Spa Pool is the pool on hotel property, and it is a quieter, more relaxing experience than the Coral Casino. It's in a garden, surrounded by bright flowers in terracotta pots and some rare plants (if you ask, the head gardener will give you a tour). There are two Jacuzzis (one is kept at a higher temperature and is for adults only, and the other is for kids).
At pools, I usually park myself on a lounge chair with a book, and the girls swim. But this pool was a bit different – it has an underwater stereo! It's really a surreal experience. Complete tranquility when you are above water, but pop your head under water and you can hear Jessie J sing "it's not about the money, money, money!" The girls insisted I get in and "listen", which I did, and we all had a great time floating in the water and humming the latest tunes.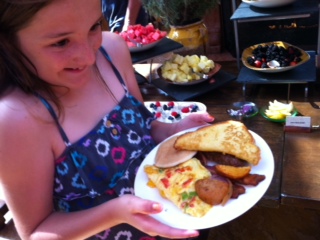 One of the pool attendants (there were three!) came by and offered us all frozen grapes, speared with toothpicks. The girls looked puzzled at first (frozen grapes?!) but once they tried them, loved them.
What a great idea!
Breakfast at Bella Vista
For breakfast, we went back to the Bella Vista for the buffet. My oldest had fun designing her very own omelet (with onions, ham, mushrooms and green peppers). The younger two had French toast and the reddest strawberries. I tried a bit of everything, including the locally made jam, fresh fruit and bite-sized muffins.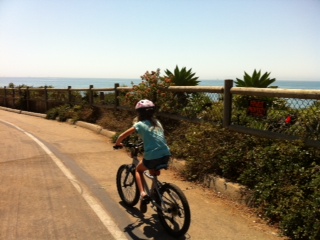 Bikes from the Spa
 The resort offers complimentary two-hour bicycle rental for guests (available at the Spa). The attendant made sure we had everything we needed for our trip, including a map and recommended route. He adjusted each bicycle for size, kitted us out with bottled water and directions to Stearns Wharf. Once we got past the initially wiggly bit, we found ourselves enjoying the stunning – and flat – Santa Barbara coastal scenery.
Lunch at Coral Café
I love it when a kids menu offers something beyond the usual mac and cheese and hamburgers. I was pleasantly surprised to see a Caesar salad and egg rolls on the menu too. I ordered the special salad, and the waitress came back to tell me they had run out. But handed me the menu to the more formal Tydes restaurant and suggested a couple salads from there. We hung out at the Coral Casino Club on our last day, even after we checked out. The resort lets you keep a tab open to make it easy.
A Four Seasons Farewell
We were all very sad when it came time to leave the resort, and had the same sandy-haired valet when we left the resort. In Four Seasons style, he was on top of things, asked how far we were going, and handed us all bottled water for our 3-hour journey.
Just perfect.