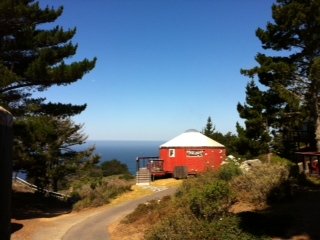 As part of our big California trip this summer, we stayed in a luxury yurt at Treebones Resort in Big Sur. The resort is a perfect stop if you are doing the Highway 1 tour from LA to San Francisco.
I've wanted to stay there since I read about the polished wood-floored yurts in Sunset Magazine. The resort is popular and space books up quickly, so quickly I didn't get my act together soon enough to book for the summer. Luckily the Current Availability page is kept religiously up-to-date and I checked daily until I found a cancellation that suited us.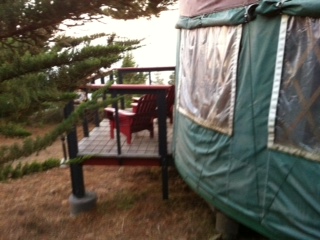 We LOVED it, partly because we left the kids at home. Children under 6 are not allowed, and the Q&A cheekily suggested leaving children at home and getting a babysitter! The more I thought about it, the more I thought it was a fab idea! The cancellation I found was a one bed yurt with full ocean views ($219) and grandma and grandpa volunteered to do the babysitting. Perfect.
As it turned out, there were a few well-behaved children at the resort, and we had such a good time I'd like the girls to experience it too. Next time we'll book early and reserve Yurt 1 (which is next to the bathrooms and sleeps 5) or Yurt 13, which also sleeps 5.
So, what else can I tell you about our stay at Treebones?!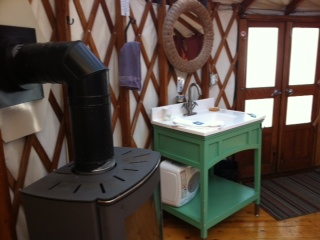 -The yurts are high-end with a comfy bed and lots of blankets to keep you warm. There's a gas/wood burning stove, which is easy to use and on a timer. Ours heated up the yurt quickly and it turned off automatically just when I was thinking is was getting a little too warm.
-There's a large sink/vanity in the room and towels are provided in the yurts. We used the sink to sponge bath, so we didn't need to use the showers in the bathrooms. (Though we checked them out and they were very clean and private).
-The bathrooms/toilets are located throughout the resort, but they were a bit of a walk from our yurt. So either bring a flashlight or a cup (I'm not going to explain).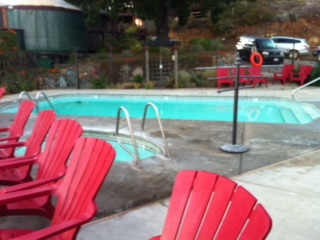 -A yurt is basically a glorified tent and you can hear every thing outside, including animals! We found the crashing of waves and rustling of tree leaves very relaxing.
-There's a swimming pool and jacuzzi, with full ocean views! We spent a lovely late afternoon lazing by the pool, talking with other "yurters" and picking up tips on the best hikes.
-Breakfast is very nice — Make your own waffles, home-made granola and other cereals, scrambled eggs, etc. It's lacking fresh fruit, but still satisfying and will set you up for a day of hiking.
-Treebones is at the southern end of Big Sur and remote. It can get foggy at night and driving condition can be difficult. We opted to stay in the resort and eat in the restaurant, which serves sustainable, organic, natural foods from locally grown ingredients (including some from their own garden). There is also a Sunset Sushi bar with a killer coastal view. We didn't eat there, but others in the resort raved about it.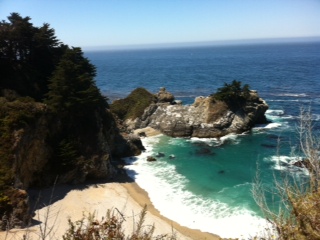 -There's loads of hiking nearby (though we were warned not to do too much around the resort due to poison oak). There is a Suggested Day Hikes & Beach Access list at reception, which we found very useful.
-You can order a packed lunch from the restaurant. The BLT with avocado was awesome. We ate it on a bench gazing at the famous waterfall in the Julia Pfieffer Burns State Park. My mouth is watering thinking about it.
The resort is very popular (we met a few other guest from the UK!) and there's lots written about it on Trip Advisor. Some people didn't like that the heaters were on timers, and complained it was loud at night (trees brushing against the sides of the yurt), and that it was overpriced.
DON'T LISTEN TO ANY OF THIS. The place is magical!