My dad turns 84 tomorrow.
He moved from Cleveland, Ohio to Los Angels in the 50s to be a tennis star (really). His claim to fame is winning a set off the Number 1 seed of the time.
Like many first generation Americans, he was the first in his family to go to university, studying electrical enginnering. Unfortunately none of those super geek genes rubbed off on his youngest daughter!
At the height of his career he worked at Amdahl, helping to design computer chips and main frames (anyone remember those?)
He's recently been diagnosed with congestive heart failure. We are in California helping him celebrate his 84th.
I never know what to get him for his birthday. Usually it is a hat, tie or socks. One year he was into baking and I got him a few recipe books.
Like much of his generation, he LOVES to pass around funny emails. He sent me this a few weeks ago.
Even though it's in German, watch it and you'll get the gist: a daughter gives her father an iPad, he thinks it is a chopping pad, using it to cut veggies. To his daughter's dismay, he washes it under the tap and puts it in the dishwasher!
Can you see where this is going?
I got my dad an iPad for his 84th birthday!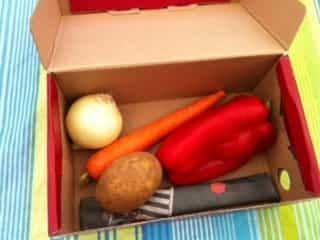 The girls and I wrapped up some veggies and a knife.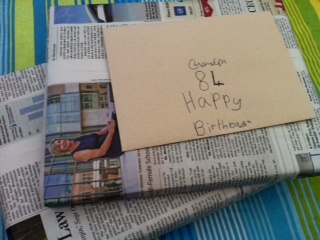 We wrapped an iPad II 16 mg wifi in an old Wall Street Journal. The girls picked out a white iPad and acqua blue case.
I hope he thinks it's funny.
I'll let you know how it goes!
NOTE TO MY FAMILY: If you are reading this, DO NOT TELL HIM BEFORE TOMORROW