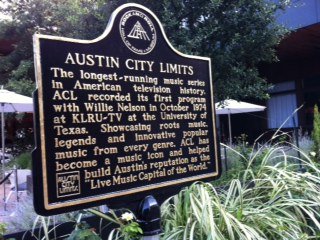 A good friend of mine lives in Austin, Texas. Dana was my roommate when I first moved to the UK in 1989. She opened the door to the BUNAC hostel where I was staying. I was fresh out of uni and a hostel was the only place in London I could afford! She helped me haul my luggage up three flights of stairs, and we've been friends ever since. We've Eurailed across Europe, skied in California, challeted in the south of France and have eaten our way through numerous restaurants. Though our lives have taken different paths (she is a high powered partner in an accounting firm and I became mum) we always have something to talk about.
Visiting her is a chance to unwind and reminiscence about how life used to be SANS KIDS. After talking tech and online shopping, our conversation always turn to our crazy days in London when we were in our early 20s and making our way in the world (remember snake bites?) But now we are both a bit wiser (and wealthier!)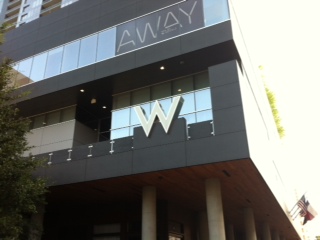 W Hotel and Residences - New swanky hotel smack in the middle of down town. Dana lives in the Residence, basically a condo/flat with all the benefits of the hotel, complete with cute bell boys and a concierge that will do anything for you. Unless you have a friend that lives there or $1 million to buy a condo, opt for the adjacent hotel.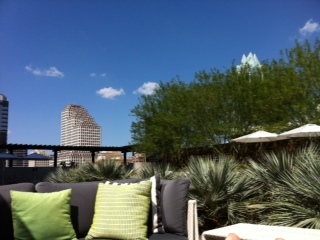 W Wet - The pool at the W. Towel, ice water with lemon and access to a bar and grill. Very comfy lounge furniture and enough umbrellas for anyone that wants them. Plus free wifi for two hours. What else could anyone wish for?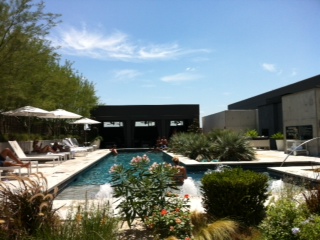 Trace - The trendy restaurant attached to the hotel/residence. We ordered a few small plates, an entry and desserts and shared. Just listen to this selection: Clumped crab meat hush puppies hush puppies; Beetroot, peach and goat cheese salad; Roasted chicken with sausage; Drunken donuts with bourbon dulce leche (Mexican caramel), tequila chocolate and vodka whipped cream. With a bottle of Spanish wine, dinner cost $90 for two. Bargain.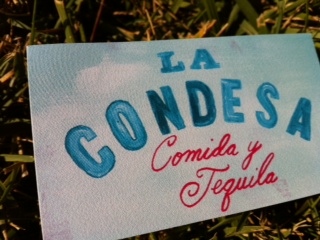 La Condesa - Upscale Cali/Mexican restaurant with a famous foodie chef. Small but very yummy portions. We started with chips, guac and salsa, which included 4 different salsas (arranged in order of heat) and four different type of guacamole. Yum. Also had a – very strong- mojito. The Brussels sprout side dish will make you think of the veg in a different light (smoked bacon with roasted garlic and grapes). I think I will be dreaming about the Mexican street corn for a very long time (roasted corn with cheese and spices). I'm on a mission to get the recipe. We spent $79 for two people.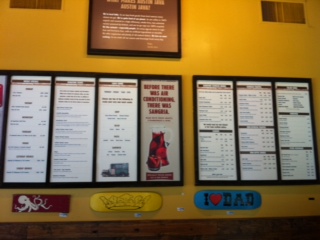 Austin Java – You can get anything from breakfast tacos with black beans and fresh tomatoes to gooey cinnamon rolls to gigantic blueberry muffins. Of course the reason I was there was to get caffeinated, and there are loads of options, including a Texas-sized latte!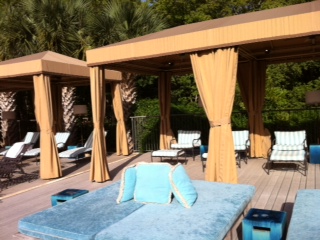 Lake House Spa at Lake Austin Spa Resort – A spa like this really makes you feel like you are on holiday. Rated Conde Nast #1 destination spa location in 2011 and just a half hour from downtown Austin. This spa totally rocks. It's slightly pricy by Austin standards (so Dana tells me) but not by London standards. A 50-minute Swedish massage cost $140. The best bit is that for $25 you can use the facilities for the ENTIRE day. After my massage, I hung out in the Blue Room on a chase lounge and read the New York Times and helped myself to a handful of dried apricots and almonds and Peach Iced Tea. Then we headed out to the pool. Need a snack? Grab a complimentary flat bread or piece of fruit from the restaurant, or load up on all the cold drink options. Ask the front desk for the frozen yogurt. You can have a light lunch in the restauarant too (we had a beetroot salad, $8)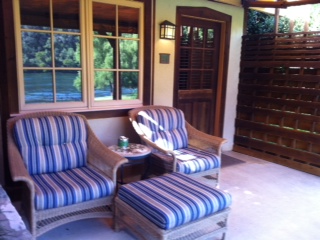 Later we walked down to the lake (which is really a dammed up river) and got a glimpse of the hotel rooms. Here's a veranda. Nice!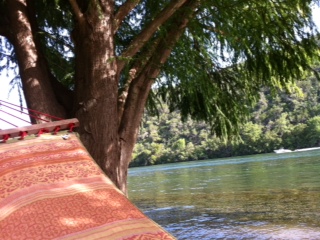 One of my favourite bits was lying in this hammock and watching the speed boats go by with skiers and tubers. I think I fell asleep.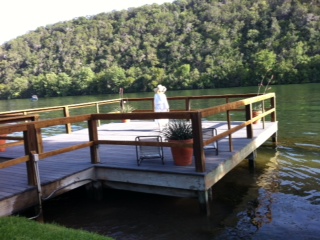 Here's the dock. That's Dana in the distance.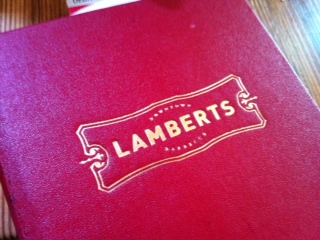 Lamberts Downtown Barbecue - Fancy barbecue. Loads of options, including: Fresh cut fruit and berries; classic new potato salad, jicama and cilantro slaw, deviled eggs with caviar, chilled asparagus with sherry shallot vinaigrette, house smoked gravalox salmon, apple smoked bacon, cheddar and roasted poblano grits, pork ribs rubbed with coffee grounds. Dessert included lemon raspberry cupcakes with buttercream, chocolate crème pie, fried nectarine  tart. $30 for all you can eat Sunday brunch.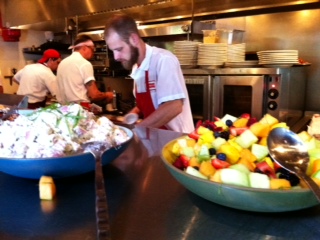 You've grown up Austin since I was last there, and who knows I may be back soon, with South by Southwest just around the corner….
PS – I wrote this post on a Southwest flight using on flight wifi. It cost $5 to use for the flight, and was worth every penny! I am so looking forward to when we will have wifi on UK flights.